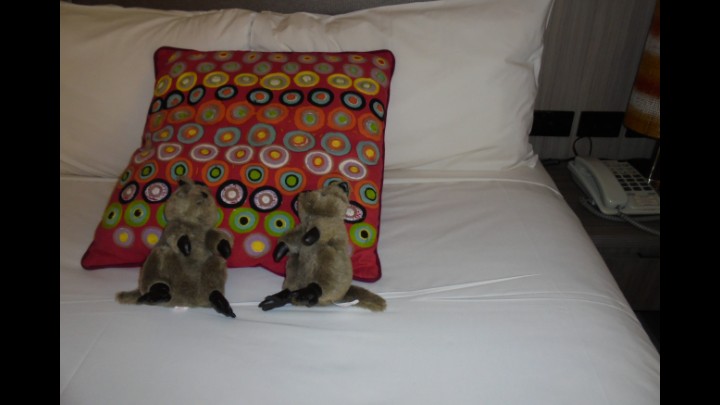 After a good nights sleep, it was up, breakfast and out.
Me wearing hat and net to protect from the pesky flies
Todays visit was toThe Olgas, or Kata Tjuta as it is known by the local Aboriginal people. It was another very hot day and everyone was told there would be lots of flies. THERE WERE ! They wouldn't bother us, but all the humans donned nets over their heads and hats to keep the flies off as they were a real nuisance.
The gully between the rocks that we walked up
The Olgas are in the National Park and are what are known as bonhardts, or domes of rock, and there are 36 in total in this formation. It was 40+ degrees and we were feeling the heat, as we are used to being at the seaside with cool breezes. We went to sit in the shade whilst the group clambered over the rocks and up the gully between two of the huge domed red rocks.
Queenie and Quentin sitting in the shade
It was an exhausting day, so when we got back to the hotel, it was time for a lie down before heading out to watch the sunset over Uluru. This was to be enjoyed with canapés and sparkling wine. -
To be continued...
Lead image is Queenie and Quentin enjoying a rest before the visit to Uluru.
To be continued...
See Day 1 here.
See Day 3 here.
See Day 4 here.
See Day 5 here.
See Day 6 here.
See Day 7 here.
See Day 8 here.
See Day 9 here.
See Day 10 here.
See Day 11 here.
See Day 12 here.