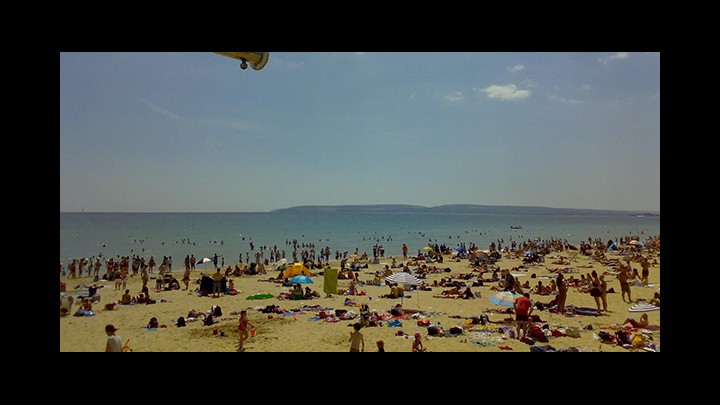 It's been a busy week, but most of it taken up with writing and usual tasks. I don't know why, but last night I was thinking about my seaside holidays when I was a child!
The earliest annual holiday I can remember is going to Bournemouth when I was about six years old. This involved a long train journey and much excitement. Being born and bred in the city of Hereford, I was not used to the sounds and smells of the seaside.
Bournemouth was to be the holiday destination for at least five years running. We always stayed at The Belvedere hotel.
Bournemouth
I can remember building sandcastles, queuing up for ice cream, walking along the pier. The highlight one year was a trip to the theatre to see Tommy Cooper. I can still hear him saying 'Just like that.' I found a video which you might enjoy. It seems like only a few years ago, but is in fact over fifty years ago!
(When I saw Tommy Cooper, not the video!)
The magic of Tommy Cooper
Crazy golf was played, and I swam in an outdoor pool, brrh!! It must have been FREEZING! You don't notice the cold when you are young do you?!
Then in 1964 or thereabouts, my parents announced we were going abroad for our holidays. I can remember saying 'I want to go to Bournemouth!'
We went to Magaluf in Mallorca. A plane journey took 2 hours on a BOAC something or other! The hotel was called Hotel Pax. The weather was very hot, the outdoor pool was WARM. The sea was WARM. The food was 'different.' The following photos were taken during the sixties, so aren't that clear I'm afraid!
The Coral Playa - brand new when I stayed there
We went back the following two years, but this time to a brand new enormous hotel The Coral Playa. I had never seen anything like it! We had balconies outside our bedrooms, it was full board and that included massive breakfasts, lunches and dinners. In between lunch and dinner, home made gateaux and lemon tea was served around the huge swimming pool where we used to sit in the afternoons.
How did I put so much food away???
Sandy and me
I must have been about 12 and I remember I fell in love with one of the waiters called Sandy who took me out on a pedalo. That would not be allowed now would it?! All was innocent then and harmless fun. When Sandy served us in the restaurant, I always had extra scoops of ice cream!
Mum sat on a bench looking very tanned!
Magaluf would be our destination for the next three years. The resort was very quiet and there were not many tourists. Nothing like today's Magaluf which has a tarnished reputation in the tourist spots.
The rock of Gibraltar
The path to the top of the rock in Gibraltar
One year we went to Marbella and went to Gibraltar for the day. I remember sitting next to the apes!
To think that these three hotels I have mentioned are still going strong today, some fifty years or so later. I wonder if the children going on holidays now have the same thrills that I had as a child.
What do you remember about your childhood holidays? Please leave a comment, I would love to know!