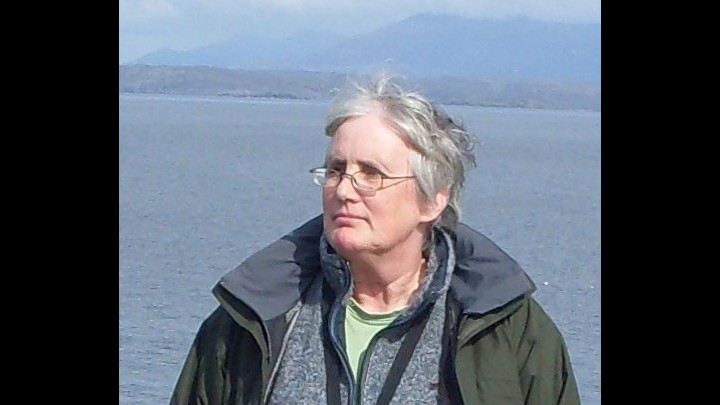 A new day begins. At 0445 on the radio Simon Callow is reading a dramatic account of Charles Dickens and his quite abysmal treatment of his wife.
A brick wall down the middle of the marital chamber? Really, Charles? A change of radio station to Purcell who is trying to educate the English away from the flippancy of French music into the levity of, well, his own style of course, Sonata no. 2. During these crises of masculinity I have spent fifty minutes creaking out of bed, into clothes, boiling a kettle, getting washed, making tea in a mug purchased in Istanbul Gallery of Modern Art in 2008, preparing two oatcakes with butter and Blairgowrie honey, carrying everything into the sitting room while using a stout wooden walking stick from Castle Drogo in Drewsteignton in Devon and sitting down finally with an 'Oouf!' as the sun blinks through the trees beyond platform 7 of Perth Railway Station. It is 0535 on Sunday 16th June.
And through it all I ponder death.
Seventy-two hours before our wonderful wedding I caught a glimpse of it. I woke at 0400 in extreme pain. The duty GP came to the house some hours later to drastically adjust my medication. Steroids were attacking my stomach and the 'stomach protectors' were not fit for purpose. Pure codeine was provided as instant pain relief and bottles of morphine were mentioned but declined for now. I wondered if this was the beginning of the end, and asked the doctor if the cancer had spread. She said she did not think so. Will I be better by Friday, I asked. I would hope you would feel better in 24 hours she said, then, 'What's happening on Friday?' 'We're getting married,' I whispered. And we were!
At some point that day Susan rang the Registrar to explain that there was a possibility that we might not make it to the Registry Office for 4pm on Friday. Our amazing Registrar assured her that wherever I was, she could come to us. Bed, hospital, sofa. On Wednesday I was a bit sick and very tired and cycled through the Dolomites on the Giro d'Italia, prone on the sofa. On Thursday I got to my wonderful recorder music group where they had baked a cake in the shape of quavers (very apt) and made a beautiful card and we played fine tunes together. On Friday we got married as per original plan. Just call me Lazarus. And even Lazarlus needs a coffin.
The first thing to do prior to a visit to a Funeral Director is to plan where you are heading afterwards for lunch. In our case it was to BrewDog, happily just along the road. Already I had decided on a strong coffee and a Grazing Goat Sourdough Pizza. It is four days after our wedding. The premises are next to our ring-maker's so we waved into her shop and she dashed out and we flashed our rings and she gave us a hug and we had a chat and on we continued.
Dougie greeted us and took us upstairs. He was sartorially elegant in his pin-striped trousers and dark waistcoat and - a lovely touch - his Roadrunner socks which Susan made a point of admiring. He agreed that they were excellent but that he had hoped his trousers were keeping them hidden. Never hide your cartoon socks, Dougie.
I explained that I would die soon and that we were just putting things in place ahead of time. We confirmed that he already knew our friend Carol the minister and he would liaise with her when I die. First thing is to phone the GP apparently - then the funeral director, who will come and take the body (me) to the rest home. There is usually about a week to ten days between death and funeral.
We chose a coffin - pale wood veneer, environmentally friendly and made locally, called 'Brora' which is a village in Sutherland where I lived for many years while working as a social worker for Highland Council. Another nice touch. We had already considered and discarded a willow coffin - they are beautiful but while on the face of it environmentally friendly they apparently burn too quickly in the cremator and so additional fuel is required to complete the process. And more concerning they are only made in a barn in Sussex - 508 miles from Perth and too many funeral miles away. Four miles up the road feels better.
We discussed cars (probably not), open coffin (definitely not), embalming (they do not do this - phew - we do not want that as I have had my fill of nasty chemicals to last a lifetime), arrangements for collecting my ashes (Susan can collect them from Dougie at the FD office afterwards), a Programme for the service (we got a brochure to chose designs and we will provide a photo - perhaps the windswept blog one! I'd like the Mary Oliver poem on it too.) Dougie will also arrange placing announcements in local papers. And finally the options for time of cremation. The 1230 slot is slightly longer as it goes over lunch. The last time slot of the day can also run over if required. I hate being rushed so am tempted to recommend a double slot - but up to others I guess. We did not discuss money and I know it is all hideously expensive and also that we are lucky that we can afford this without worry.
And that was that. BrewDog was not open for a pizza lunch so we repaired in the rain to a local furniture shop with a cafe on the top floor with roof-top views and I had a tasty quiche and salad with a hot mustard dressing and fried potatoes and a Flat White. Susan had a cheese toastie and an Americano. We looked out across Perth and studied our brochures again. All utterly sensible and totally surreal.
Two weeks earlier we had had an earlier equally surreal conversation in a very fine Italian restaurant with our friend Carol the minister. She says it is a privilege to conduct my funeral. I had prawns and tomatoes in chilli oil and garlic with tagliatelle and salad. I gave her my funeral thoughts on a piece of A4 as she does not engage with computers or emails. Since then I have begun writing my obituary which is proving harder than I thought. Yet why would it not be hard. It began as handwritten notes in the First Person until I remembered that I would not be reading it out. I typed it up. I changed it all to Second Person. I noted with interest what I included and what I omitted. I forgot to say I was a social worker. Perhaps the obituary will be the final blog in this series.
And in parallel to all this is a new project, an initial involvement with Dignity in Dying. The Scottish Director came to the flat from Edinburgh and we discussed how best to offer support. Perhaps Press interviews, maybe make a video for the Dignity in Dying website. And of course lobby MSPs to support an Assisted Dying Bill similar to that in Oregon. The Oregon legislation has been in place now for twenty years and none of the fears about it have come to pass (eg 'slippery slope', dangerous for vulnerable people, relatives might use it to access early inheritance etc etc). It is about Human Rights and about choice. It is about love.
Because in much the same way as the very fancy diagnostic interventions all came juddering to a dramatic and embarrassed halt at the point where actually there was nothing meaningful that could be done to improve my health, there is also another stunning gap emerging. Between being nearly dead, and having died. I cannot choose the time or manner of my death. The State will not allow it.
I am going to die from this illness, quite soon. My health will only deteriorate. But there is nothing whatsoever that I can do about the death itself which is surely the most crucial aspect of this whole situation. For the first time in my adult life I am not allowed to make an informed decision about a crucial aspect of my life. My death. And this cannot be right.
Legal change will come but it will be too late for those of us currently dying. But it will come, and I must do anything I can do to bring that day forward.
EDITOR: You can read Part 1 here.
Part 2 here.
Part 3 here.
Part 5 here.