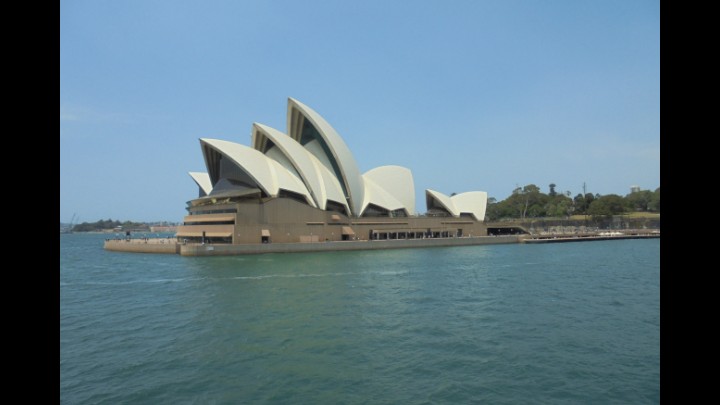 Today was going to be a wonderful lunch cruise from Circular Quay in Sydney Harbour,
up the Parramatta River, then around to Darling Harbour, returning to Circular Quay to take a wander around in the sunshine.
Waiting for the boat--not the big liner behind us, huh !
Queenie and Quentin were very excited about the boat trip and couldn't wait to board the boat. As they stood in the queue, they saw a huge liner in the harbour and wondered if that was their boat. They were soon to be slightly disappointed when a smaller, but very nice launch pulled alongside the jetty to pick them up.
'All aboard' shouted the captain, and off we sailed up the Parramatta river. They sailed past the magnificent Opera House which made Queenie and Quentin feel very small indeed, then along past some big houses, Luna Park and of course Taronga Zoo which is built up a hillside.
After sitting on deck for a while taking in the view, it was down to the cabin for lunch which was absolutely delicious. Queenie had Salmon, and Quentin decided on sea bass then they enjoyed some very 'naughty but nice' deserts, and of course the obligatory glass of wine.
Sitting on deck in Darling Harbour
After sailing around to Darling Harbour, it was back to Circular Quay to take a coach back to Darling Harbour for a relaxing sit in the sunshine. It was a lovely day out and they were well and truly exhausted by the time they walked back to the hotel. Another super day in Sydney.
Relaxing in the sunshine after a walk around harbour
It was early to bed for Queenie and Quentin, as it was to be an early rise to go to the airport for yet another flight, this time to Melbourne.
To be continued...
See Day 1 here.
See Day 2 here.
See Day 3 here.
See Day 4 here.
See Day 5 here.
See Day 6 here.
See Day 7 here.
See Day 9 here.
See Day 10 here.
See Day 11 here.
See Day 12 here.