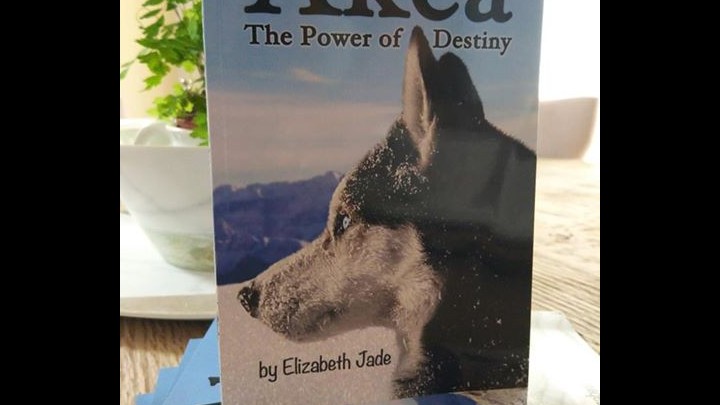 Elizabeth Jade's mother Amanda Barton has very kindly donated copies of Akea and readers reviews are given below.
Let me quote a few lines about the author from her Amazon page.
Elizabeth Jade was born in North Yorkshire in 1998 and moved with her family to Somerset when she was very young. She was homeschooled from the age of 7, but only recently discovered that her struggles in school were due to Aspergers. She stumbled into writing at the age of 14 when she began to struggle with depression and anxiety and quickly found her story ideas pouring out faster than she could get them onto paper. She has always had a passion for animals and has volunteered at various rescues, so it seemed only natural that her stories would revolve around them. With further adventures for Akea already written in her head, a wonderful journey is set to unfold for both reader and author alike.

"I don't write stories, " she says, "I just put a bunch of words onto paper and the characters do the rest. Plot twists are never planned, they just happen. If you let your imagination run riot, trust me, you'll be surprised at the result - I always am."
Sharon Hirst
A delightful read and nice for it to be from the Husky's view too, I became totally immersed in the whole setting and thought the black and white illustrations added to the storyline. I also appreciated the format of a larger print, which would be appreciated by the Visually Impaired! (Would be a good book for our local library to stock)..
Suitable for all ages and I will be passing this on to my teenage granddaughter, who loves dogs, and who will also appreciate this well written tale. I hope Elizabeth Jade goes on to write more charming books that keep you reading to the end, like this one.
Derek Coles
I have read a book written by Elizabeth Jade about the lives of dogs and wolves. It's what I call a snippet of a book being seventy two pages long. Ideal for a short journey without being bulky to carry.
The young author has conjured up a life of a Husky dog and Wolves, thought to be the ancestral forebears of the Husky.
The story covers the early life of Akea and follows her through her days with humans back to her running with wolves once more. Well written and a can't put down feel to the story. Congratulations Elizabeth and may you continue with your writing.
I enjoyed this story.
Janice Rosser
This is the first novel I have read by Elizabeth Jade and I was captivated from the start! Akea is a charming story, suitable for adults and children alike. Born into a family of huskies, Akea wonders if she really is a true husky. Her father Kellaher knows she is different, but after a visit from lone wolf Kazakh, Akea realises that she is part volk, part husky and despite her father warning her not to stray, she runs away. What follows is an adventure that has many elements of fear, abandonment, love, trust and wonderment.
I read this in one setting as it is only just over 70 pages long. The illustrations are delightful.
Elizabeth is a born storyteller who I am sure will go on to write many more excellent books. I shall be watching with interest!
Susan Sly
I enjoyed Akea but felt that it was a book for the older children rather than for adults. I read from start to finish in just one read so it proves that it was intriguing.
I love all dogs, and I am a dog Behaviourist. I especially love Huskies as they are so close to the Wolf, and very very intelligent.
They can be very stubborn so definitely need a job!
Melanie Williams
I absolutely loved the storyline it was fab from start to finish. Great characters, believable plot. That's after I got it back from my eldest daughter who took it before I could get my hands on it!
She is now a fan. A fab book!
Hannah Booth
I am a huge fan on animals and when I get the opportunity to read an animal story, I can't wait to read it! I've really enjoyed reading this story. This is my first time that I have read a story by this author.
The story is based on a husky called Akea, she is born into a family of sled dogs but Akea is quite different from her siblings and also different to her parents.
Akea stands out from the litter even her father doesn't know why. As Akea grows and is allowed to play outside a wolf appears on several occasions watching Akea from a distance.
Akea feels drawn to the wolf even if it means disobeying orders from her parents.Whenever Akea gets the chance to she would always observes the surroundings of the woods to see if the wolf would come back but she doesn't want to get caught by her father doing so.
Every night Akea has dreams about the wolf she doesn't know what it means although she's not afraid.
Would Akea leave her sled family and follow her own destiny to becoming a wolf?
I give this novel TEN STARS!
Akea has been entered into the Author Academy Awards 2019! You can enter to vote by clicking on this link and scrolling down. Good luck Elizabeth!