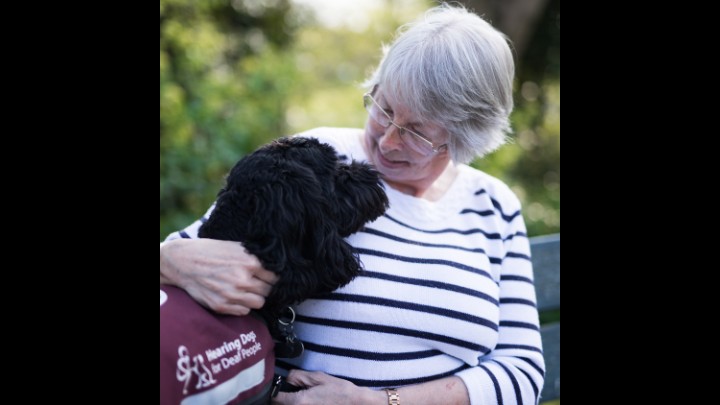 I have had Hearing Dog, Clay, for 16 months. He was 17 months old when we were matched, the first of his litter to pass out of "big school" and be matched with a waiting recipient, me.
He is my successor dog. Liffey, my first HD, sadly was put to sleep when she succumbed, suddenly, to an aggressive cancer. That day my world fell apart. My sleep became poor, I was always worried of missing my clock alarm. The alarm I had to use without a dog was exactly that, alarming! It was not a nice way to be woken.. I stopped going out, felt very alone when I did. People rarely spoke to me, where before I'd be stopped to chat. Somehow having a dog breaks down barriers.
I felt "in the way" again, constantly looking behind to check I wasn't blocking people's routes or view (in stores).
Two years on an email arrived, "We think we have a match for you". With a photo and an invitation to meet him, he'd come to my home with his trainer. She would stay while we got to know each other, and then (if all was good) we would be left to it for the evening and night.
He was a totally different character to Liffey, but we hit it off. His cheekiness was just what I needed. So he went back to the centre to finish off the final bits of training, a few weeks later (which felt forever) I went to train alongside him for a week, living in, before heading home together.
We bonded so fast, it reminded me of Liffey, who also was quick to become bonded. The charity are so good at getting the matches right, like any relationship the characters involved need to work together.
He's turned into an excellent partner, keen to work, easy to train to new sounds/ commands. He loves it. We also enjoy his free time, apart from when he headed into a stinky ditch, his best friend in tow! Lol!
His crowning achievement was when he recently woke me, while the way he alerted me wasn't classic it made me very aware there was a problem.
I put a hearing aid on and turned it right up, I heard a strange rumbling sound. I checked it it was outside by opening a window, it wasn't. I went to the sitting room, it was louder. It wasn't in the kitchen, so back into the sitting room I opened the immersion heater cupboard, then I realised the water in the heater was actually bubbling! The thermostat was broken, and now the timer had stuck at the on point. It had been heating for three hours and reached boiling point. I quickly turned it off at the wall, and gave Clay a big cuddle and treat.
I don't know what would have happened had I not got him. Thanks to Hearing Dogs for Deaf People I didn't find out!
Lead photo taken by https://www.facebook.com/MooieFeePhotography/?hc_location=ufi