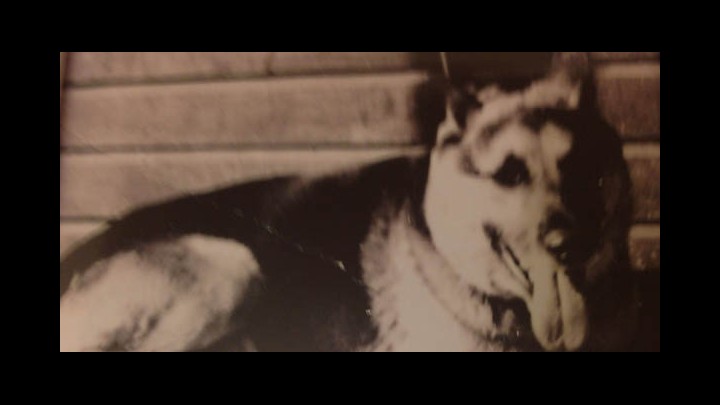 Derek Coles reviews his memories of R A F Police days and dictated the following article to me.
'I joined the R A F in order to become a police dog handler. After passing my police exam, I did six weeks training with a dog named Rustler.
The dog was posted, but not the handler and this dog was posted to Gibraltar without me.
I was then given another dog that had been handled by another policeman who was being demobbed. This dog was 4250 Tarzan. He promptly bit both my hands and thankfully, another dog handler pulled him off me and placed him in a cage. He bit several other people afterwards and was eventually put to sleep. This decision was never taken lightly in the R A F.
A handler from another course was posted overseas and his dog was 1Z9 Zealous
The dog was R A F bred, one of the few remaining, because they could obtain enough alsations from the general public. 1Z9 denotes that Zealous was the ninth pup from the first litter.
Having been allocated Zealous, I went up to the dog runs and gave him a penguin bar and talking to him so that he could get to know me. He had a reputation for letting you get to his kennel then he would go to the end of the run and defy you to get out!
The Penguin bar worked!
We passed the handling test, which involved catching a criminal with both my hands in slings. He did everything right because he was so well trained. Our first posting together was to R A F Gayden where a V bomber squadron was based. We were then posted to R A F Ringway, which is now Manchester Airport, where we patrolled seven stores depots in and around Manchester Airport. From here, we were chosen to be in the R A F police demonstration team for the Royal Tournament in Earls Court London. We spent three weeks doing the display which contained obedience work and criminal work.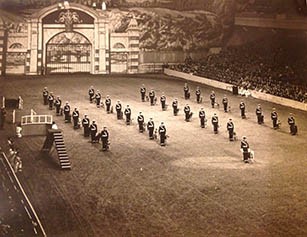 Earls Court Royal Tournament
From Earls court, we were posted to R A F Honington which was another V bomber based this is where Zealous and I became inseparable. We spent our nights patrolling dark airfields. I taught him to do numerous tricks when we had time. He would jump up into my arms and trust me to catch him.
He weighed around 90 lbs!
He would walk zig zag between my legs and was a very obedient dog. Whilst at Honington we found that the fuel overflowing out of the aircrafts wings was blistering and burning his pads. The local vet decided to make boots for him. This consisted of an aluminium plate with a soft leather upper that came half way up the dogs legs and tied with a shoelace. We were given these and told to try them on the dog.
I put them on Zealous front paws at 3.30 one morning, just as dawn was breaking
He struggled and shook his legs until he was stood on the soft leather upper. The metal plate was stuck up in front of his paws, the sight of which made me roll around on the concrete laughing. He looked at me with his ears flat across his head. He knew I was laughing at him and I could see he was not amused! I never put them on him again, but I did wonder would he have been able to chase and catch an intruder with these boots on.
I had to leave the R A F soon after on compassionate grounds and I was able to buy Zealous for £5
He became the family pet until he succumbed to the dreaded German Shepherd disease, where the dogs back legs cease to work properly. He was twelve years old.
I can honestly say that Zealous was the best dog anyone could have wished for and I will never forget him.'