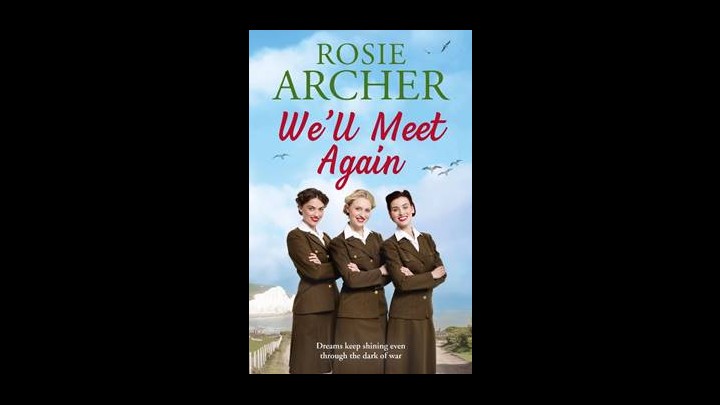 I am delighted to be sharing readers reviews of Rosie Archer's latest novel. My thanks to Ella at Quercus.
Jane Tanglis
Another brilliant read by Rosie Archer. The Bluebird Girls Rainey Bea and Ivy are on there way to stardom The war rages on and the girls carry on doing what they do, but can they live up to what is expected of them?
Bea is still dealing with her encounter from last year. Rainey is determined to live up to her mum's belief in her and Ivy is in love.
A good read .
Beverley Ann Hopper
Back with the Bluebird Girl's, the singing trio, Rainey Bea and Ivy. The war is still raging in Gosport. It is January 1941 and this book takes us through to December.
The second book in the series, so was looking forward to reading as really enjoyed the first and was not disappointed.
The girls are kept busy at lots of social clubs, Portsmouth, Birmingham, Stratford upon Avon and Scotland for a Burns Night. All want to see the girls perform, and keeps Blackie busy sorting out gigs for the girls.
Still keeping their jobs at the Priddy's Munitions factory but not for long. Blackie has big plans for the girls to top the bill in every theatre and they have the talent to do it.
I really enjoyed this book, even found myself singing in my head as I was reading. It definitely keeps you shining through the dark of the war. I cannot wait now to read the next in the series in " The Forces Sweethearts".
These books are superb reads for all Saga readers.
Diane Cunningham
This is book two in the series about the Bluebird girls. The girls are starting to get popular and get a lot more venues to sing at. Jo gives up her job to become their chaperone and starts to grow closer to Blackie as he drives them around the country to their gigs.
I had enjoyed The Bluebird Girls and liked catching up with Bea, Rainey and Ivy in We'll Meet Again.
If you enjoy this genre I can highly recommend this book and I look forward to catching up with them all again in January 2020 when book three is due out.
Nicki Howells
The year is 1941 and we catch up again with The Bluebell Girls Ivy, Bea and Rainey as they continue to persue their dream of becoming successful singers.
The war is tightening its grip on the south coast with increasingly frequent bombing raids, and rationing, but the girls still travel around entertaining people and are proving to be very popular.
The girls each have their own troubles, Ivy is still besotted with Bea's brother Eddie, but will he ever think about the younger girl in the same way? Poor Bea is still recovering from a recent event that has left her shaken and Rainey is so determined to make her singing a success.
It is great to catch up with the Bluebird girls again, and we meet some new characters. How will they change the lives of the girls? Rainey's mother Jo still has her two admirers, Blackie and Syd, can one of them finally win her heart?
We'll meet again is as well written as Rosie's previous books, and is a very enjoyable read. There were some laugh out loud funny parts, and some sad bits, but overall a great book. I am again hoping there will be another book to continue their story.
I highly recommend this book.
Julie Winstone
What a totally good read, set in Gosport in Hampshire, in the middle of the war in 1941, the book tells the story of 3 friends - Bea, Rainey and Ivy, who are a singing act called the Bluebirds, it charts the rise of the girls, going from working men's clubs and small venues to performing at the Savoy and getting a recording contract, with the help of their manager Blackie.
The girls are all quite different, but have a very strong bond, which really comes through in the writing. This is a totally feel good read, which I would definitely recommend. I particularly enjoyed the details of Gosport, as it has very fond memories for me, it was where I lived when I first got married (moved down from the North East), It was also the place my first child was born.
This book is a great story, well written and keeps you interested to the end, it has certainly encouraged me to find more of Rosie Archers books.
Donna Prosho
Another fab read from Rosie Archer and hoping for more in the series about the Bluebird girls and families. A book, that once you start reading, you just can't put down until the end.
The war is still raging and the three girls, Bea, Rainey and Ivy are still making their name on stage. This book sees them travelling to different parts of the country, singing their hearts out.
As well as finding love, there are German prisoners that work for Eddie (Bea's brother), a new love for him too, as well as his grandad. And lots more exciting opportunities for the Bluebird girls.
Fingers crossed for more in this series.
Janice Rosser
Book 2 in the series and We'll Meet Again is another great read. After reading book 1, The Bluebird Girls, I looked forward to catching up with Bea, Rainey and Ivy. The war is still raging and the girls are now singing in many clubs and venues around the country.
They all have a strong bond with each other and Jo, Rainey's mother keeps an eye on them. Each one of them has issues to deal with. They all have to work too in Priddy's Munitions Factory. Bombs are falling every night, so does the factory escape unscathed?
Romance, sadness and hope all feature in this lovely book and Rosie Archer's attention to detail is superb.
Highly recommended. If you are able to read The Bluebird Girls first, I would encourage you to do so.
Heather Copping
Step back in time to the wartime years and the Gosport area, where it is great to see all the characters from Rosie Archer's previous book in the Bluebird Girls series (The Bluebird Girls) return in this book.
Soon the girls are once again entertaining people from all walks of life with their singing and along the way they get both praise and criticism. Jo (Rainey's mum) is still acting as chaperone to the girls, she has two men trying to catch her attention, which one will she choose? Bea's brother Eddie has a decision to make between two girls whilst he is working at the home where his granddad is staying.
Will Sunshine have her head turned by someone who she shouldn't fraternise with and will Ivy seem too young for him now or will there be someone else who will melt his heart?
This is a story of friendships and relationships between everyone who has the best intentions of the young women at heart. The Bluebird Girls are upmost and foremost in this book and they certainly bring happiness to everyone who sees and hears them sing.
A lovely book which I thoroughly enjoyed reading and I have given it 5 ⭐️.
Jan Poole
Reading this book and experience an insight into regular family life in a time when everyone was being challenged because of the war has been reflected in the style of writing. Usually it's about a regular family, but the way Rosie has captured some truth in what families had to deal with and not just the normal structure that is usually portrayed in other books.
The route of The Bluebird Girls, to get to some level of fame, was such a struggle in addition to their pasts. Rainey, and the history surrounding her father, but almost showing the strength she gained from such a negative experience. Bea, and her unfortunate introduction to relationships with her traumatic encounter one night, and how her friends rallied round to support her. Then Ivy, who feels like her heart has been broken, yet coming from the most stable family out of the three. This showed the most truest way of life and how each family dealt with everything from being bombed, to every day living.
I really connected to the book, not because I lived during that time, but it gave a more understandable window into what then and now families cope with different life situations, showing that circumstances were happening years ago. I really wanted Ivy and Eddie's relationship to grow; Rainey and Charlie to show her Mum, Jo that they can and will be a suitable couple. Bea, the more confident and passionate of the three, will hopefully find her direction in life. Jo and Blackie certainly had their hands full with the three girls, and what they brought to the group.
Overall, I would definitely look out for a follow up book to continue their stories, to continue their lives and outcomes. It was written in a realistic, honest and life like way. Brilliant.
Marilyn Chapman
'The Bluebird Girls are on their way to stardom…' says the blurb for Rosie Archer's moving World War Two novel We'll Meet Again, as we join the singers in 1941 with the war raging around them. I immediately warmed to Rainey Bird, Bea Herron and Ivy Sparrow who make up the aptly named singing trio.
The story is surprisingly uplifting, despite the tragedy that stalks the singers' ambition, at a time when everyone's greatest wish is to live to see another day.
While Rainey's Mum Jo acts as a chaperone to the girls, the faithful Blackie ferries them around and ensures they get to sing in some of the best establishments in the country as they gain in popularity. A recording contract with Parlophone soon beckons.
The author captures the mood of the era completely, the descriptions of the girls' glamorous stage outfits contrasting starkly with the devastation of war.
Each girl's story is written with sensitivity, but I was particularly drawn to the young girl nicknamed Sunshine whose life was anything but. Falling in love with a German prisoner proved to be the biggest mistake of her life.
We'll Meet Again is the second of a trilogy - the first, The Bluebird Girls, was published earlier this year - but can be read standalone.
I will be buying the sequel which comes out in 2020.
You can read the reviews on the website of the first book in this series, The Bluebird Girls here.