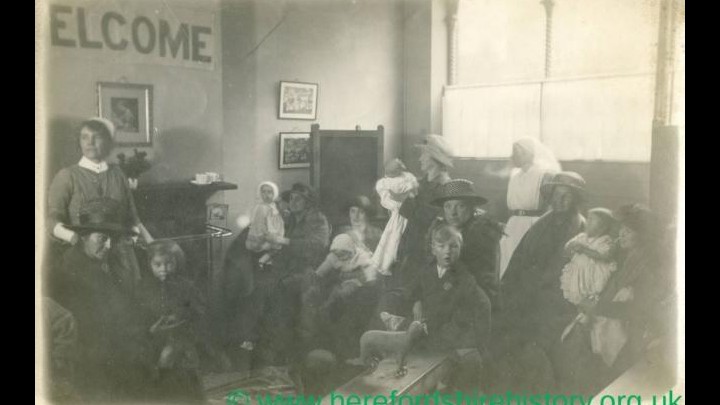 Between September 1st and September 4th 1939, there were millions of mothers, babies and small children evacuated from their homes in the towns and cities across Britain.
The procedure was known as Operation Pied Piper. This link takes you to an article and details of what it meant for some of these families. It must have been a huge upheaval for all concerned. Another article I have found makes interesting reading with photos and a video to watch.
Some ReviewSpot members posted their experiences to me which I shall list below. My thanks to you all.
Mary Fryer
Perhaps we were traumatised, and no one noticed. I wasn't happy, I lasted 18 months until my old headmistress ( who regularly visited) told my mum to get me home because I was " looking like an old lady" and if I didn't come home she might not have me much longer.
I was taken to see various Drs who said I had a weak heart, I think it was breaking. Because of it I only went to school half of the day, I was supposed to rest the other half. I would sit in the outside loo and sing " Show me the way to go home , I'm tired and I want to go to bed!" I know it's a drinkers song but I was only 6/7 years old.
I was with my brother but for some of the time he was in hospital with diphtheria, and I was lonely.
Lyn Wild
My grandparents lived in Peckham, they kept my mum and aunt at home having decided that if the worst came to it they'd all go together.
They all slept under a table, waking one morning to find all their windows blown and people looking for survivors. Mum never heard the bang, having got used to the noise of bombings.
There are photos of the family at the Imperial War Museum archives, they were followed by a journalist over a year regarding Dig For Victory. From the day they were given their allotment to harvesting. A photo of my grandfather's boot on the spade went for the iconic poster, mum didn't get the original to keep.
Even now sudden bangs can affect mum, though she doesn't show it. Life continued as normal, school always open. She was interviewed, along with others, a few years back for a BBC video about Dig For Victory.
People are very focussed on the military during those times, but ordinary people did fantastic things to keep going while everything around them was potentially temporary, including friends and family.
Amazingly we only lost a great Aunt of mine, aged 18. She was in an open ended shelter and was killed by the blast of a nearby hit.
Pam Chisholm
My Aunty Bertha took in an evacuee in Winsford, Cheshire. He was Johnny Briggs, (Mike Baldwin in Coronation Street). He came, at Aunty Bertha's request, to open our chapel fete in the 60s - I have the programme with his autograph!
(I may be able to photograph the programme if it helps! 😊) Sadly when they surprised Johnny with 'This is Your Life' they chose to miss his war years out. I always felt sorry that happened for Aunty Bertha but she never complained, bless her!
Maureen Cairns
When children were brought to our village from London, my Nana went with the intention of bringing a girl home as she had 2 daughters. However, a little boy was sat in a corner looking very frightened and she fell in love with him. He was with
my family for 5 years & both families kept in touch throughout the years. My mums "little brother " passed away 5 years ago. My mum passed 5 weeks ago. When Little John & his wife made a point of visiting on way home from holiday, my mum was thrilled. It was a very emotional meeting for me as I met a wonderful man I'd "known" all my life & never met. He told me that those years with the family were the happiest of his childhood.
I might add that when he grew up he married a lady who'd also been an evacuee. Her story was really sad. She was evacuated to Switzerland from another European country ( I forget which). After the war she along with a lot of those children were never sent home. She never saw her family again. Tragic.
Mary Hobson
Maureen Cairns my Mum& her brother's & sister's all went to a farm in Ireland as they lived in Belfast. She never forgot how kind the family were to them. Many years later in the 60s we popped into the farm one Sunday afternoon. The same family lived there. They were so pleased to see Mum & all of us they insisted we stop for tea all 9 of us. Amazing tea with all of us & their family. Everything we ate was from their farm fabulous afternoon. I have never forgotten it. 😉👍
Paulette Lerman
My mum and brother were evacuated to Aylesbury them to Brighton, he was sent to a boarding school so mummy could work. My grandparents stayed in the East End and lived in Hugh Mansions the flats that had the last V2 dropped and survived.
Jacqueline Berry
I was evacuated with my brother and mother to a family up north somewhere. I think it was called Birkdale. It was a dreadful experience. They didn't want us and we didn't want to be there. All meals had to be taken in silence and they made my mother very unhappy. I can remember their teenage daughter teaching me how to brush the stairs and suddenly she heard Bing Crosby on the radio and started singing And taught me the words to 'You are my Sweetheart.' She was a lovely person. Eventually my father arrived and took us all home to Epsom on the train.
Jean Delacroix
I was evacuated from Hartley Avenue Junior School East Ham with all the class in charge of our teacher Miss Taylor. Our parents went with us to Paddington Station and I remember being told I was going on holiday, which I thought odd as we had just come back from holiday. We eventually arrived at Waltham St Lawrence and I have a photo of the group in front of the Church Lyche gate. We all have our gas masks on a string round our necks.I was there until the end of the war as our house was bombed and my mother and brother joined me and we were housed in a cottage on Shottesbrooke.estate.
Imelda Karia
Watched Countryfile last night with some evacuees relating their experiences of being evacuated. Very interesting.
Kathryn Yates
My mum was a nurse in Liverpool & was evacuated with some children to a village in North Wales where she met my dad. 😊
Teresa Ronk
My Dad and his brother and sister where evacuated from Camden Town. Dad was separated from his siblings and lived in a large house that had maids and such. He said he slept in the attic bedroom and had to spend his days down stairs with the maids. He didn't often see the people that lived in the house. After that he stayed with a spinster in a cottage that was called Wind Whistle Cottage. He said he cried when he left London and his parents, but he loved the country side so much that he cried when he had to go back to London.
Shirley Sadeh
My Grandad, Mum and family were evacuated to Leeds. My parents were married there and my older brother and I were born there1943 and 1944. Some of us returned afterwards and others remained. Two more siblings born in London and our childhood was spent travelling from one to the other.
Eileen Jones
My sister brother and myself were sent to the Isle of Man, I got told my photo was in the Liverpool echo but we never saw it.
Ann Soan
My late Dad was evacuated from London to Reading when he was 11. When he recently passed away we found the label that he had had attached to him. He stayed with a lady called Mrs Pitman, and as a child I can remember going with him to visit her in Reading.
Jan Dory Phillips
My mother and her two younger brothers were evacuated to Leicestershire. She said they had to line up in a hall and picked out by the hosts. The older ones were the last to be chosen. My Mum said a woman with a toddler and her mother scrutinised her before saying, "she'll be useful." She remembers the husband being a pleasant enough man but the mother and grandmother were not, as was an older daughter. Her 2 young brothers were separated, against their mothers wishes, David the youngest went to a lovely couple in a lovely house, in fact they even asked my grandmother if they could adopt him as had been unable to have children of their own. Her other brother Jack went a nice enough family but he was desperately unhappy and kept running away to find David. Eventually he moved in with David. Mum was so miserable that my grandmother took her back to Bromley where they lived and got an office job in London. We all have an avid interest in the 2nd world war from all the stories Mum told us. She wrote a book which I started to type up on the computer but never seem to have the time to do it. Her cousins keep asking about it as they are keen to read it obviously. They all lived close together. I know one Aunt went to Wales with her baby and had a lovely time there.
Angie Bolton
My dad and his twin sister were 9 when they were evacuated in 1940 from Redhill in Surrey. They were all told to be at their school in the morning with their belongings my dad & sister were from a very poor home and my aunt said she had gone to the greengrocers and begged 2 brown paper carrier bags off him to carry their clothles in, their mum was working so their gran came to wave them off, they got on the train with some of the teachers going with them. After a long train journey and a coach ride they arrived in Abergavenny in Wales,they were all taken into the chapel hall,and given a drink and biscuits then people started coming and taking the children to their houses..my dad and his sister were split up and my dad went to a very strict chapel family,he hated it and only saw his sister in school, he ran away many times but was always caught and brought back, after a year he was brought back to his home town, and stayed with his gran for the rest of the war..Redhill was bombed a lot but he survived to tell the tell...
Joyce Bassett Adams
Iwas four years old at the start of the war, and evacuated to Bedford with my mum,my poor mum was not happy with the people we were with , and we came home , I spent the war in London and remember the blitz very well.
Patricia Katz Foster
My husband was evacuated as a child to Swansea.
Hilda Chatfield
Yes my two elder sisters were evacuated to Somerset.
Pat Thompson
I was evacuated from Bootle to freshfield with my 4 brothers not a happy time .
Pauline Cooper
I was Evacuated with my mum to Wales I was only a few months old apparently the place was horrible more like a garden shed no heating or hot water so my Mum came back to London .We were then sent to Guildford yo a family and I was older by then,they had french doors to the garden which blew shut cachting the little boys hand and he's mother blamed me although Iwasn't anywhere near so again my Mum came back to Fulham.
Whilst we were back I jumped down into my Nans air raid shelter on to the camp bed and broke my leg. Iwas rushed to hospital and the Doctors,Nurses and my Mum all threw themselves over me as the bombs were dropping so Mum and I went to Rotherham in Yorkshire to a really wonderful family .We remained in contact for years going to 18th, 21st and weddings of the two boys and the cousins also my own and my sisters weddings .Unfortunately my Uncle Ben , Aunty Vera, My Mum and Dad have all passed away but that family all hold such special memories for me we were so lucky to have shared our time with them.
Stellar Buller
My Dad used to tell us about when he was evaporated to Derbyshire! 😁😁
Lesley Bradshaw
My mum was evacuated from london. She went to some horrible places. Parents and children were very spiteful. My mum was 8 yrs old. Luckily her last place was with mr and mrs harris in Taunton. They treated her like there own and she stayed many more years with them.💕
Joan Daniels
Yes, went to Yorkshire with my Mum and sister because Croydon was becoming too dangerous. I'm still in touch with the little girl whose family we stayed with - 76 years later!
Angela Pepper
Not me personally, but my mother and brother (he was born in Jan 1940) evacuated first of all from London to relatives in Hertfordshire when the Blitz started. and later to Sony Stratford, then to Penarth in Wales. The people in Stony Stratford were very unfriendly apparently, but the Welsh were lovely and my brother started school in Wales.
Irene Taylor
I was evacuated to Ibstock.
Mike Webb
Mum was so was father in law.
Hilda Linford
My mom told me that some of the children who where evacuated cried when they arrived at Dudley Port because they thought they were going to be by the sea.
Eivissa Lyn
I can't understand why none of us were evacuated from Eastbourne as mum and dad said there were many planes and even hid in a ditch with 4 kids with a dogfight going on overhead.
Joan Hayman
I was evacuated to a relative who was evil, if I was naughty she would shut me in the bathroom till bed time which was 4pm and that was tea time but I never got mine, her children got it, she was a witch.
Pat Thompson
My husband was evacuated to Angelseynever got over how unhappy he was till he died theses people were forced to take children they did,nt want
Christine Eldridge
My mum told me they had a boy staying with them in ashbourne Derbyshire but that's all I know.
Rachael Mary Redhead
I was evacuated as a baby but too little to remember it.
Sylvia Black
My Gran housed 3 evacuees. A Mother and 2 girls. They came from London. I don't remember their names. My Gran lived right out in the sticks. She received Christmas cards from them for years after they went back home.
Linda Lunn
My mother and her brother and sister were evacuated to Luton. She remembers being given a cheese sandwich to eat on the train. When Luton started being bombed my grandmother brought them back to London. Later my grandmother and the two youngest were evacuated to Wales. My mother wouldn't have gone as by that time she was working at the Tate and Lyle sugar factory in London. The day the evacuation was to take place my mother went to work only to find the factory had received a direct hit ( she remembers the smell of burning sugar). She therefore went with them to Wales. They were in a tiny village and shared a house with another family. Them on one side of the house and the other family on the other.
Janet Pack
I was one when the war started and my mom wanted my dad and us to stay together, she told me they gave her a gas protection cot and if she had to put me in it, she would have to pump air in, so if the gas came and she was overcome I would suffocate anyway, so she never used it. Later when I was older I had a Micky mouse gas mask.
The lead image is 'Welcome party for World War 2 evacuees'. Photo: © www.herefordshirehistory.org.uk Ross Gazette collection and is used with permission.
If any of you have memories you would like to share, please email them to me jan@reviewspot.co.uk and I will add them to the article.