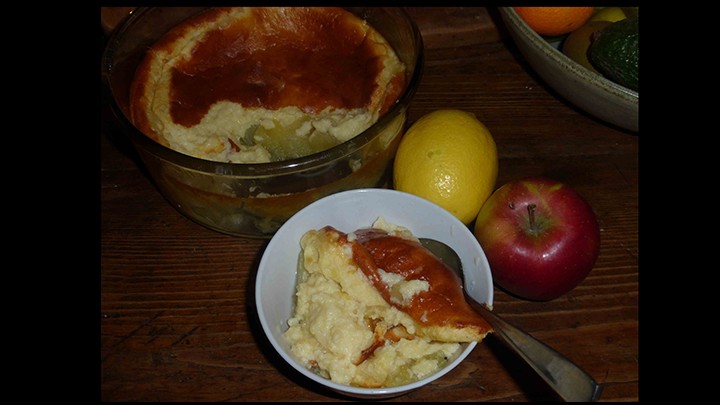 Here is another recipe from good friend Juliet Greenwood.
This is a recipe from the era of the First World War, which I discovered when researching the recipes for 'We That are Left'. I loved making this! It's a light and tasty way of using cooking apples, or eaters that are starting to go. It's bit like an apple soufflé. I added a little grated lemon rind to the apples for an extra zing. Lovely chilled for a summer's evening or warm as comfort food on a rainy day.
Pwdin Afal Pwdin Efa
Apple Pudding or Eve's Pudding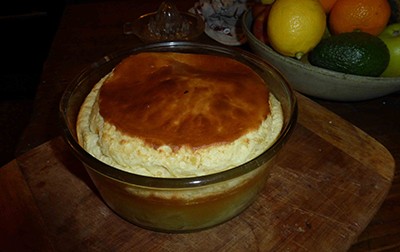 Ingredients

2 ozs. 60g Plain flour
2 eggs
1 oz 30g Sugar
Approx ½ pint 284ml Milk
1 ½ ozs 40g Butter
11b 500g Stewed apple
Vanilla
Method
Melt butter in a saucepan, stir in the flour and add the milk a little at a time. Bring to the boil to make a smooth sauce. Pour into a bowl and add the sugar, a few drops of vanilla and the egg yolks. Then fold in the stiffly beaten egg whites.
Grease a pie dish, and cover the bottom with a layer of stewed apples. Pour the mixture over them and bake for three-quarters of an hour at 170c, Gas Mark 6
Website: http://www.julietgreenwood.co.uk/
Blog: http://julietgreenwoodauthor.wordpress.com/
Facebook: https://www.facebook.com/juliet.greenwood
Twitter: https://twitter.com/julietgreenwood
We That Are Left
www.amazon.co.uk