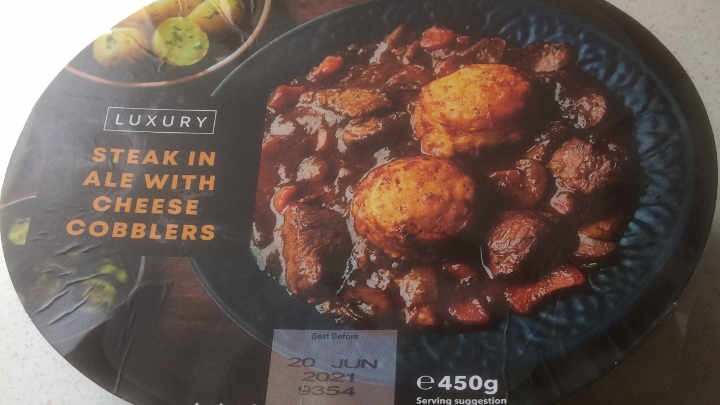 Day 2 is an Iceland casserole meal ideal for a Winters day!
Another meal from the Luxury Range, this time Steak in Ale with Cheese Cobblers. My late mother used to make a super casserole with dumplings and this meal reminded me of her.
For best results, it is recommended to cook from frozen, either in the microwave or in the oven. I cooked mine in the microwave for the recommended time of 10 mins and 30 seconds. If you cook in the oven, it will take 40 mins.
The main ingredients are Cooked Beef (18%), (Beef (90%), Cheese Suet Dumplings (18%), Ruddles Ale (8%), Carrots, Mushrooms and Onions.
Nutritional information is given below.
| | | | | | | |
| --- | --- | --- | --- | --- | --- | --- |
| Calories | Fat | Carbohydrate | Sugar | Fibre | Protein | Salt |
| 631 | 30.2g (of which saturates) 15.4g | 54.3g | 6.0g | 5.9g | 32.7g | 2.8g |
This was a very filling meal and needed no extra vegetables. However, for the person with a large appetite, the addition of some roast potatoes and green vegetables would make for an excellent main course.
The calorific content is 631 kcal, a bit above average for a meal with these ingredients. My only very small dislike was the amount of onions included which rather overpowered the flavours. If you are a lover of onions, this will not be an issue I'm sure!
RRP is £2.69 which represents good value.
See Day 1 meal review here. See Day 2 meal review here. See Day 3 meal review here. See Day 4 meal review here. See Day 5 meal review here. See Day 6 meal review here. Day 7 here.
You can read all about Iceland Foods and see how the company was started on their website.