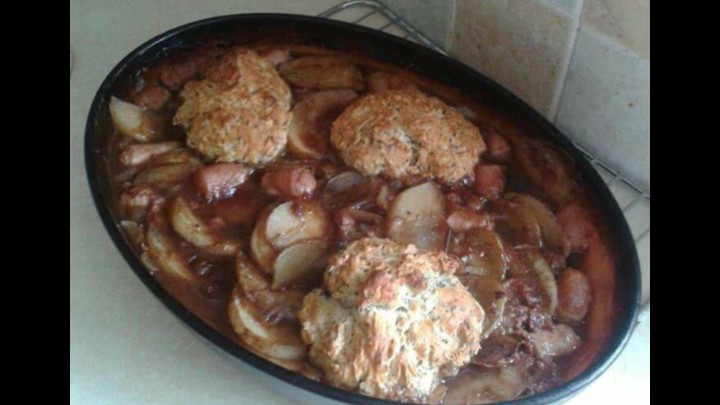 Winter is upon us and we will all be thinking of ways to make nutritious tasty meals to warm us up and not have to spend an enormous amount of money to achieve results.
These recipes were sent in by OAPSchatters members of some of their favourite dishes for main courses and I would like to share them with you on ReviewSpot.
Let's begin with Beverley Ann Hopper and her Panackelty which is a favourite Sunderland dish. See lead image.
Pre heat oven to 200c Fan or Gas Mark 6
INGREDIENTS
Tin corned beef
Smoke bacon
Sausages
Potatoes
Onions
Carrots
Oxo cubes
METHOD
Place all ingredients in a casserole dish, then sliced potatoes on top. Also you can add suet dumplings in as well.
Cook in oven until crisp on top then eat.
ENJOY!
Next up is Elaine Fryatt who makes lots of Vegetable Soup. (No image)
INGREDIENTS
I use one pack Sainsbury's frozen special mixed veg
Add leeks and any veg I have e.g. cauliflower, broccoli, a few sprouts, a bit of cabbage etc., all chopped up
Add 2 Knorr stock cubes, 1 chicken, 1 veg, mixed herbs, and a few lentils and water
Plus black pepper
METHOD
I have a Morphy Richards Soup Maker but an ordinary pan is fine. Place all ingredients inSoup Maker of Pan and simmer until cooked through.
Then freeze down in individual portions.
ENJOY!
Patricia Humm enjoys a slow-cooked Brisket Casserole.

INGREDIENTS
Brisket about 2lb in weight
2 large onions
3 chopped carrots
Diced swede
A handful of frozen peas
2 beef stock cubes
Black pepper
Worcester sauce
Teaspoon garlic salt
Enough water to cover
METHOD
Cook on auto for 7/8 hours
Sear beef on all sides in frying pan before putting in slow cooker to thicken add cornflour and leave lid off for 30 mins before serving
Serve with creamy mashed potato. The following day the meat can be sliced and gravy added to make a roast dinner!
ENJOY!
Giles Quingo shares his Gammon Casserole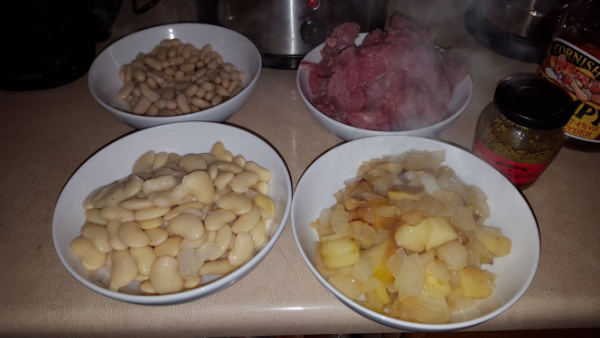 INGREDIENTS
1 Gammon joint
1 Large onion
2 Tins butter beans
1 Tin Cannellini beans (any small white bean will do)
1 or 2 apples (size taste dependent)
2 Good quality chicken stock cubes/pots
1 Good quality vegetable stock cube/pot
1 1ltr flagon scrumpy cider
Options
Wholegrain Mustard
Thickening agent like cornflour
METHOD
Dice onion and apples and soften until translucent with the diced apple
Cube gammon joint as chunky or small as you like
Drain beans
Throw it all in a slow cooker or casserole & cover with cider.. drink any remaining cider (cook's perks)
Add mustard (optional)
Cook on high heat in slow cooker or low heat in oven in a covered casserole dish checking regularly for a few hours.
Salt and pepper to taste (I find the gammon makes it salty enough for my tastes)
For the last hour of cooking add thickening agent (optional depends on if you like your broth thickened)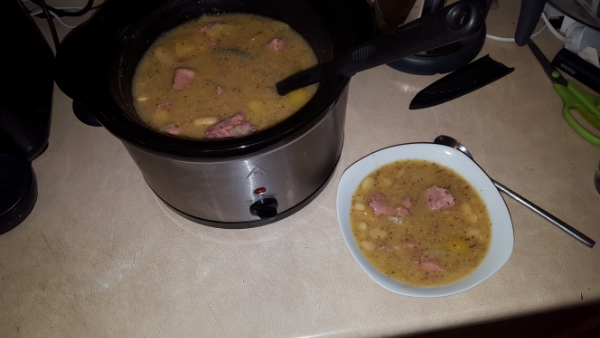 ENJOY!
Bryony Hill has written a recipe book out now and shares her Macaroni, Leek, Red Pepper And Tomato Bake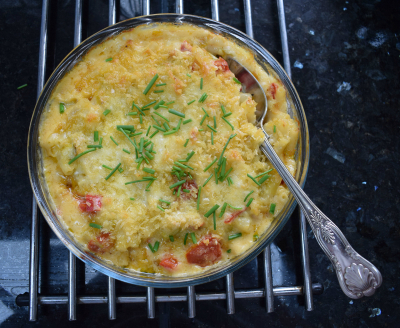 Preheat oven to 180c Gas Mark 4
INGREDIENTS
Macaroni
1-2 medium leeks, washed and finely sliced
1 long, sweet red pepper de-seeded and sliced
1 tomato, roughly chopped
1-2 cups strong cheddar cheese, grated plus a little extra for the top
2 oz butter
1 tablespoon gram flour
1 heaped tablespoon crème fraiche
1 heaped teaspoon Dijon French mustard
Panko crumbs
salt and pepper
METHOD
Put the macaroni on to cook in a pan with boiling water making sure you stir to prevent the pasta from sticking to the bottom.
Put the leeks and peppers in a pan with half the butter and some of the pasta water. Bring to the boil and gently simmer, stirring once in a while.
When both the vegetables and leeks are cooked, drain the pasta and mix with the vegetables, keeping the cooking juices.
Melt the remaining butter in a pan with the gram flour and whisk in some of the pasta water.
Bring to the boil, stirring all the while, then remove from the heat and stir in the crème fraiche, cheese and mustard.
Season well and pour into a shallow gratin dish.
Scatter some more grated cheese on the top along with the Panko bread crumbs.
Bake in a hot oven until browned and bubbling.
ENJOY!
I often make this casserole for myself. Ginger, Chilli and Chicken Casserole
Preheat Oven to 160oC Fan or Gas Mark 3
INGREDIENTS
2 free range chicken breasts without skin on cut into small pieces
8 small potatoes cut in half
4 carrots chopped
1 large onion
Tin of tomatoes
2 garlic cloves
Grated fresh ginger
1 red chilli deseeded and chopped
A sprinkling of mixed herbs
Bayleaf
1 - 1 and a half pints of chicken stock
METHOD
Chop the onion finely and fry until slightly brown. Place in casserole dish.
Add the chicken pieces and fry until chicken turns white. Also add to casserole dish.
Place remaining ingredients in dish and add stock.
Cover and cook in a moderate oven Gas Mark 3 or 160o Fan for two hours.
Sufficient for 3 or 4 people, depending on appetites! Ginger and chilli can be omitted if you don't like hot flavours.
ENJOY!
Adrienne Laverick makes Slow Cooked Lamb, Brisket Of Beef Or Shoulder Of Pork. (No image)
Preheat oven Gas Mk 2/3, Elec Fan 150-160c
INGREDIENTS
Joint of meat of choice. If using pork, remove the rind and crisp up separately
Bag of small new potatoes
Beef stock cube
2 cloves of garlic finely sliced
Teaspoon of mixed herbs
Black pepper
METHOD
Large cooking pot with tight fitting lid. Foil.
Place meat in large oven proof pot and place potatoes around it.
Dissolve stock cube in 3/4 pint boiling water (or half a pint and make up to 3/4pt with red wine) and leave to cool.
Slice garlic cloves and place over surface of meat, sprinkle on herbs and black pepper then gently pour stock around edge of pan.
It should cover most of the potatoes but not essential.
Place a piece of foil over pot and seal around the edges a well as you possibly can making sure there are no holes, then put lid on pot and place on middle shelf in pre heated oven. Prep your veg for steaming/boiling/ microwaving then go out for the day, as you can leave this dish for up to five hours and it wont spoil if it is well sealed---the longer the better.
The meat will simply flake apart, or off the bone if you use leg of lamb, and if there are any left overs, they make good pulled lamb/ beef /pork sandwiches the following day with a dollop of home made chutney/apple sauce/ stuffing etc.
ENJOY!
Adrienne Laverick has also sent me this recipe for Ratatouille------- and its uses (No image)
INGREDIENTS
2 large Courgettes quartered and sliced(not too thickly )
Two shallots or small red onions finely chopped
2 cloves garlic crushed
Large tin of chopped tomatoes
Mixed herbs, salt and black pepper
Vegetable stock cube
Vegetable oil
METHOD
Lightly sauté the onions and courgettes in a little oil until soft but not brown.
Add garlic and cook for further two minutes. Add tomatoes, herbs, seasoning and crumble in the stock cube, with a little extra water if the tomatoes weren't juicey ones..
Bring to boil then lower heat and simmer until courgette and onions are cooked through, adding more boiling water if necessary.
This can all be done in a slow cooker if you don't want to spend time keeping an eye on it, or you want to make a bigger batch as it freezes well.
When cooked, this sauce can be used in many different ways over several days.
On its own with pasta and grated cheese for vegetarians.
Add prawns or small chunks of white fish-or both, and heat through until cooked and serve with new potatoes or crusty bread.
Add fried chunks of gammon and its juices and serve with hash browns or simply put a quantity in blender and whizz few seconds, add a some veg stock to thin down a little and a few broken strands of spaghetti and heat through until pasta is cooked for a filling bowl of tomato minestrone soup.
ENJOY!
Beverley Ann Hopper makes Minced Beef and Onion Pies with Gravy

Preheat oven to Gas mark 6, Elec 200c or Fan 180c
INGREDIENTS
1lb Minced Beef
I chopped onion
Oxo cube
Water
Pastry
8oz plain flour
4oz margarine
4oz lard
pinch salt
water
METHOD
Mix the pastry.
Cook the mince onions in a pan add oxo cube.
If you can't make the pastry, for quickness use the packet already made just add water.
Place in individual trays or one large tray.
Bake for around about 20 30 mins.
Whether you like mash roast or chip potatoes with them, peas and oxo gravy are a favourite with our mince pies.
ENJOY!
Beverley Ann Hopper enjoys making Quiche Lorraine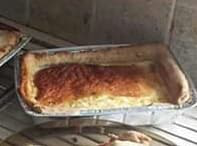 Preheat oven to Gas mark 6, Elec 200c or Fan 180c
INGREDIENTS
For the quiche:-
2 eggs
4 fluid ounces milk
2 oz cheese, grated
Bacon pieces
For the pastry:-
4oz plain flour
2oz lard
2oz margarine
Pinch salt
Water
METHOD
Make pastry and place in lined foil tray once rolled out.
Pour in the mixture of eggs, milk, cheese and bacon
Bake for about 20 mins.
Serve with a mixed salad or chips.
ENJOY!
Moira Manson makes this delicious Lamb Hotpot with Fluffy Dumplings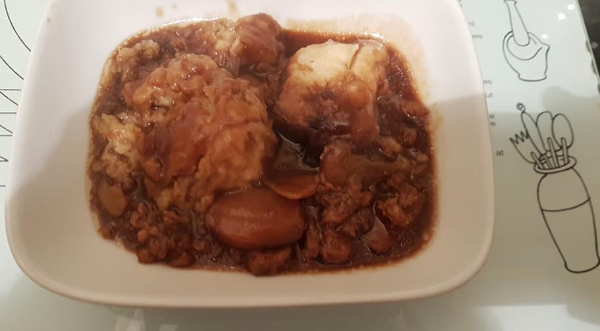 INGREDIENTS
1lb diced lamb
Barley
Onions,
Sliced potatoes
Oxo stock
Dumplings (enough for 2 large or 3 small)
4oz flour
2oz Suet
Salt and Pepper
METHOD
I put the lamb in plastic bag with a tablespoon of flour and salt and pepper.
Good shake then brown in the pan to seal in flavour.
Put in onions, brown those then add the stock.
Good stir then put in the slow cooker with barley and sliced potatoes to cook all day.
Add dumplings last 20 minutes then plate up.
ENJOY!
I hope the recipes above have whetted your appetite! Desserts will follow soon and hopefully some more main courses in a new article in January.