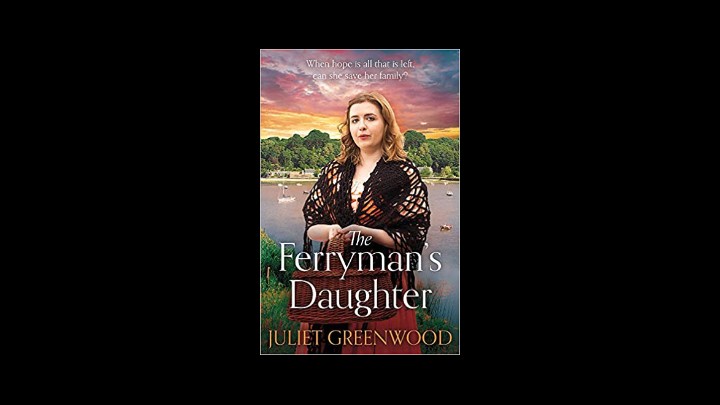 I am delighted to share readers reviews of The Ferryman's Daughter by Juliet Greenwood.
Moira Manson
Definitely a 5 star review! I was engrossed from page 1 and loved reading about Hester and her dreams.
Hesters dreams are her mams dreams. She wanted to make them come true but with her dad to look after and a man trying to claim her, she had her hands full, then WW1 came and Hester got a job as a cook looking after the injured.
So her dreams had to wait. This is a fantastic book and really hope this author writes more.
Beverley Ann Hopper
Cornwall 1908, eleven year's old Hester Pearce lives with her mum Sadie, dad Robert, younger siblings Robbie and Alice. Dad works as a Ferryman.
Her mum is well known for her chutney making and she loves to help with the fruit picking, chopping and stirring, her dreams of one day to run her own cafe and cook the best food ever.
The Ferrymens cottages in the row are a tight knit community. When Hester gets the chance to become an apprentice in a restaurant after she leaves school, taking on by M. Alphonse in St Ives, its a dream come true but poor Hester has to take her mother's place in running the family home after her loss, with more sorrow ahead. But she treasures her mums recipe book.
What a breath of fresh air this book is to read. Full of ups and downs for Hester, who is strong willed to get what she wants out of life. I found this an enchanting book,with characters along the way to touch your heart. Warming story from start to finish.
Loved it.
Sandra Blower
A lovely book that starts with family, relationships and duty. Hester hopes to fulfill her dream and not to stay in the shadows, but war is coming threatening any hope for a future of happiness.
Afalon may not be a safe haven.
This is a wonderful book to read and congratulations to Juliet Greenwood.
Patricia Humm
What a wonderful story of Hester Pearce.
When her beloved mother Sadie died in childbirth Hester had to cook clean pay the rent and give up her dreams. Her father who rowed the ferry across the Estuary would rather drink in the pub than give Hester money. Fortunately her mother had shown her where she had money made from selling jam was kept!
Hester had an unwanted admirer in Jimmy Harkness who worked his way into fathers good books with beer. When her father has an accident Hester takes over running the ferry.
One night she rescues Clara from the Estuary. She is going to find her beloved before he leaves. From that moment a friendship is formed although Clara is upper class.
Hester's Gran is a cook at the big house Afalon, but when it is sold she leaves. The new owner employs Hester as cook (her ambition is to own her own cafe)
When the war comes along Miss Chesterfield (her employer) decides to take in wounded soldiers. Amongst them is a young man called Richard who she knew from her childhood. He was in a bad way.
Jimmy Carrie's on pestering her and one night he accosted her in the gardens so she ran to an office and locked herself in. He sets fire to it and disappears. Hester is rescued and she then decides to look for a cafe of her own. She finds one to rent in St Ives and with the help of Clara and her Gran she is successful.
After a year the owner dies and his wife decides to sell. Miss Chesterfield buys it and gifts it to Hester.
Richard visits but she is convinced that even though he had kissed her he was Clara's. After Clara said he was only a friend, her lover died in the war. Richard and Hester walk into Sadie's Cafe, named for Hesters late mum.
Hesters mother's dream had been to own her own cafe as she was an amazing cook. She met and married Hester's father so the dream died.
Hester's wish was the same so when Miss Chesterfield gifted the property to her, Sadie's Cafe was born.
I won't spoil the rest of this novel, but would encourage you to go out and buy it!
Heather Copping
Cornwall in the autumn of 1908 sees eleven year old Hester living with her parents and siblings alongside the estuary where her father rows the ferry for a living, her mother is a cook, making extra money baking for a restaurant in St. Ives.
After losing her mother, and her father then having a really bad accident, Hester feels that she has no choice but to step in to look after the family, the house and run the ferry business. One night she rescues a young lady, Clara who comes from one of the "big houses", a lifestyle miles different from Hesters, will she forever be in their debt?
Is her father always going to drink all their rent money away every week? Hester is a strong willed and hard working young woman but does she have what it takes to provide for her family and what about her own dreams and ambitions to run her own cafe? Her mother had this same dream and never had a chance to fulfill it, will Hester?
Before long war comes to Cornwall and as the shortages start, Hester is offered a job as a cook at Afalon, is she up to it and can she manage her father who is totally against it and then there's Jimmy Harkness, a nasty character who will stop at nothing to get his own way.
Soon her friends and neighbours rally to look after the gardens, as the young gardeners have all joined up, and along with the VADs and other staff, the house comes alive once more.
A sweeping saga set on the Cornish coast and countryside, featuring a great character in Hester, she is feisty and headstrong but that is what she needs to be to survive these times of uncertainty and danger. She knows what she wants to achieve and it's not easy but she will do what she can to have the life she has dreamt of.
A great 5☆ read.
Janice Rosser
I love all of Juliet's books and The Ferryman's Daughter lived up to expectations. We begin the story in Cornwall in 1908 where eleven year old Hester lives with her mother, father, brother and sister. Times are very hard, her father who is the local ferryman is not easy to get on with and spends too much time and money in the pub. Hester's mother is pregnant once more and sadly loses her baby and consequently dies. Of course the family are heartbroken but there is worse to come.
Her father gets badly injured one day and is unable to continue his job as the ferryman. Hester is now left in charge of her family, plus having to take over her father's job. This is no easy task for an eleven year old, but Hester is determined to keep her family together and realise her dream of one day of buying and running her own café.
How will the story pan out? WW1 is fast approaching too and will this bring benefits or despair?
A well researched and very enjoyable page turner. Will there be a sequel I wonder? I hope so! 5 stars.
Julie Ryan
I really loved how this book highlighted the predicament of women in the early nineteenth century. The unfulfilled dream of Hester's mother to run her own restaurant is heart-breaking, especially when it seems that Hester will also fail in her desire to control her own life. It is hard to imagine these as fictional characters, so strongly did they jump off the page and embed themselves in my consciousness.
Life was hard in the Cornish community but sometimes fate can lend a helping hand. The idea of having little or no control over who a girl must marry seems anathema to us now but it really isn't that long ago. All the way through this book I was keeping my fingers crossed for Hester to find a solution.
The background of rowing the ferry really places this book in context as well as showing how reliant on the weather and the tides the people were. It only takes one misfortune to change lives and likewise one piece of good fortune to change them for the better.
This is a thoroughly absorbing read and when I'd finished, I really didn't want to come back to reality.
Jan Poole
What an inspirational character, Hester is throughout the book. From a very early age, as it was in this era, she was expected to help her Mum with household chores rather than attending school for an education. That said, the determination that was instilled by her Mother was that of never giving up on her dreams and ambitions to do well in life and succeed rather than bow down to life's rather low expectations of a female.
She fought throughout her life to have some chance of a better life not just for herself but always having strong family values, love and consideration for her father and siblings, after her Mother had died. She battled constantly and after every knock, came back stronger showing her resilience, strength and the memory of her Mother living in her to get somewhere in life.
No way was she going to be another girl who had to run the house, give in to what was expected of her and do what people thought she should. Other characters, who were from a different class to herself showed that there should not be any kind of class difference especially when she helped so many from rescuing them and preventing them from being killed to showing a path of loyalty to everyone she cared about.
An absolute pleasure to read, and have thoroughly enjoyed seeing into the life of Hester and her family's hurdles through their lives whilst also trying to remain respected in the small hamlet where they lived.
I would definitely recommend this for an exciting, but easy read.
Will be looking out for more of Juliet's books!
Diane Cunningham
This is my first book by Juliet, but I can say it definitely won't be my last. The Ferryman's Daughter is set in Cornwall and starts in 1908. It follows the life of Hester and her family as they struggle to survive during the hard times before WW1.
I have spent many happy holidays in Cornwall, and the way Juliet describes everything it's easy to imagine yourself there during these bygone days. Sadie Hester's Mum always dreamt of owning a little cafe in St Ives and she took Hester there to share her dream with her.
Unfortunately Sadie dies during childbirth leaving Hester to grow up quickly and take her place running the home for the family. This was just the opposite of what Sadie wanted for her eldest daughter.
Hester is a strong person who won't give up without a fight, and this book is a lovely read following the ups and downs of her life.
I highly recommend this book and I'd love a follow on to see where life takes Hester.
Donna Prosho
From the write up on the back of the book, I was not expecting such a heartfelt story that was packed with love, devotion and a want to make dreams come true.
There's lots of tears along the way, and a lot of resilience too.
I fell in love with the main character - Hester Pierce - from the very start, and hoped all the way through the book that her dreams were fulfilled, and to find the love she so deserved. and I truly wasn't let down at all.
A fantastic novel from Juliet Greenwood, and I look forward to reading (and reviewing) many more of her books in the future.
Margaret Joel
This book was a delight to read, describing the life journey of Hester. She was beset by disaster from a young age, her mother died, her father spent their money on drink & then as a result of an accident he was unable to work.
Hester, obviously inherited her strong character & determination from her mother, kept the family together. This was a struggle particularly as her father was happy to marry her off to a villager who bought him drinks! Hester overcomes a great deal but eventually succeeds in achieving her ambitions.
I can recommend this book.