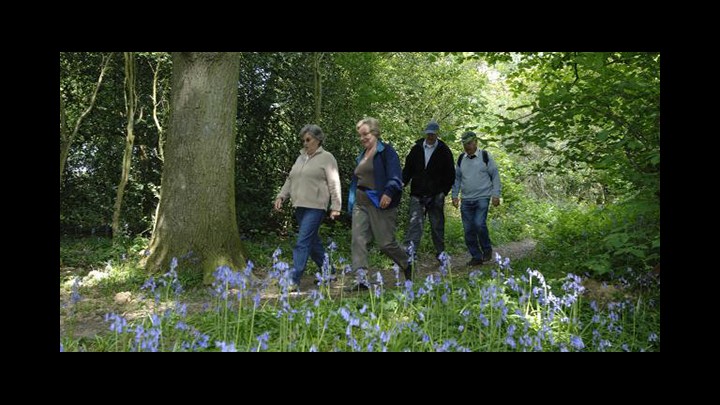 The Walking for Health Scheme was the brainchild of Doctor Bird who was a GP in Berkshire. He felt strongly that so many of his patients could enjoy better health if only they took more exercise.
Not everyone wants to take of their clothes to go for a swim & joining gymnasiums can be expensive. It costs nothing to go for a walk & getting out into the fresh air is best anyway. Also by joining in with a group people chat & often new friends are made so the walks are good for physical health & mental well being.
Doctor Bird led the first walk himself about 15 years ago, since then the idea has snowballed. All over Britain local authorities have supported the idea & virtually every town has Health Walks.
The leaders are all volunteers, they are sent on courses to train up on a few rules & regulations including some First Aid. Their walks are led by friendly, knowledgeable people, specially trained for the job. Some walks are quite brisk others more of a stroll it depends on the leader &/or who turns up for a walk.
Photograph copyright The Ramblers/Walking for Health/Paul Glendell
Healthwalks are for everybody--just turn up! A Health Walk is for an hour or so, occasionally longer according to leaders & demand. The Walking for Health Scheme is now under the auspices of the Ramblers association & MacMillan Cancer Research.
http://www.walkingforhealth.org.uk/news/2010/01/mbe-for-health-walk-founder
Footnote from http://walkingforhealth@ramblers.org.uk
"Only a third of adults in the UK are active enough, but it doesn't have to be this way. Walking for Health is England's largest network of health walk schemes, helping all kinds of people take to lead a more active lifestyle. They've done this with great success for over 12 years now, improving thousands of lives."
"Their walks are led by friendly, knowledgeable people, specially trained for the job. With regards to the walk leader training, it doesn't focus so much on first aid, but more on the practicalities of leading a health walk, as well as the benefits of walking, route planning and leading walkers with special requirements. Their walk leaders provide all the advice and encouragement a new walker needs to build fitness at a pace that's right for them."
"Together the Ramblers and Macmillan Cancer Support run Walking for Health, helping you get and stay active. By sharing their walking and health expertise, they support 600 local schemes across England to offer short, free walks. Their aim is to help more people – including those affected by cancer – discover the joys and health benefits of walking."
Lead image is copyright The Ramblers/Walking for Health/Paul Glendell