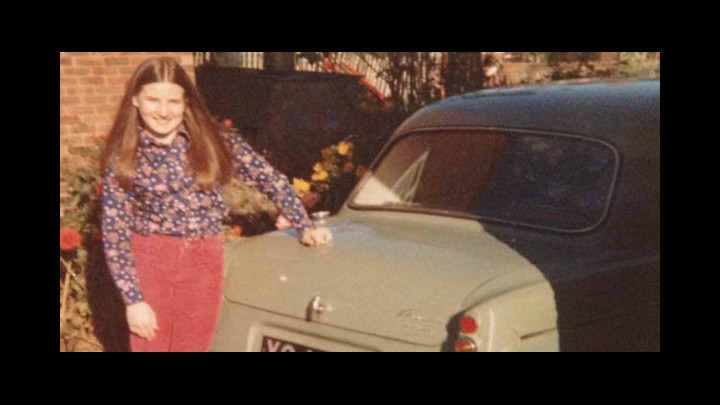 Age 17 years, two months, three days and my first car had been bought and delivered.
A Ford Prefect, green, two doors, three gears and I drove it to Newquay with my best friend. A seven hour journey with no motorways. After checking the oil, the tyres, the break fluid and having a full tank of petrol, I bid goodbye to my anxious mum and set off on my own feeling VERY grown up indeed!
My friend came rushing out of her house and threw her suitcase on the back seat, nearly sending the radio speakers flying. Radio 1 was blaring forth. Noel Edmunds playing the chart countdown for the week beginning June 12 1972. We were so happy and started taking bets on who was going to be number 1. Then we started chattering about how we were going to meet some surfers who would be handsome and carefree and take us for (albeit illegal) drinks at the local seaside bars!
We had been driving for four hours and were just leaving Exeter in Devon when suddenly the car started to slow down, and we heard a snap and came to a grinding halt
Amazingly there was no car behind us, so nobody ran into the back of my beloved first car. We looked at each other and our grins turned to a look of fear. Coming along the road were a couple of male hitchhikers dressed as nurses! One of the lads came over and asked us if we were ok. We looked on helplessly, suddenly feeling very vulnerable." Open up the bonnet love, and let me look inside"." I'm Jules by the way and this is Andy"."Your fan belt's buggered, you aren't going anywhere fast". Andy said, "I can get round that problem "and proceeded to take off a stocking he was wearing!
My friend and I blushed furiously but the lads found it very funny. Jules did his repair job on the fan belt with a stocking and told me to start the engine. Hey presto, it worked!
They then asked if they could hitch a lift. They were going to a charity do in Newquay and needed to be there for 6pm, hence the nurses outfits. We were staying in Newquay too, so they squashed themselves in the back and we were all ready to go again. My Ford Prefect finally got us all to Newquay at. 5.30 pm, seven hours after setting out from Hereford. We had a fantastic week and went out with Jules and Andy most days and evenings.
We stayed friends with them for many years until they both emigrated to Australia with their families
When I look back to 1972, I drove a car the day after I passed my driving test, I gave a lift to two hitch hikers who I didn't know, I had a great time and was never under any pressure to consent to anything. Forty three years on, would I do these same things again? I would like to think I would and more to the point, that I could.
I still believe most people are good, not bad and it is safe out there in our big wide world. Not sure about the Ford Prefect though, maybe a Volkswagen Golf these days!!