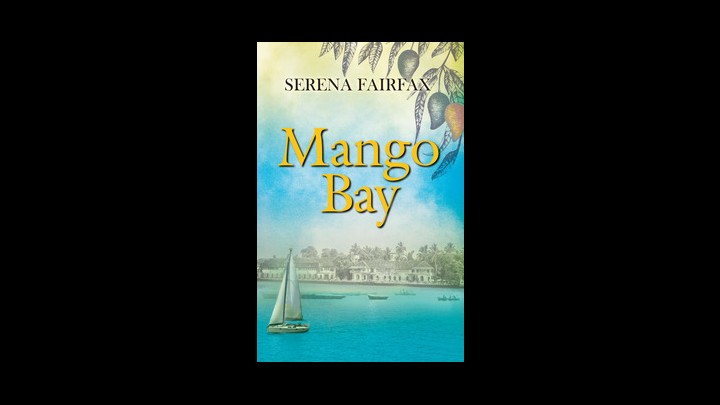 I am delighted to share readers reviews of Serena Fairfax latest novel Mango Bay.
Beverley Ann Hopper
A beautiful well written romance story set in the 1950's Bombay. We learn about the lives of Audrey and Nat who meet in London and after their marriage move to Nat's homeland.
An inspirational story, that we learn of secret's passion and love.
I enjoyed reading this book right through finding it hard to put down. will the marriage cope and succeed.
I do recommend you find a quiet spot and engross yourself readers wont be disappointed. It's just beautiful.
Janice Rosser
When Serena Faifax sent her latest novel Mango Bay, I couldn't wait to start reading it. I watched A Suitable Boy on TV earlier this year and became absorbed in the lives of Indian people and their culture during the 50's. Mango Bay also starts off in the 50's, 1956 to be precise. There is a comprehensive glossary of the various words that readers may not be familiar with and this is very useful as the pages are turned.
Audrey, a Scottish Presbyterian, falls in love with Nat who is part of the Bene Israeli Jewish community in Bombay. They marry in the UK, much to the disgust of Audrey's parents and Nat pursuades Audrey to come and live with him and his extended family in Bombay.
What follows is a tale of intrigue, passion, scandals, rituals, secrets and much more. Will Nat and Audrey live happily ever after?
Serena takes the reader on a journey with each page vividly descriptive. I can highly recommend this book.
Oh and BBC, if you would like another series set in India, why not contact Serena as Mango Bay would make excellent viewing!
Heather Copping
Set in 1956 we meet Audrey Cuthbertson, daughter of a strict Presbyterian family from Jedburgh and Nat (Nathaniel Zachariah) who comes from Bombay in India.
After a very quick courtship they are married and spend their honeymoon in Paris. Then the difficult task of explaining to her parents that they are married does not go down too well and three months later Audrey finds herself waiting for Nat when he returned back to India to sort things out.
His parents also are not taking the news well. It's in January 1957 that Audrey arrives in Bombay and now she faces the task of "fitting in " as she undergoes great scrutiny from all of Nat's family. She wants to earn money of her own but somehow Nat is changed from how he was in England and she realises that she has quite a task before her.
As time goes on things sort themselves out and Audrey and Nat are happy and are blessed with a family. But you are always wondering if this will last as Nat is not always as attentive to her as he once was. Soon other things affect their happiness and alongside bad health in the family and cases of fraud and kidnapping, things will never go back to what they once were.
Find out how Audrey and her family get on in the following years and where they spend their lives in this tale of multicultural life as this book transports you to a different climate full of customs, smells and spices that you can almost imagine as you read it.
I must admit I got a bit confused with some of the words, customs and terminology but still enjoyed reading it very much.
Sandra Blower
As a lover of books I offered to read this book for an honest review, unfortunately I have been unable to get into this story.
This is no fault of the Author or the story.
I find that if we all loved the same books the world would be boring.
I thank the Publisher, Author and Janice Rosser for the chance to widen my book genre.
Margaret Joel
This was a good read. Glossary was a useful addition. Story begins in London when East meets West. Nat, an Indian Jew, meets Audrey a Scottish Presbyterian.
They marry & then inform the parents. Audrey visits her parents who are not happy. They eventually start married life in India shortly after independence & have an active social life but complicated family life.
Audrey is very much accepted into Nat's family. They have a family & life continues but Nat has an affair. Audrey returns to England for a holiday & their relationship deteriorates. The end seems rushed & there are anomalies.
Throughout the book there is no mention of Audrey's family but then it seems, at least the children, have spent summer holidays with their Scottish grandparents.
Seems to be a lack of continuity. Despite this I enjoyed it.
Jan Poole
The story of the unique Audrey drew me in from the very first chapter and how she followed her heart, by falling for a man who came from a completely different culture and set of beliefs, let alone a different country to what she was familiar with.
Adamant to the rightful place of living with her new husband, she followed him to India to face a life that was not guaranteed to be without a challenge, and through sheer grit and honest values to his family proved that she was worthy of his and their love and respect.
Adapting to the way their hierarchy, male dominated culture and beliefs were, Audrey needed to find her place within the family setting and stabilise a part of her culture within the home. Taking on the extended family was another kind of conquest to prove her worthiness. The diversity of the class system still obvious in the 1950s in the Indian community where everyone had their place whether earned or presumed.
Finding the secretiveness of family members, the sly way they try to outdo one another to gain respect they do not deserve, adds to the underlying battle within such strong cultural ways. Not always legal either, but adds to the twisted plot of the story; the outcome not always expected.
This was a good story, once you got into it. Felt believable, for the period it represented in the story, and the entwined family history to the end.
The way Serena stirred in the actual history of real life in India, along with the story of the family was enlightening, and eye opening; not being familiar to the cultural, religious and class diversity of how India grew as a country and how people were treated and thought of.
The only negative criticism I would say was that the glossary at the front of the book did put me off and would rather have seen it at the back. I thought that even though Serena just wanted to inform us of the necessary words that would help with the understanding of the Indian culture, I did think it was too much to see when opening to the first pages.
Debbie Taylor
This book spans nearly two decades and follows the story of Nat and Audrey. A young couple who met and married in 1950's London, they then moved to his family home back in Bombay.
It tells the story of the struggles their marriage endures due to their different cultures. We meet many of Nat's family and the roles they play in their marriage.
The story flows well although at times it can get a little complicated and jumps around as you soon realise how large his family is.
I enjoyed reading about life in India in the 50's through to the 70's and have read another book by Serena which was also set in India.
Diane Cunningham
I give this book 3.5 stars. I enjoyed Serena'a other book Where The Bulbul Sings and looked forward to reading this book.
Unfortunately I struggled to get into the story at first. If like me you find the same happening stick with it as I did, you'll be glad you did.
This book starts off in 1956 when a young Scottish girl falls in love with an Indian lawyer. Audrey is sad when her family aren't happy with her relationship with Nat and she agrees to move to Mango Bay in Bombay living with Nat's extended family.
Serena goes into great detail so you can easily picture how life was back then. Also at the beginning of the book there's a list of all the Indian words in a glossary so that you understand exactly what is going on.
I feel that this book would make a great television series. You go on a great journey with Audrey through the ups and downs of her life finishing in the 1970's.
Donna Prosho
This is the second book by serena that I've been lucky enough to review.
It took me almost three quarters of the book to actually get into the story, (no fault of Serena's) but when I did I was gripped.
I love that there's a glossary at the front of the book for translation on some Indian words, as sometimes you do need to refer to it. Serena immenses you into Indian life, culture, and it's magical.
If you have the chance to read this book, then do, and if you do get stuck like I did, persevere with the story, as its worth it in the end.
Nicki Howells
Set in the 1950's beginning in England , and moving to India, Mango Bay follows the story of Audrey who falls in love with Nat who is from India.

It took me a while to get Into the story as it is set a bit later than the books I tend to favour reading. But it was interesting and I did enjoy it, it just took me a little bit longer to read as I couldn't sit for long periods and read it.

Having read Where The Bulbul Sings and had to google words I hadn't heard of before while reading it , I was very pleased to see that there was a glossary of terms that are used in the book. This was a great addition!!!

Thank you for the chance to read and review this interesting book.
See reviews of Serena's other book on my website Where the Bulbul Sings here.
EDITOR: There are six reviews to be added to this article and I will do so as they come in and then promote once more.