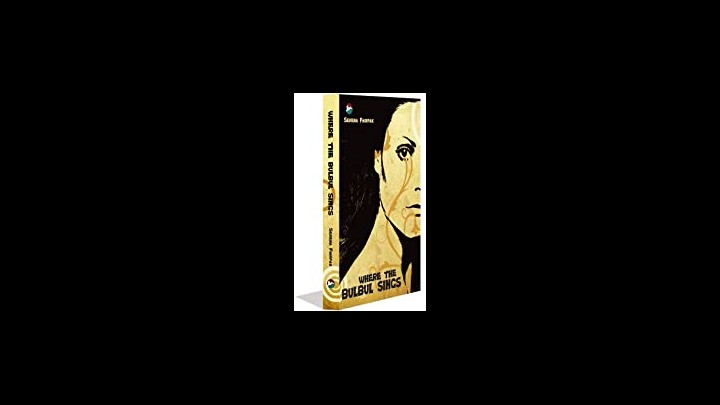 My team of reviewers have been sent copies of WHERE THE BULBUL SINGS and here are their reviews to share with you all.
Beverley Ann Hopper
Hermie Blake seventeen year's old born to an Indian mother and a European father, a face like a ripened peach. It's 1939 India.
Working as a junior clerk in Ajemmkot bank knows she won't get anywhere with the job, pens a letter to Aunty Al and takes unpaid leave. She couldn't wait to set off to Delhi.
Taking on a nanny job with the Oakleys that pays her, she was staying put. I found this book a fascinating tale, funny and witty in places, a journey to be told, with tremendous accounts giving from the author.
Remarkable and I loved it.
Diane Cunningham
Not having read any books by this author before I was unsure what to expect. The book starts in India in 1939 and weaves its story up to present day. The story starts with the life of an Anglo Indian girl Hermione living in the railway town of Ajeemkot.
Working at the bank she became very disheartened at the treatment of the AI community when she wasn't allowed to play in the local tennis tournament. Deciding to better herself she leaves her family behind to stay with Aunty A1 in Delhi. Hermie as she called herself finds herself in money trouble after finding out her dear Ma was dying a painful death back home.
Going to Parvati for help changes the course of Hermie's life forever. This book is written in a clever way so the past and present intertwine beautifully. A nice read that also gives you an insight into the Indian culture. An enjoyable interesting read.
Fiona Morton
Serena Fairfax is a new author to me. Not heard of this author before. I was thrilled to bits to win a copy of this book on my kindle fire. Perfect to try for the first time.
It was a brilliant book. I really enjoyed it. A joy to read. It was easy to read too.
WHERE THE BUL BUL SINGS by Serena Fairfax is all about the past and the present from the last days of the Raj to the present day.
And from a small railway town of Ajeemkot and princely state of Walipur to cutting edge of modern city Delhi and Sivalik a pine scented hill station in foothills of the Himalayas.
In the atmospheric and passionate account of clash of cultures, divided family loyalties ,wealthy heart throbs and power of love the story is told by 3 ladies whose lives entwine. The characters are very interesting in the book.
Overall an interesting story by a new author to me. I recommend this book if you are thinking of trying Serena fairfax for the first time. Will of course read more books by this author in the future.
Katie Phillips
I did not know what to expect with this book. I found it eye opening and intriguing as to how another culture exists.
I enjoyed how the main characters lives entangled themselves over periods of time with passion and heartache.
I learnt how it must have been to have lived like this.
Look forward to reading more by this author.
Donna Prosho
The story is about 3 different strong women, set in 1939 in India, it tells a tale of a clash of cultures, caste and creed, divided family loyalties, wealthy good looking men and the power of love, all told by each woman.
Hermie - a headstrong Anglo=Indian, turns her back on her community and reinvents herself.
Edith - a sharp witted German who was exiled in India by nazi persecution.
And kay - is hated by a family mystery which leads her to India.
It took a while for me to get into the book at first, due to a few words that I wasn't familiar with so needed to be looked up, so that I could imagine what, or who was being written about, but I loved the setting and how the writing transported me to the time and place, the era of country, including the culture, language and religion.
The use of Indian terminologies for the servants and food added to the richness of the story.
Once into the story, couldn't put it down and at the end found I was pretty lost as I wanted to continue to read more about India and be transported back there.
Margaret Joel
This book is set in India, starting pre. War. It follows the fortunes of an Anglo Indian (AI) girl who wants to better herself & move away from her family. I found the beginning of the book irritating, there were constant use of Indian terms with no explanation.
For example, chakra, chaprassi, a glossary of terms might have helped. The story spans 70 years and could be easily condensed, it is too long. The characters are well described & believable, the story depicts interweaving lives of the main characters.
Hermie, the main character leaves home to make a fresh start. She needs to make money when her mother becomes ill & becomes a prostitute, mistress to the Maharajah & has his baby. She gives the baby up for adoption & the Maharajah never knows. Hermie marries an Englishman but doesn't get to England, which was her ambition.
Didn't really enjoy this book.
Margaret Lily
This book begins with Hermie, a 17 year old Anglo-Indian girl living in Ajeemkot in India in 1939 and the story spans the next 70 years. There are some funny parts, a couple do make you laugh out loud, and some sad ones.
I loved the character of Hermie, she is strong willed and refuses to let anything hold her back from being the best version of herself she can be....certainly NOT her family. It's her life and she is determined that she alone will make the choices for her life, even if that means things don't quite pan out how she thought.......
I have read another authors work set in India during ww2 so I was excited to read this one too. It is a very interesting country, and Selena's childhood in India has given her a brilliant vantage point to write her book from.
I did spend a bit of time googling words I came across that I hadn't heard before and didn't know, which helped me to visualize and understand things better. It is very well written and Selena has written some fantastic descriptions. I thoroughly enjoyed this book and highly recommend it.
Brilliant job Serena.
Debbie Taylor
This book gives a wonderful insight into life in India during the days of the British Empire. The description of the smells and sights of the area around Delhi is fascinating.
The story spans the war years the characters that you meet appear to become friends and you are soon eager to see the relationships grow.
On the whole it is an intriguing read.