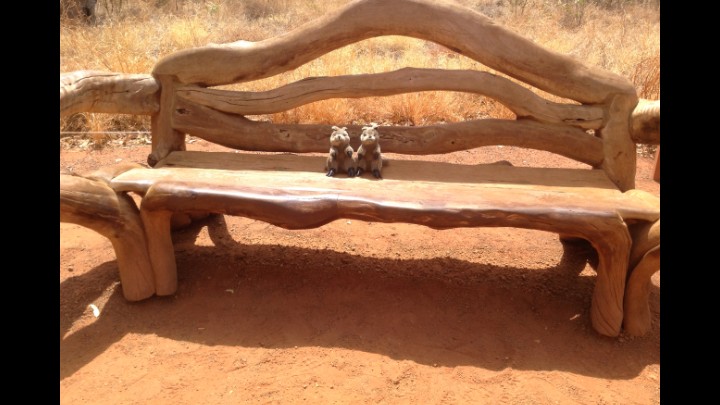 After a wonderful evening, beautiful sunset and we had good nights rest.
A tasty breakfast was sneaked from the buffet, and they boarded a coach to take the trip back to the National Park, but this time it was to drive around the base of the mighty sacred rock called Uluru, or Ayers Rock.
Information plaque about the rock
The distance around the base of the rock is approximately 10km and would take about three and half hours to walk, but there was no way Queenie and Quentin could walk that distance in the searing heat, so they were pleased to be on the coach. The colour of the rock changes with the light and has many different hieroglyphics etched into it, all with different stories to tell.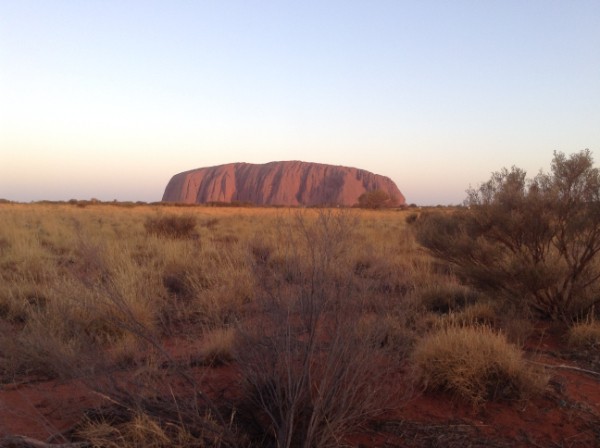 Q and Q sitting on a very special seat
We stopped to take a walk and a closer look at the information provided at certain points around the rock. It was extremely hot again so Queenie and Quentin took a break and sat on a lovely seat that had been made especially for Prince William and Catherine to sit on when they paid a visit.
Refreshment time whilst waiting at the airport
After this trip, it was back onto the coach and a return to the hotel to collect luggage and head off to the airport for the flight to Cairns. After a long day it was refreshing to enjoy a drink whilst they waited in the airport lounge for the two and a half hour flight which should arrive in time for dinner.
To be continued...
See Day 1 here.
See Day 2 here.
See Day 4 here.
See Day 5 here.
See Day 6 here.
See Day 7 here.
See Day 8 here.
See Day 9 here.
See Day 10 here.
See Day 11 here.
See Day 12 here.