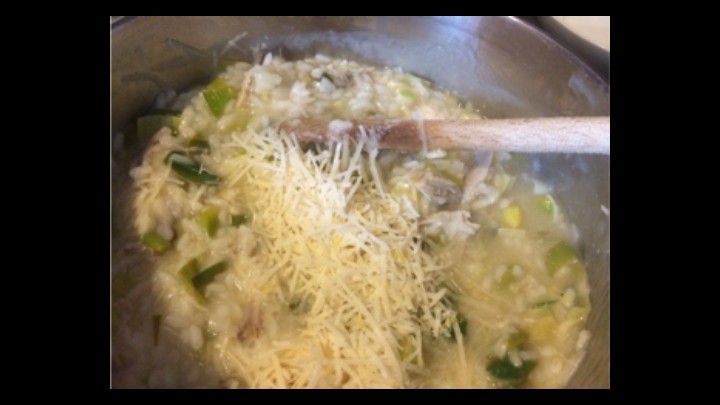 Many of us have been cooking and creating recipes during lockdown. This is a super risotto.
Here is another recipe from Bill Sewell which is easy and satisfying. As you say. 'This is the most delicious and comforting dish for leftover roast chicken. In fact I'd never make it unless I had leftover roast chicken. Surprisingly it doesn't really matter how much meat you've left on the bird.'
It will be a richer dish with more chopped chicken stirred in but it's equally (although differently) good when it's closer to being a straightforward leek and lemon risotto.
Like a lot of simple dishes it can be delicious or it can be dull and the difference is in the detail. So the key things are:
Make the stock the day before – ideally overnight. Make it part of your routine to strip the meat off and put the stock on when you're clearing up your roast dinner. That takes the stress out of making the risotto the next day.
Cook the leeks separately from the risotto. If you cook them in with the risotto you're almost certain to overcook them.
Use enough liquid . Risotto should end up creamy and unctuous – more like tinned rice pudding that Batchelors savoury rice (to use two rather unsavoury comparisons)
The rice should be firm but cooked. I'm not sure which is worse: hard undercooked rice or disintegrating overcooked slop. I've eaten both in supposedly excellent restaurants. The only way to check when it's ready is to keep tasting.
It's certainly a better dish made with your own stock, but if you're short of time you'll still have a very decent meal by using a stock cube.
INGREDIENTS
Serves 4
A partially eaten roast chicken.
300g risotto rice
400g leeks, halved, sliced 1cm, and thoroughly washed and drained
100ml white wine
50g butter
A couple of sprigs of fresh thyme, stripped
100g parmesan (maybe less if you've got lots of chicken bits)
½ lemon (zest and juice) – if you like it very lemony, which I do, you can use a whole lemon
METHOD
Strip the chicken of all the meat. Roughly chop it and set aside.
Break up the chicken carcass and put it an ovenproof lidded pot. Just cover with water. Bring to the boil and then put in to a very low oven (110C) overnight. If you have an Aga or similar the simmering oven is perfect for this. In the morning drain the stock and reserve.
About half an hour before you're ready to eat start cooking the risotto. Heat the stock to around boiling and keep near the place where you're going to cook the risotto.
Put the rice in a heavy-bottomed pan on a medium heat and stir it around for a couple of minutes. Then start adding the hot stock, stirring very regularly. As one ladle of stock is absorbed you can add the next one.
Whilst the risotto is beginning to cook in another lidded pan put the leeks, white wine, butter and fresh thyme leaves. Cook on a very low heat with the lid on for five or more minutes until the leeks are barely tender. Add the chopped chicken and continue to warm gently until the chicken pieces are hot.
When the rice is just cooked and the latest ladle of liquid nearly all absorbed add the leeks with their buttery/winey liquid and the juice and zest of the lemon. Check the seasoning and add salt and pepper as necessary. Stir well and then add half the grated parmesan. Serve at once – risotto doesn't like to be kept waiting.
Offer the rest of the parmesan at the table.