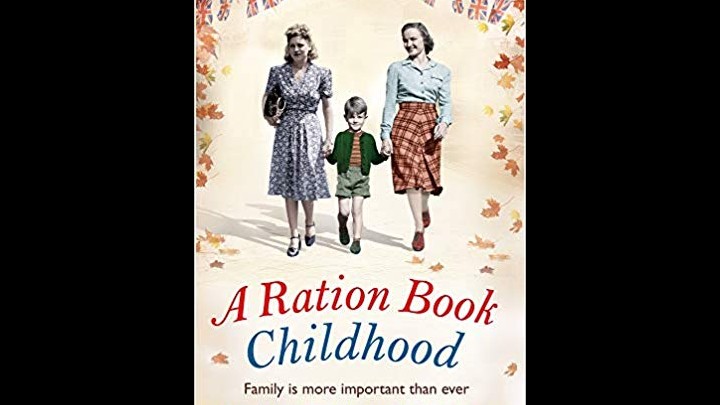 Sophie from Atlantic books has very kindly sent out copies to my team of reviewers. Here are their posts.
Moira Manson
My eyes are struggling but I couldn't put this book down! The Brogan family of east London have struggled with the shortages of the war and the struggle of the blitz hit them hard but they have another struggle to get through.
Hopefully they can weather this one or is it a step too far for the family? Admist all this it's nearly Christmas and Ida is doing her utmost to get presents for her family especially the children and Queenie as normal is up to her tricks.
Can the Brogans weather the storm? 5 stars for an exceptionally fantastic read.
Beverley Ann Hopper
Ida Brogan living not far from the docks in Mafeking Terrace, East end London her family home. It's World War 2.
With her husband Jeremiah, mother in law Queenie, youngest daughter Jo and son Billy only still at home now it's still a tight squeeze. Ida is forty two years old now.
Out shopping she bumps into her old friend Ellen Gilbert who has recently moved back, a widow with her son Michael, can Ida help her in her time of needs?
A heartbreaking story that I loved reading. Ida Brogan is a woman who puts everyone first, she is one true diamond lady of the East End. As Queenie says ' she has a grand big heart. '
There is definitely a tissue or two needed for this book, I needed them and so will you. A touching read that you won't want to end.
Sandra Blower
I have to say it was so good to join the Brogan family in A Ration Book Childhood. Ida is out when she sees a face from the past and goes to say hello but what happens is going to shatter Ida and her marriage.
The Brogans are a family that pull together but can they heal the rift between their parents? As Christmas is coming the family club together to put on a family spread.
Queenie is still the same but what has happened has rocked her world too and she has sympathy for Ida.I have to say that this is the best book yet of Brogan Family and when you read it have tissues ready as you will need them.
Worthy of more stars but 5* is all I can give. Thank you to Jean Fullerton for a BRILLIANT book.
Diane Cunningham
This is book three in the Ration Book series that follows the lives of the Brogan family. In this book we find the Brogans struggling with the stresses and hardships of surviving during WW2.
The way this book is written it takes you right into the story like you are right there with them. To Ida family is everything but while out shopping one day she bumps into an old friend. This meeting brings out a secret which could tear Ida's family apart forever.
This is a very emotional rollercoaster ride for the Brogans and you will laugh and cry with them as you wait to see if they are strong enough to cope with everything that's happening in their lives. I was drawn in from page one and absolutely loved this book.
I highly recommend the whole series which gets better with each book.
Shirley Barsby
This is a Sunday afternoon book, make a cup of tea, put your feet up and have a feelgood read. The book centers round the family of Ida and Jeremiah.
By chapter 6 we find out that Jeremiahs' father is actually the priest and that Jeremiah has fathered a child by Ida's
friend Ellen.
Ellen comes back into their lives when she is dying of cancer and wants the boy to live with his father. Ida had no idea that her husband had ever been unfaithful so this request knocked her for six.
I don't want to give the end of the story away but I didn't envy her having to deal with this.
An excellent book which had me thinking about her dilemma even when I wasn't reading the book.
Patricia Humm
Further stories of Brogan family. Cathy is still not talking to Mattie after her husband was arrested for treason. Mattie is married to MI 5 agent Daniel, they have a daughter and another one on the way.
This book centres on a mistake made by Jerimiah eleven years previously which tests their marriage to the limit. I will say no more on that.
They are living through nightly air raids daughter in law who doesn't care for her husband who is in Africa or her baby.
There are big changes a foot Ida and Jerry survive them all. Their youngest daughter is planning a wedding.
They get through Christmas on rations, newspaper decorations and unexpected meat thanks to Jerry's mum, Queenie and her not so legal friends.
Very enjoyable sad in parts. Definitely a 5**** read.
Pamela Coles
The stark reality of living in London during the war years. Ration book life was difficult.
I lived in South Shropshire during the war and can relate to what the story puts over to you, although those of us who lived in the countryside fared better because of large gardens and a surfeit of rabbits and pheasants to augment the meagre meat ration.
The book is a good synopsis of family life in those troubled times. I can recommend the book wholeheartedly.
Heather Copping
This is book three in this series about the Brogan family who live in the East End of London during WW2. Although it is book three you don't need to have read the previous two books to be drawn into the story straight away.
This one centres mainly on Ida and her husband Jeremiah, not only does Ida have to put up with Jeremiah's mother living in the front parlour but now she learns of a secret between her friend and her husband.
As the bombs continue to fall and the residents of Mafeking Terrace go down to the shelters at night, Ida has to keep going for the sake of her children and grandson but now she knows something that she wishes she didn't. Ida is a woman with principles but will she be able to carry on as usual, while all around her know the secret that has become between her and her husband?
Full of hope's and dreams, sadness and pity, this book will leave you not wanting it to end. The characters become more than words on a page, they become real people that you can't help but care about. A worthy 5☆ read.
Nicki Howells
Having read A Rationbook Christmas I was very excited to read this book.
It was great to catch up again with Ida Brogan and her family. An old friend of Ida's from her childhood reappears, with a secret. A secret that threatens everything that Ida holds dear, can she overcome this secret or will it tear the once tight knit Brogan family apart?
There are some parts that made me laugh out loud and a few that really do tug on your heartstrings. It is a very well written book, very descriptive and Jean certainly knows her stuff when it comes to the East End during the war! I deliberately tried to read it slowly, but the story just draws you in and I couldn't put it down.
I love the character of Jerimiah, strong, hardworking, and a huge softie when it comes to his family-especially his beloved Ida. Jerimiah has a very strong sense of what is right and what is wrong-and he is determined to make sure he does what he sees is the right thing to do-even if it hurts those around him.....as long as he gets Ida's 'blessing'.
This is definitely a story of how resilient love can be, even in the toughest of circumstances, love really can conquer everything.......or can it? I highly recommend this book.
Brilliant read, thank you Jean.
Anne Harvey
In this book, we pay a return visit to the East End Brogan family during WWII and for me it was a very welcome return. This time, the story centres round the mainstays of the family, Ida Brogan, and her hard-working husband Jerimiah.
With their various work activities as well as voluntary war work, life is hard for the couple but their love for each other has always withstood the trials of the time. When Ida bumps into an old friend, Ellen, and sees her young son, Ida's love and trust in Jerimiah is put to the test, recalling as it does a time of heartache and tragedy in her own life.
Somehow, Ida must rely on her resources more than ever to keep the family going throughout trying times. This, to me, is one of the best of Brogan series, highlighting as it does a more mature love and how human nature can somehow overcome even the hardest of circumstances.
As always, this novel contains a wealth of detail about the times and the East End in particular and was a joy to read. Truthfully, I was sorry to finish the novel and sad to wave farewell, hopefully only temporarily, to the Brogan family.
Janice Rosser
I love all of Jean Fullerton's books, so was delighted to read and review A Ration Book Childhood. This is the third book in the Brogan Ration series, but can be read as a stand alone novel. Set in WW2 in East End London, the main character in this book is Ida Brogan, wife of Jeremiah, daughter in law of Queenie and mother and aunty to her children.
Ida does her best to keep the family together during times of endless hardship and spending nights in the shelters to avoid the bombs dropping all around them. Jeremiah her husband works hard to make sure the family are fed and also is a member of the Home Guard in the evenings.
A good friend of Ida's returns to London with a ten year old son. We learn of a secret that has been kept for all these years. Why is Ellen back? So begins the realisation that Ida's family is rocked once the secret is out. Can they survive the betrayal?
Jean's excellent research ensures the reader is drawn into the sights and sounds of London's East End during WW2. This is such a well written book and worthy of 5 stars.
Don't forget the tissues though!
Fiona Morton
I have read a few of this author's books and enjoyed them. I was so excited to see this Jean Fullerton new book on the new book stand at the local library so I took it out.
Absolutely brilliant. I really loved it. Every bit as good as A Ration Book Christmas.
Jen Addley
This is a really really great read! I've been totally lost in the details of WW2 that only someone who had lived through it could describe so well.
It completely drew me in. A beautiful story with twists & turns unfolding.
Loved it and am looking forward to more.
See readers reviews of A Ration Book Christmas here.
See Reviews of A Ration Book Wedding here.