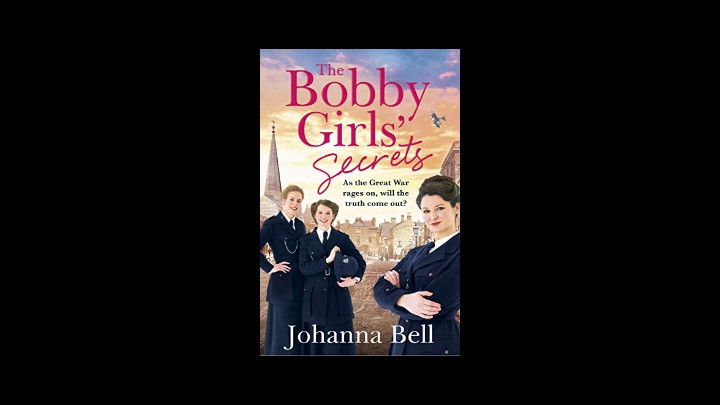 I am delighted to share readers reviews of this super book.
Moira Manson
The Bobby Girls' Secrets was a really fantastic book. I was so engrossed in it and reading about Irene and what she went through first with her boyfriend Frank, then when she moved to Grantham and fell for a man who was a controlling manipulative person.
This was where her problems started and she was also having problems with one of the girls she shared a house with but I'm not telling you anymore!
Read it and enjoy, it's definitely a 5 STAR review!
Diane Cunningham
I throughly enjoyed book one The Bobby Girls and was looking forward to reading this book and I wasn't disappointed.
Book one told the story of Irene, Maggie and Annie's adventures as they joined the WPS patrolling around Bethnal Green. This book sees Irene leaving London and her friends to move to Grantham. Irene is a very private person and she struggles to let people in and to let them know about her hard family life growing up.
At first Irene thinks everything is going well after her transfer and her finding a friend in Charles Murphy. Unfortunately things aren't as bright as Irene first thinks. This book sees Irene struggle with a lot of difficult situations and problems to deal with.
I won't go into details and spoil it for other readers but I will say read this book you won't be disappointed. A well deserved 5* read and I look forward to reading book three when it comes out.
Heather Copping
This is book two in the Bobby Girls' series and we meet the same characters as in book one, Irene, Maggie and Annie.
Irene takes centre stage in this story and although she likes her life in London with Maggie and Annie, after suffering a blow from Frank, whom she believed to face her future with, she decides to make a clean break and gets a transfer to Grantham. There is a large army barracks opened up at Belton Park nearby and this makes a lot of work for the police force, including the women of the Women's Police Service.
The sole reason for the women's police to be there was to keep an eye out for prostitutes sneaking into the camp and local women also trying to get into the camp and "entertain" the soldiers. The army base was huge and Irene was surprised to find out it had it's own hospital, church, cinema and even a railway line.
Has Irene gone from the "frying pan to the fire" though! She doesn't want to appear weak in front of the other recruits but she has her doubts about the way they do things and treat other people. After a blow to the face by a fellow officer, Irene seriously has thoughts as to whether she has done the right thing. Who will be Irene's friend now, she so misses Maggie and Annie?
Will she find love and happiness or will she take the offer of love, and hope that it is a gesture to be treasured and not scorned? The list of events that Irene has to deal with grows page by page with prostitution, army deserters, neglected children and thieving to name but a few. She just doesn't know who to turn to and who to trust.
As you read through this book, you can't help but be drawn into Irene's story, although she had a rough start in life she overcame it all to serve the communities with the Womens Police Service. Will the Police Service stand by her?
I really enjoyed this book, even more so than the first book, and was so totally immersed in Irene's story both in the Women's Police Service and in her personal life that I was sad when it finished, although the comment at the end that there is to be another book "Christmas with the Bobby Girls" made me glad that there is to be more tales of the Bobby Girls. I can't wait!
A great 5☆ WW1 saga.
Anne Harvey
The second in the Bobby Girls' series lived up to my expectations as the Girls' stories continue. This book mainly concentrates on Irene, who we learn had had a disturbed childhood and ended up in a children's home.
Hearing that the Bobby Girls in Grantham, where a large number of soldiers are stationed, were having problems with women, prostitutes or otherwise, she feels led to see if she can help. There she is immediately drawn to local businessman Charles Murphy and is initially bedazzled by his charm and thoughtfulness until she realises that he is not all that he seems.
For me, the best part of the book was the way that Irene thoughtfully deals with the women she comes across and also a couple of deserters, showing a compassion that would have been unusual for the times.
I look forward to reading more about the wonderful characters of Maggie, Annie and Irene.
Janice Rosser
I was looking forward to the sequel of Johanna Bell's Bobby Girls and was not disappointed! We meet Irene, Maggie and Anna again, the three WPS who have become firm friends. This time the focus is on Irene who finds herself sent to Grantham to deal with the local prostitutes who often make the soldiers' lives happier. (If that is the right word to use!!) Grantham has a large contingency of soldiers at the barracks and Irene finds herself extremely busy from Day 1. The reader finds out that Irene wants to help the prostitutes, not punish them and she comes across as a very caring and thoughtful WPS. However, her private life is far more complicated! She meets Charles Murphy and is flattered by his charming nature and desire to wine and dine her. However, Charles is not all sweetness and light as we get to find out. There is also a deserter involved who Irene manages to help, but this is not without its risks to both of them.
It's a very well researched novel and the reader is kept engrossed throughout. I am looking forward to the third book which is due out at the end of 2020.
If you haven't read Johanna Bell's first Bobby Girls book, do read the reviews on the website and I am sure you will become a big fan as I am!
Donna Prosho
A follow on book in the bobby girls series, and did not fail to please!
The girls (Maggie, Annie and Irene) bond is unbreakable, even with Irene moving to Grantham to take up a paid position in the WPS (women's police service).
She took the position for various reasons but one of them was a broken heart. She soon finds herself involved in another relationship but it will lead to more heartbreak, but also, new friends and stronger bonds with old friends.
Another wonderful and interesting story about the WPS at the beginning of W.W.1. looking forward to reading the next book in the series.
Nicki Aitch
Having read Johanna's first book about The Bobby Girls, I was very excited to read this book,and it didn't disappoint.
Annie, Maggie and Irene are firm friends, having all joined the WPS, women's police service, from different backgrounds. Irene has the chance to move away to join another station in Lincolnshire, spurred on to make the move by an upsetting event in her life, although the thought of leaving her two dearest friends is very hard.
One of her new work colleagues takes an instant dislike to Irene, but she is determined that she will not be put off from trying to help the ladies who can't seem to resist the lure of the young men in uniform who have been stationed in the area, although at times their behaviour does make Irene blush!!
There are lots of twists and turns, and unexpected events, and without her two best friends by her side Irene finds it hard....but can she make her mark in a new town, and find the happiness she so desperately seeks??
Fantastic book, well written and I can't wait to see what comes next for our Bobby girls!!!
Beverley Ann Hopper
Gives a voice to all the women real police officer's during WW1. Three courageous women. Full of compassion and warmth.
This is book two, and tells us Irene Wilson's story and secrets. Bethnal Green London 1915, Irene, Maggie Smith, Annie Beckett, all working together and sharing a flat are very close friend's now.
Patrolling the street's full of drunken soldiers and prostitutes and all the residents grow to call on these girl's in desperate needs with problems. They were accepted and needed Irene wants to learn more about what she could do up north in Grantham, and with things not going to well for her in Bethnal Green she applies for a transfer, her friends are in doubt.
The sacrifice would be worth while so commandant Frosty organised her transfer. There's a secret reason for Irene doing this that's to be told in the book. I was shedding lot's of tears while reading, her story will touch your heart in so many ways, the job in the WPS has inspirational tasks, harrowing and tiring.
The characters in the book we meet along the way, some good some bad fit in perfectly so you will enjoy every single page . All these women should be given a big shout out for many year's ahead. Secrets to be told either big or small, the author's done so in this fantastic book.
Marilyn Chapman
I enjoyed this book from the outset. Author Joanna Bell has clearly done her research for The Bobby Girls' Secrets giving a fascinating glimpse of everyday life for policewomen in the First World War.
It is easy to get involved in the life of Irene, who leaves best friends Maggie and Annie in London's East End to be stationed near a huge army barracks in Grantham. Is she running away from the poverty of her past? Or heading for more heartache in the future? Her fellow members of the newly renamed Women's Police Service do their best to make her welcome, apart from one who clearly dislikes her from the word go. The girls' job is to stoically protect local prostitutes from the influx of young soldiers (no less than twenty thousand troops were stationed Grantham at that time.
If Irene has a problem, it is that she's too kind-hearted. This gets her into all sorts of trouble, not least with local factory owner Charles who tries to turn her life around. Not only does Irene try desperately to keep her 'clients' out of harm's way, but she's soon heading for a different kind of trouble of her own.
Just when the reader fears there will be no happy ending, the protagonist's life changes in an unexpected way… A great read.
I just cannot wait for book three!
Miriam Smith
"The Bobby Girls' Secrets" is the second book in "The Bobby Girls" series written by Johanna Bell and features women who volunteered for the WPS (Women Police Service) in Bethnal Green, 1915. I wasn't aware the women weren't paid for their endless duties and had to work in other jobs, often in factories, to subsidise their lives financially.
I also didn't know that they were met with so much animosity from the male police officers and that often other WPS members had different views on how to treat offenders. This series features three WPS girls, Irene, Maggie and Annie and although I haven't read the previous and first instalment, I still gathered enough to get the sentiment that the three girls are fiercely close and look out for each other physically and mentally.
Focusing mainly on Irene in this book, I did find it slow at times and found her personal life to be slightly unrealistic with the many men she seemed to attract but I was invested in her story and rooted for her constantly throughout. When Irene applies for a transfer to a paid position in Grantham, she leaves her beloved friends and joins Mary, Ruth and Helen who have quite different attitudes towards the women caught soliciting with the soldiers staying at the local army camp. Irene is determined to change how these women are treated and instead of being arrested, she aims to get them the help and support they obviously need.
Sadly, Irene is met with antagonism and she struggles to convert her colleague's opinions. This all made for an interesting read and together a side plot of an army deserter and his PTSD and some relationship 'gaslighting', I was happily entertained throughout this well written story.
I was very impressed with the research the author must have carried out to write this and the photos and information the author published at the end of the book was excellent, explaining that she used a couple of real life events into the story which I thought was very clever.
Although this was a slow burn, I still found it addictive and I would definitely read more in this series and if First World War domestic stories is your interest you should love this too.
You can see readers reviews of the first book here.