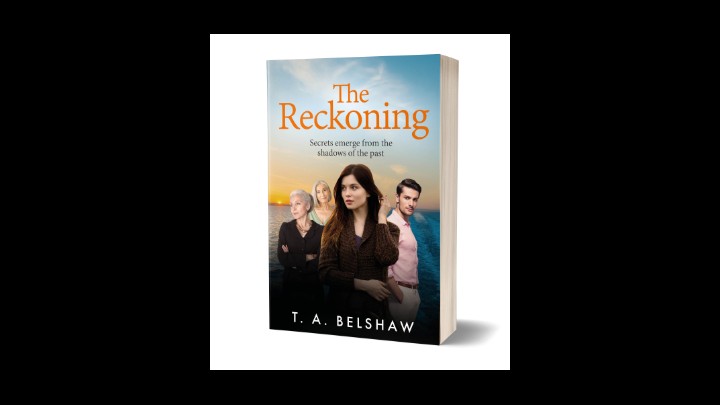 Secrets emerge from the shadows of the past. The Reckoning is the third and final part of the Unspoken, dual timeline family saga series.
In the original book, Unspoken, we met Alice, a feisty ninety-nine-year-old with a dark secret which she shares with her doting great granddaughter, Jessica, initially in conversation, then by way of her wartime memoirs.
When we first meet Alice, she is a seventeen-year-old who has been forced to run the family farm following her mother's death and her father's illness. Through her diaries we learn of her struggle to keep the farm going whilst trying to hang on to some semblance of the carefree teenage life she ought to have been living.
Meanwhile, in 2019, Jessica, a veritable clone of Alice in her younger days is having her own problems with her long term, narcissist of a partner, Calvin.
In The Legacy, we learn a lot more about Alice's wartime memories and her problematic relationship with her two daughters, the indomitable, Martha and her timid sister, Marjorie.
After years of absence, Jess's father smells money and returns to the town hoping to persuade his estranged daughter to pay off his gambling debts. Meanwhile, Jess's mother, Nicola has her own addiction problems and her relationship with her ex-partner deteriorates still further leaving Jess to try to pick up the pieces.
Finally, in The Reckoning we discover more shocking secrets from Alice's memoirs. Martha, not to be outdone, hands Jess her own diaries detailing her time as a troubled young woman in the late 1950s.
When her two elderly relatives embark on a cruise around the South China Sea, Jessica is hoping for an easier time of things and when she meets, Josh, a handsome young coffee bar owner she begins to hope that the decades long, Mollison family man curse will finally be expunged.
But when her mother's old problem resurfaces, with the scheming Leonora plotting and her ex, Calvin still unable to accept that their relationship is over, Jess suddenly finds the weight of the world on her shoulders once again.
The Reckoning will be released in eBook format on Amazon on Friday 30th July. Priced at £2.99. The paperback version will follow sometime in August priced at £9.99.
Link to Kindle version here.
Editor: See write up and reviews of the first book Unspoken here.
You can buy Unspoken directly from Amazon here.
You can buy The Legacy directly from Amazon here.
My review of The Reckoning
The Reckoning is the third and final part of the Unspoken trilogy. I thoroughly enjoyed Unspoken, followed by The Legacy and have been keen to find out what happens next to Jess and her ongoing family issues.
Jess has not had much luck with relationships and is still being pestered by Calvin, her long term partner. She meets Josh, a café owner and it seems there may be a spark between them. She is also still involved with her solicitor Bradley, but this is not a good idea as Bradley's wife Leonora is determined to catch them out.
Jess is fascinated still by her late grandmother Alice's diaries and the reader is transported back to WW2 as we learn how Alice meets Richard, a German POW who Alice has agreed to take in along with other German POW's. Richard works at the family farm and Alice is soon smitten by him. Richard is not a supporter of Hitler and soon he and Alice become much more than employer and employee.
Nicola, Jess's mother has her own problems with addiction and a violent relationship with Jess's father. This comes to a head one day and Jess is left trying to understand why her mother stayed with her father as long as she did. Nicola has never opened up to her daughter and surely now she must?
Nicola has a troubled relationship with her own mother, Martha and refuses to open up to Jess about it.
Jess keeps in touch with her indomitable grandmother Martha and she has also kept diaries. Martha agrees to let Jess read hers and what transpires is more heartache in the 50's and the reader also learns about Marjorie, Martha's timid sister and Jess's aunty.
Treating her grandmother and aunty to a cruise around the South China Sea, Jess is hopeful that this will be a chance for her to try and get on with her life at a more relaxing pace and sort her own love life out.
Will the cruise be a success?
Will Jess and her mum re-establish a good mother/daughter relationship?
Will Jess find happiness with Joss?
I read this book in three sessions and didn't want it to end. Trevor has a way with words that keeps the reader engrossed and like Unspoken and The Legacy, a well deserved five stars.