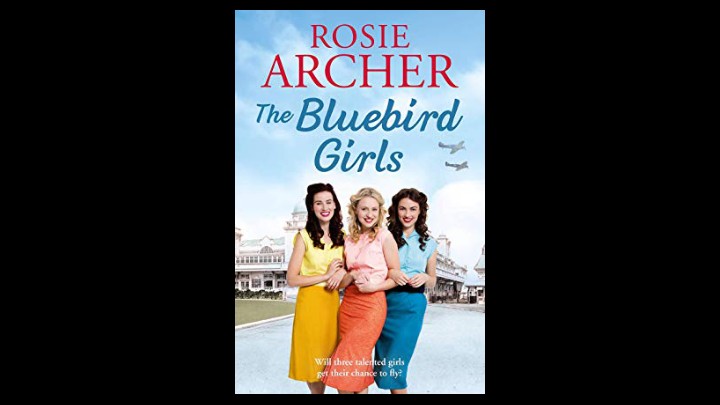 Quercus Publications have very kindly sent out copies of The Bluebird Girls by Rosie Archer and readers reviews are now here for you to read.
Moira Manson
The Bluebirds. What can I say? 5 STARS for a Fabulous book. The girls Rainey, Ivy and Bea all had a dream of singing. They sang in a choir but they wanted more. Their parents wanted it for them after hearing how well they sang together, but there was a war on.
One night someone listening to them knew they could make it big and that's how the Bluebird Girls were made.
Douglas J Lindsay
Take a well-tried formula and a prolific author and you get The Bluebird Girls. Take a trio of teenage girls with impoverished mothers desperately trying to do the best for their daughters and the general theme becomes a specific story. Set in Gosport in World War Two, The Bluebird Girls tells of hard times, mothers doing anything from part-time work to prostitution to provide for their daughters, and the irrepressible optimism of youth bubbling up.
When their school music teacher sets up a choir the girls join it then drag their mothers in. Success with this gives both mothers and daughters a strengthening of their fragile self-confidence and a common interest in success. The three girls all have exceptional singing voices and are formed into a separate trio. To begin with, they simply perform in hospitals and charity events but coming second in a national singing contest conveniently held close to their homes gives them a platform for reaching a wider audience.
But this skilled author weaves in more strands, especially for the mothers in their battle to rise above their deprived backgrounds. One is running away from an abusive husband, a soldier with an uncontrollable temper. Another is a local prostitute, not troubled by what she does but worried that it would spoil her daughter's chances of singing success if it became known in the wider world. The third lives through her children and the intertwining of all six give strength to each.
The soldier is sent to France; he shares a dugout with a reservist and is killed in a brave charge but not before he gives the reservist a photograph of his daughter – one of the three young singers. By chance, the reservist is part of a local impresario firm in Portsmouth. He sets off to find the girl in the picture and does so through finding them performing. The development from there is pretty obvious and it all ends happily.
This book has been an interesting voyage into a new world for me. The romance saga is a powerful genre which I have always avoided and I came to this one by expecting something else. So I started off distinctly dubious about it but found myself drawn in and wanting to know what happens next. The central thread might be fairly obvious but the author skillfully weaves the elements into an entertaining and gripping story.
Written in a simple clear style with periodic linguistic flourishes and the odd anachronism, the author takes the reader close to the characters and the action, letting them tell the tale.
If romances are your thing, this one is well worth reading.
Heather Copping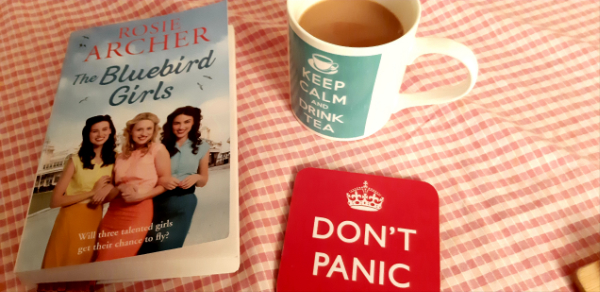 Another great book by Rosie Archer, I have previously read and enjoyed some of her books and this one is no exception, I was drawn into the story right from the beginning.
The story is centred around three girls and their families during WW2. The main character is Rainey who loves singing and lives with her mother, after running away one night from her abusive father they make a new home for themselves in Gosport.
It's through the singing she meets Ivy whose mother wants more for her daughter and Bea who is a bit older than the other two girls. Together they sing as a trio a folk song in an audition. After an off chance meeting with Blackie and Herbert, a deal is made for the girls to sing on stage.
Rainey's mother Jo acts as a chaperone, but will it all go to plan? What has happened to Rainey's father in the war? Will there be happiness for the girls former singing teacher (with her little dog
Toto)? No spoilers here but there are plenty of great moments and lasting friendships in this book.
This was such a good book I didn't want it to end and so pleased to find out it's the first in a trilogy.
Perfect to curl up with a nice cuppa, will appeal to fans of WW2 saga books. 5*
Valerie Nonow
This was a wonderful read. The story is beautiful. The writing is well paced and keeps you wondering what will come next. The descriptions are so well written that many times you are there with the characters hiding in the bunkers until the raid passes.
You hear moaning Minnie as if you were in the middle of it, you hear the strident noise of the bombs as if they fell beside you. But you also get to experience women's resilience in those circumstances, the lust for life that these 3 girls have, the joy that transcends them when they sing.
You share their sorrow their joys and all the spectrum of feelings they go through. It's a book about friendship during war times, but its themes will also resonate with the 'me too' movement, the female poverty campaigners, the 'what would you do' campaign.
This book will also appeal to musicians and artists as it shows what hard work this business is. I thoroughly enjoyed this book and I think the author should be proud of it.
One can only hope there will be a follow-up book as it was marvellous.
Nicki Howells
Having read some of Rosie's previous books, I was rather excited to read The Bluebird Girls. Although they are new characters, the location was familiar from her other books, which made these characters feel familiar.
It is 1940, a few months into WW2. Lorraine Bird-Rainey, and her mum Jo manage to flee her abusive father Alfie and move to a new area, to try and start a new life for themselves. Even though Alfie is a monster to Jo, it is clear that he is proud of Rainey and her beautiful singing voice.
When they have settled into their new home they find themselves joining a small, local choir where Rainey meets some new friends Bea and Ivy.
Bea is a bit of a handful, with an eye for the boys and developing a taste for the demon drink, will this be her downfall? Or can she rise above it and make it as a singer?
Ivy is a sweet girl who lives with Della, her prostitute mother, she doesn't have a father but her mother's landlord who runs the cafe that they live above has taken her under his wing and protects her like she's his own daughter. Will Della's choices impact on Ivy's future, or can they build a decent future?
The 3 girls all have amazing singing voices and even though each girl has their own troubles at home, together they can forget about them for a while when they sing. Is it possible that they could actually DO something with their natural talent?
This story has some entertaining, funny and heartwarming parts and some parts that are not so nice. But the story is well written and leaves you wanting to read more. As this book is set early on in the war, hopefully, there will be another installment to see what happens to Rainey, Bea, and Ivy.
Diane Cunningham
I love Rosie's books and this one is no different. Rosie has a way of writing that draws you into the book. Jo has a violent husband and a loving daughter Rainey. After one beating too many Jo and Rainey decide to do a moonlight flit to Gosport and leave Alfie behind forever.
Worried about the future Jo didn't realise that this was going to be the best thing they'd done. Going to a new school Rainey meets music teacher Mrs Wilkes who persuades Rainey and Jo to join her choir.
By chance, Alfie meets Blackie whilst on lookout duty in a foxhole in France. Alfie does something brave and asks Blackie to tell his family. Hearing Rainey sing when he goes to find them, Blackie makes her an offer which could change the lives of her and her friends Ivy and Bea.
I look forward to the next book in this series which comes out in June. I highly recommend this book.
Melanie Williams
I absolutely loved The Bluebird Girls. The characters are fab. Rainey, Ivy and Bea are typical young ladies all with their own issues but all determined to sing and their mums are fab too.
I especially felt for poor Della, what an amazing woman and it looks like a happy ending or beginning for her I hope.
I can't wait for the next installment to follow the girls on their path to stardom and happiness.
Shirley Barsby
Reading the synopsis on the book I was excited as it seemed the genre of book that I like. However, I was disappointed, you would be forgiven for thinking that the war didn't touch Portsmouth.
There was none of the tensions and hardships of war, terrifying air raids for example.
The three girls worked in a factory doing war work but the realities of this weren't covered. I'm afraid the book didn't grip me and I read the whole book without ever feeling involved with the characters.
I like a book to involve me so that when I'm not reading about it I am thinking about it. If the author had brought the hardships of the war into the book the way the singing cheered them up would have had more relevance as a contrast.
Beverley Ann Hopper
The first book in the series. Rainey, Bea and Ivy are The Bluebird Girls. The three girls met when they were singing in the choir run by Alice Wilkes.
War is declared its 1940 in Gosport. The plans for the choir to sing in the music festival and the pantomime are a big success and the three girls set out as entertainers for the troops.
It's a dream come true! Herbert and Blackie become their managers. I loved reading the girls journey and look forward to the next book to come.
Janice Rosser
I am a big fan of all Rosie Archer's books and The Bluebird Girls does not disappoint! The story begins in 1940 soon after the outbreak of WW2. Three girls, all from different backgrounds meet up and find that they love to sing. Rainey is Jo's daughter and lives with her and her abusive father. One night, Alfie (her father) goes a step too far and Jo and Rainey escape his clutches and move to Gosport to begin a new life.
Bea is Maud's daughter and likes to drink and flirt. Ivy is the daughter of Della who earns her living by prostituting. The three girls become school friends and join a choir set up by their music teacher. It soon becomes clear that they all have exceptional singing voices. Performing together at charity events, they are now destined to go to a higher level, but will it all go to plan??
Jo is always afraid that Alfie will return one day and find her and Rainey. The reader finds out that Alfie has been sent to France to fight and is in a dugout with Blackie, a reservist. Alfie loses his life-saving Blackie, but before he dies he tells Blackie what a wonderful singer his daughter is and gives him a photo of her.
When Blackie returns to England, he and his partner Herbert run an impresario firm in Portsmouth. Blackie eventually finds Rainey and hears her, Ivy and Bea sing. He offers them a contract and when their mothers agree to it, their lives will change.
The storyline has humour, sadness, hope and above all, friendship. The sequel comes out in June 2019 and I am itching to know how their lives will unfold! A 5 star read.
Donna Prosho
A fab read, and can't wait for the next book in the series, to find out what happens to Bea, Ivy & Rainey. Will their dreams come true as stars on the stage?!
It all starts with Jo, a battered wife, and her daughter Rainey, escaping from him in Portsmouth & to make a new life in Gosport! There she makes friends, and they both join the local choir!
We meet Ivy & her mom Della, who live above a cafe. Maud, a widow, who cares for her father and is a mother to Bea & Eddie.
We also meet the choir mistress Mrs Wilkes and a little look into her past!
On top of all their own troubles, there is the big thing of a war being on! Bombing most nights and rationing, amongst all the other bits.
The Bluebird Girls novel is a book you will not want to put down, the characters are loveable & just need to know what happens next in the story!