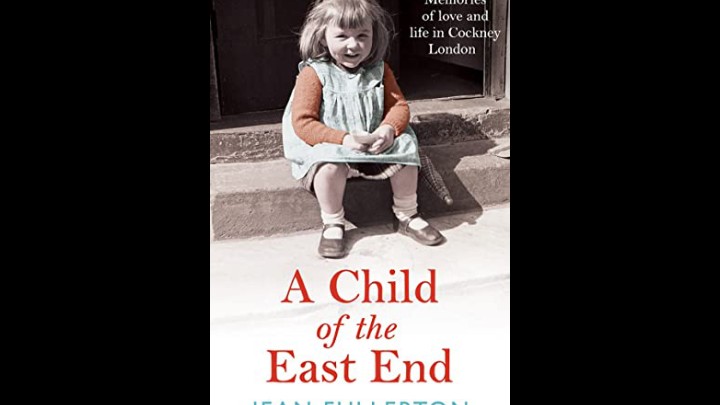 I am delighted to feature readers reviews of Jean Fullerton autobiograpy. A fascinating read!
Heather Copping
Jean Fullerton is an extremely popular novelist with many great books to her name including the Ration Book series, the early books featuring Nurse Millie and Connie and the East End Nolan Family sagas.
But this book is different, it's her story told from the heart.
Born in 1954, housing in London was then like it is portrayed in the TV series "Call the Midwife", damp walls, with earth floors, no inside bathroom and a single bedroom upstairs reached by a wooden staircase. All her family lived nearby and everyone was happy. A few years later they were rehoused in a new flat, and it must have been like heaven with all the mod cons, including separate bathroom and toilet, hot water, fitted kitchen and an airing cupboard.
As you read along you are treated to sad, amusing, sometimes really funny and tender moments as Jean tells us all about her childhood from school dinners, shopping with her mum, religion and many family events.
Then onto her life as a teenager, her part time jobs in the fashionable boutiques (and some very dodgy goings on), to the local library, chemist and her local Woolworths store. Finally onto her days as a young WPC and her life on the streets of London, and then her marriage.

Although I am 4 years younger so many of Jean's recollections of her school life really reminded me of mine, so many different things found me thinking omg I remember that, doing that or seeing that done.
This is a book that you will not want to put down, it's uplifting and totally full of real life friendships and family moments. I really enjoyed reading it and would recommend it to anyone who likes to read about life as it was then, so full of treasured memories.
Anne Harvey
I was fortunate enough to be selected to review Jean Fullerton's autobiography of her early years growing up in the East End of London immediately following World War II for which I thank the publishers, Corvus.
As readers of these reviews know, I have loved Ms Fullerton's Ration Book series about the Brogan family and now having read 'A Child of the East End', I can see from where so many of her ideas come from. Ms Fullerton seems to have absorbed so much of the atmosphere of the East End and this is clearly where her inspiration comes from.
What a colourful family the Fullertons seemed to have been but she has also been completely honest about the problems her own immediate family experienced which was a very brave thing to do. But it isn't just the family that provide the background to her life, there were so many colourful descriptions of the East End way of life and the included map was a great help.
Ironically, in 1957, when I first visited London as a young woman in her late teens, I was staying with a friend who lived in Flower and Dean Street so I was delighted to have that very same street mentioned. I have never forgotten my own memories of the East End, even then a conglomeration of different nationalities, so it was a wonderful trip down memory lane.
Thank you again, Jean Fullerton, and I look forward to your next East End series.
Beverley Ann Hopper
A unique book of true accounts of Jean Fullerton's inspiring childhood.
In the East End of London August 1954 Jean came into the world, the only daughter along with her brother Andrew from a big line of Fullerton's
This book has it all on her life growing up in the 60's and 70's of London activities, that a lot bring back memories of my childhood too, looking at school holidays childhood games and haunts. The shops, jobs and of course the food that is there to read and enjoy.
A full filling inspirational reading with the added bonus of photos of young Jean and London map, it a true story that will pleasure all readers.
I could not fault any of it, you read like you are sharing all the moments along with Jean, all I can say is how fabulous and a joy all on it's own from me.
It gets a definitely top 5 stars.
I will be recommending this to all my reader friends.
Debbie Taylor
This book was a brilliant read, it tells the story of Jean and her family in the East End of London from the 1840's through to the 1980's and beyond.
The book is wonderfully written, we get to find out where many of her characters come from and how they influenced her. I was often taken back to my own childhood when I read about something that she had seen or done.
As always it was a pleasure to read, thank you Jean for letting me read about your life as a young girl growing up in London who managed to accomplish so much.
Jan Poole
This was a slightly different genre to what I usually read but nothing less than Jean's brilliant standard of writing.
Initially, it was packed full of more historical facts, which were so interesting, but once further along into the book made so much sense as to why they needed to be introduced and explained.
Such an intricate web of family history, lifestyles and cultures interwoven with the affects of historical events that are everyday happenings.
The amount of ancestry facts were mind blowing when I reflected on what little I know about my own.
It was a brilliant read which I thoroughly enjoyed reading about and certain times came close to such a different outcome.
Jean proved to be a true strong, and courageous part of such a close-knit community and obviously well respected by her neighbours and friends even if they did not always show it.
I should imagine that the local East End, or anyone with family connections would be able to relate to this book and maybe even find some familial relatives along the way.
Another fantastic and time well spent read for me.
Thank you for the opportunity.
Diane Cunningham
I love Jean as an author especially her Ration book series, and so I was interested to find out more about the author herself.
Brought up in the 1950's East End, I'm sure many people can see the resemblance to their own families as I definitely did. My Dad was from Bow and my Mum from Hackney and both sides of my family moved to Dagenham to nice new houses.
My Dad even worked at Ford's, so I felt our family story had a lot of similarities to Jean's. It's a great read and also an emotional read that shows the camaraderie that the Londoner's had even after the long hard years of the War.
I would definitely recommend this book.
Janice Rosser
A Child of the East End is a fascinating autobiography. I have met Jean once back in 2018 at an RNA Conference for a short chat and now I feel I know so much more about her!
We are of a similar age and although I was born in Hereford in the mid 50s I can relate to various aspects of my early childhood.
The East End is brought to life for the reader and you can picture the various scenes as they are detailed so clearly.
Jean relates vividly about how her family and friends coped growing up, moving house, early teenage years, religion, first jobs, relationships and so much more.
We find out what career path Jean takes when she is in her early twenties and how her happiness is complete when she finds her future husband and soulmate Kelvin.
They are some lovely photographs included in the book and I can definitely recommend it as a 5 star read.
Will there be a sequel?? I would love to find out more!
Donna Prosho
An absolute fab read. Taking you back to an era of bygone times in the east end of London.
About the different jobs Jean had before she became a writer, her dreams and passions. Also of how tough it was in the post war years, of housing shortages, crime and families living in awful squalor. But also of the fun times she had in the 1960s.
Growing up in Essex myself then marrying into a London family, the knowledge and stories from the area brought back memories for me too.
Julie Ryan
I really enjoyed this no- holds- barred memoir as Jean Fullerton describes East End life in the 50's, 60's and 70's.
Many of us are guilty of looking back at the past with rose-tinted glasses. This memoir, however, details the struggles of the post-war years. What we seem to have lost today, however, is that sense of community, of belonging.
Even though I grew up in Yorkshire, this book brought back many memories of my own childhood, growing up in the sixties and seventies. Life really was much simpler then.
Moving forward to the seventies and Jean becomes a policewoman in London. This part is fascinating and probably deserves a book of its own at some point.
Spanning three very different decades, this book details how life, customs and traditions have changed over the years and gives a fascinating insight into a bygone era.
Margaret Joel
This was an easy read from an excellent storyteller. Although set in the East End of London life in those days was similar to other parts of the country.
Families lived close & spent time helping & supporting each other. Housing was generally basic with shared facilities or no hot water or bathroom. She has been totally honest about her life, no covering up about where she went wrong in her life.
Another interesting read.
Nicki Howells
Having read and enjoyed Jean's fiction books I was very excited to read her autobiography, and it didn't disappoint.
It was very Interesting to read about her early life, her struggles at school, her early working life and to learn about her family.
The fondness that Jean has for her Cockney roots is evident throughout the book, and shows what a very proud Eastender she is.
I admired her honesty when describing the 'less than legal' shenanigans that went on in the workplace, others may have omitted that completely, but folk of the East End know that's just how the world was at that time.
There were many parts that made me chuckle, and some tearful parts too. But overall it was a highly enjoyable read. And it was lovely to gain an insight to one of my favourite authors.
Fiona Dunn
I was gripped by this memoir from the opening sentence. The balance between memories, thoughts and the love that Jean Fullerton has for the East End was funny, moving and charming.
She provides interesting sociological, cultural and historical detail too delivered in a thoughtful, accessible way. I learnt much about the spirit of an Eastender, which made me respect these warm, welcoming, tough characters.
I thoroughly recommend this book – beautifully written and completely engaging.