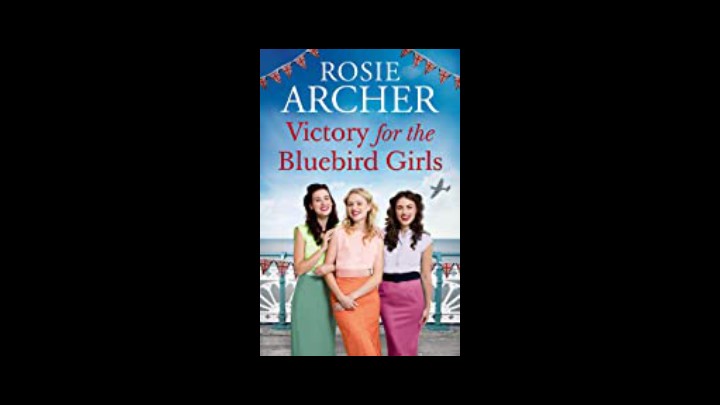 I am delighted to be featuring readers reviews of the fourth book in this series.
Heather Copping
Book four in this series featuring the Bluebird Girls, their families and friends. It's 1944 and still the war is raging and Gosport is still suffering from the bombing. Rainey is suffering in another way though, she is missing terribly her fiance Charlie recently killed in a bomb blast and now she has suffered again in losing her baby minutes after it was born. She blames the one person who cares about her deeply, her mother Jo, who was away on her honeymoon when it happened.
Soon she recovers and gets back into singing with the Bluebird Girls and things begin to return to normal. Except nearby in the pow camp a german prisoner has been captured and returned to the camp, but is he going to stir up trouble with one of the girls?
Or maybe its Eddie?
Very soon things start to pick up for the girls with talks about forthcoming promotions, will this turn out ok? Bea is very taken with her American GI and now realises what true love is, Ivy is still longing for a baby of her own and Rainey is still desperately missing her fiance and baby and will almost stop at nothing to have a baby to cuddle.

Set in the months leading up to D Day, with all the many servicemen from England and America congregating on the south coast, very soon the people of Gosport have not only to deal with nightly bombing raids but also the doodlebug, causing devastation in its wake.
This book is full of the excitement, family ties and camaraderie that you love when reading a book by Rosie Archer, pulling you in from the very first few pages and keeping you there till the end. I really enjoyed this book as I have loved the others in this series and feel sad that this is the last book in this series, as all the characters become as friends and neighbours to you too. A 5☆ read from me.
Moira Manson
It's lovely getting together with friends again. I love the Bluebird girls Bea, Rainey, Ivy. They have all done what they set out to do with a lot of sadness in between but seems as if they have come full circle.
I'm going to miss them but a fantastic series of books. 5 stars.
Diane Cunningham
I have absolutely loved reading the Bluebirds series. This book finishes off their journey beautifully. If World War 2 sagas are your genre, then I can highly recommend this series. You won't be disappointed!
I loved reading them and in a way I'm sorry to say goodbye to Bea, Ivy and Rainey. The girls definitely went through a lot of different situations together since they started singing in the choir as school girls.
They had happy times, and unfortunately heartbreaking times too, but through it all their friendship stayed strong.
I give this book a well deserved 5 stars.
Beverley Ann Hopper
The Bluebird's are together once again at Dartmouth Town Hall Devon.
It's 1944 and this damn war is still ongoing and they were performing for the United States Army Corps before they crossed the english channel.
Ivy Sparrow, Bea Herron, and Rainey Bird, the men all loved them, and this was The Bluebird's last performance in Devon before they head back to Gosforth.
Rainey was recovering from her double loss with the help of her friends and her mother Jo who is now married to Blackie their manager, Ivy and Eddie are still a loved up couple looking after Eddie's daughter Gracie, and Bea and Bing the American are taking their romance seriously but never get enough time alone and leaving him in Devon is going to be hard.
I am so looking to see what happens next for the girls, would the happiness last?
An inspirational book once again from this author, I loved the story of these talented girls, war is over but the Bluebird's will sing on.
Fabulous!
Nicki Howells
Having read Rosie's other bluebird girls books I was very excited, but also sad, to read this, the last installment of their story.
As the war is drawing to an end, the bluebird girls Bea,Rainey and Ivy begin to look forward to their futures. Will they continue to sing, or will they settle down and return to more normal lives? There were some funny moments in the book, but also a couple of sad ones too, my favourite character is definitely Bea!!
I really enjoyed the book, and flew through it very quickly. It was great to catch up with the girls again!! As with all of Rosie's books it is very well written, she really brings Gosport to life. If you haven't read the bluebird girls series definitely give them a read!!
Jan Poole
Another exciting book written by Rosie.
The challenges that the Bluebirds have faced throughout the series of books, along with the love, friendships, camaraderie and community strength which have been lost and found whilst facing the face of death at the height of the wartime, is truly mind-blowing.
Appreciating and understanding life's unbearable heart break that Bea, Rainey and Ivy face, and how they all support one another and hold each other up, with no expectations of reciprocation show how much they value their bond.
They each in turn show that their strength, independence and responsibilities are none compared to their love for each other and their families and the importance of how much it means to them. These ladies are remarkable to say the least and felt that I really did know them and their characters.
I am honoured to have read and reviewed this book, along with the previous ones of the series, but also sad with it being the last one.
This book comes with high expectations and have been met and exceeded in my opinion.
Fantastic writer and fantastic story which puts you right in the setting of that era, you honestly feel all of the emotion and hopes that they must have felt then. Would love to have the opportunity to actually hear them sing in real life!
Janice Rosser
This is the fourth and final book in The Bluebird Girls series from Rosie Archer and we get to see how Ivy, Bea and Rainey's lives pan out.
Ivy loves Eddie and baby Gracie even though Ivy did not give birth to her. Is the father around though?
Bea has a solid romance with Bing who is an American serviceman and they each have high hopes of spending the rest of their lives together.
Rainey is not sure what future she realy wants and we don't find out until much later in the book.
Each of the girls have different struggles and heartaches to deal with and the reader is drawn into their worlds. Rosie Archer describes the war years very vividly and the research has been well thought out.
With 1945 approaching and Germany having been defeated, a sense of relief is felt all round. Their friendship is solid and always will be, but will they each want to go their separate ways or stay together as The Bluebird Girls?
5 stars once more for this final book in the series. I do hope that Rosie Archer will write another saga in the future as her readers will want to become involved I'm sure!
Donna Prosho
Yet again, a fantastic read from a fab writer.
This book sees the last in the series following the bluebird girls. It is set in 1944 and tells the highs and the lows of the three girls.
The story has everything, love, sadness, loss, happiness, unexpected friendships, lifelong friendships and family.
As usual, I thoroughly enjoyed reading this story from this author, and I admit, there was tears as I got to the end. I so didn't want it to end, although it was great reading that they'd achieved all their hopes and dreams.
And with the fantastic writing, you don't need to have read the previous books (although, please do) as Rosie explains them in detail through a few chapters at the beginning.
A definite must read!!