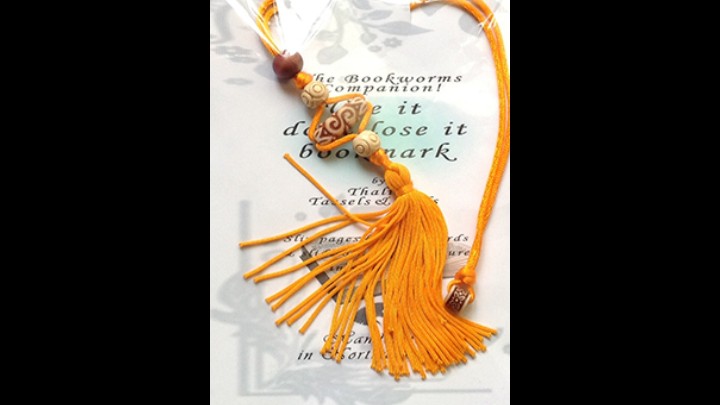 Finding ex pat groups to join was a priority when I landed in Hong Kong in 1998.
These were to be my saviours when a one year contract expanded, on more then one occasion, to eventually become almost ten years.
One group I joined was the Corona group. No, this was not a group who imbibed in the well known lager, or smoked cigars whilst sporting halo's; it was group of like minded ladies who sought to learn about the arts. Craft's and history of this corner of the world.
It was a day out at one of the member's homes that introduced me to the art of tassel making, using silken cords and beads. These were all available in an area called Sham Shui Po; a ferry ride across the water to Kowloon, then an underground train to this wonderful bustling place. Many trips were made here, to a packed little store, to acquire a selection of reels and skeins of silks, the colours of which went way beyond those of any rainbow I have ever seen. It was then a hop around the corner to 'Bead Street'---our nickname for the row upon row of shops with beads, beads and more beads.
Glass, wooden, plastic, ceramic, composites of various types, semi precious stones, Jade; smooth and polished, carved, painted, etched, solid, hollow, beads within beads; single beads, mixed packs, 'weigh your own'----it was a full, tiring in the heat, day out to choose everything you needed, but great fun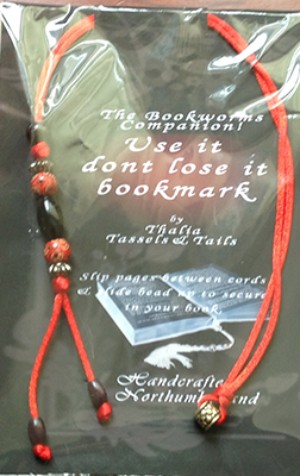 I began making the tassels and took one along to fill in some time whilst waiting to meet up with a friend. When she saw it, she thought it was absolutely beautiful and asked that I make some for her to adorn her furniture, which is primarily what they were used for. I was eventually asked to do some classes to show others how to make them and it suddenly became a frequent event in my timetable.
I was rather surprised to find a man checking into a class one day and when I asked what had brought him along, he explained that he collected ceremonial swords and quite often the tassels that adorned them were in a state of disrepair; he wanted to be able to replace them himself. He left a happy man !
When flying long haul, back and forth to Hong Kong and the Antipodes, filling in time reading was an essential part of the 'entertainment' , but losing ones place when the book mark slipped out—or even got lost ---was very frustrating. It was after just such an incident that I had a 'light bulb' moment, and then bookmark designs began to fill space in my thoughts.
I hate waste ! When the large skeins of silks were trimmed down to create the fringes of the ornamental tassels, I was left with a bundle of silken threads that were fairly different in length; too much to throw away and when sorted could be put to good use. After much thought, I came up with a design for a bookmark which would enable me to use the leftover silks to adorn the finished article.
I incorporated selections from the many beads that I had available, and used the neat Chinese cross knot with the cord to make several different styles before deciding on the one that I now make. Each one is finished with a tassel or tail –the choice is yours!
I call it the 'use it don't lose it' bookmark because, in theory, once it is fastened into your book with the rising bead, it shouldn't be able to be freed---and lost---until you do it manually.
Unfortunately the evolution of the Kindle came about just after I had visited the Patents Office and was advised I could apply for said patent. I decided to watch the developments and attitude to this new electronic device and weighed up the cost of it all---I lost, but still have pleasure in making the bookmarks.
Those who still like to pick up a book, and feel the pages between their fingers, appreciate them and that is all I ask. I hope the winners of the two you raffled Jan are enjoying using them too.
I donate a percentage of the price I charge for the bookmarks to Macmillan Cancer Care, as I believe the nurses do a wonderful job in supporting those who need them at a very distressing and confusing time in their lives. I am a survivor and a lucky one; ten years in remission.