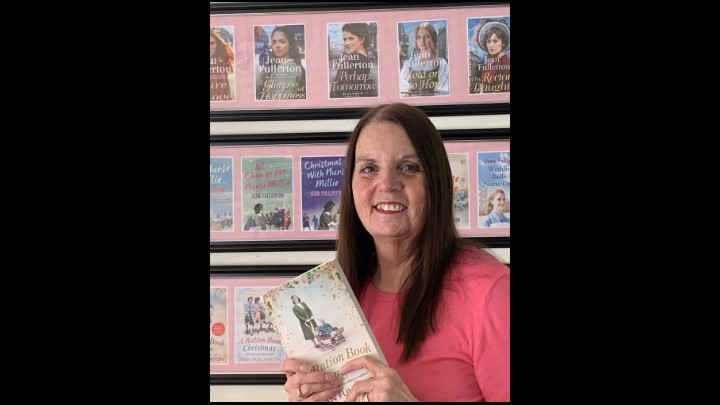 I am delighted to be featuring Jean Fullerton on the website once more with a selection of 15 reviews for her new novel, A Ration Book Daughter.
Moira Manson
Reading Cathy's story that girl definitely deserved better after the abuse she suffered from Stan. When she took a lodger in to her home a bomb disposal man she didn't expect the way things would turn out.
But Stan had been declared missing in action but her mother in law never let her forget she was married to stan. This was a book
I really enjoyed and definitely deserves 5 stars.
Jan Poole
This was such an emotional read and I certainly could not put the book down. Really enjoyed it.
It was a most detailed description of each character and setting, that I was there with Cathy throughout the story, as it felt that real and life-like.
Cathy had a personal battle to contend with mentally and emotionally in her eventful life, in addition to the war.
She had such a heavy load of personal tragedy from the past, as well as the ongoing worry of whether her husband would return or not. This added the extra anxiety to what should have been a hopeful future with him.
Volunteering at the local centre, being a single Mum and having to sleep every night in the safety of the bomb shelter underground should have been enough to contend with but she also had to share a house with a very toxic mother in law.
Nothing in her life felt positive until she accidentally met a man who would make a big change in her future. Even though she was married on paper, her heart was well and truly now Archie's. He had an extremely dangerous job with the bomb disposal unit, but even after an accident, it was meant to be.
A really heartfelt story of good and bad times, but always showing strong family loyalty and the courage of everyone within that family. Surviving difficult times that really do test a person's strength and determination, hoping for a far better future paid for Cathy and Archie. Even the strong beliefs of neighbours and work colleagues did not phase what she had her sight set on.
Fantastic story and definitely looking forward to reading the next book in this series.
Debbie Taylor
This book is very easy to read, I loved the storyline and getting to know the characters.
Cathy and Archie's wartime romance was beautifully written and gives us an insight into life during the Blitz of 1942-43.
Their relationship had many obstacles to overcome, not least the interference of Cathy's mother-in-law Violet who puts Cathy's husband on a pedestal insisting he is a war hero, but it is soon revealed he has not been totally truthful with his mum.
I will definitely read more in this series.
Penny Rambharose
This book has very good descriptions, the author also has a fantastic knowledge of details during the war.
It probably would been better lf l had read all the books in the Ration book series about the Brogans, the author has a good sense of humour.
For instance on page 11 l can identify a lot with what they mention and talk about, even though l was not alive then! This is book #5 in this series.
This is the first time l have ever read any of Jean Fullerton's books.
This Story revolves around Cathy who was just married, when Britain was at war with Germany .
At first she has a very happy marriage until her husband became abusive after a few years, he also joined the black shirts and became a fascist. Eventually Stanley gets called up to fight , she knows it will only be a few years.
Cathy knew that Divorcing him was not a choice she had. Cathy's only happiness was being Peter's Mother.
One day she gets a telegram saying that Stanley is missing ln action, she really wants to leave him but legally has to wait 6 months before she ls a widow .
In the meantime she has to make ends meet, so she advertises for a lodger, Sgt Archie Mclntosh of the Royal Egineers Bomb Disposal Squad, becomes her boarder.
Archie is the complete Opposite of Stanley, and Cathy has a lnstant bond with him. The only thing holding her back was the uncertainty of Stanley's whereabouts. Meanwhile the Blitz ls still turbulent ln the east end of London.
Will Cathy ever get the love and appreciation she has always wished for? You will have to read the rest of this book to find out what happens.
I like the cover illustrations on this book.
Emma Stewart
A Ration Book Daughter follows Cathy Wheeler's story while still catching up with the rest of the Brogan Clan. A more in depth look in to Cathy's home life since marrying and having a baby while navigating life through a war, her Women's Voluntary Service work and living in the same house as her mother in law.
Another outstanding, heart warming story which was an emotional roller coaster from start to finish in this eagerly awaited fifth installment of the Ration Book Series. A series I have loved and I can't wait for the next book. Superbly written with exceptional attention to detail about the Second World War era in the East End of London. Cathy's story was addictive and I couldn't put the book down. Loved the Scottish influence – I hope everyone knows how to pronounce Sauchiehall Street!
The characters all come to life in my mind with the marvellous story telling from Jean Fullerton and gave me an insight in to what life was like for my grandparents living through the war. I have found out that my Gran worked with the Women's Land Army and my other Gran moved the family to a more rural location due to their home being on a flight path for bombers which now makes Ida's nightly stays in the Bethnal Green Air Raid Shelter more relatable – a loving mother doing everything in her power to keep her family safe. A wonderful story full of love and hardship that I would highly recommend.
Many thanks for dedicating this book to the NHS frontline staff, once an NHS worker always an NHS worker – this NHS worker enjoyed the escapism this book provided while in lockdown. Hopefully I'll be enjoying A Ration Book Victory in the sun, on a sun lounger with a cocktail in hand.
Anne Harvey
Returning to the Brogan family is, as always, a real treat, like catching up with old friends after some time apart (and we all know how that feels during this pandemic). This time the story centres around Cathy, middle daughter, who had married Stanley Wheeler the day before war broke out and has lived to regret it ever since.
Having been convicted of pro-Nazi activities, he is now serving his sentence in the armed forces. Cathy's only bright hope for the future is her young son, Peter, who is a constant joy to her. Life is not made any easier for Cathy by being forced to live with Stanley's mother, Violet, who absolutely idolises her son and resents Cathy for being a Brogan.
When Cathy receives the news that Stanley is missing in action, she clings to the hope that within six months she might be a widow particularly as she has fallen in love with Archie McIntosh, involved in the vital role of bomb disposal. He's a real heartthrob of a hero!
How their story works out, despite prejudicial interference from the obnoxious Violet and Cathy's WVS supervisor, is what forms the bulk of this delightful book. I found the story so absorbing that I read it in a couple of days. The Brogan family are, as always, delightful especially Queenie, Cathy's grandmother, and who has made me laugh throughout the series.
Jean Fullerton's personal knowledge of the East End in addition to her meticulous research, makes the book rich in detail and wonderfully involving. Can't wait for the next one in the series!
Beverley Ann Hopper
Oh another Ration heartfelt book from the Brogan family, Book Five. 1942 London East End, and Cathy Wheeler is now with the Women's Voluntary Service helping out with the war efforts.
Her little Boy Peter is in nursery, and her violent husband Stanley is in north Africa, Cathy is living with her mother in law Violet, and she's far from an easy woman to live with, then they get told that Stanley is now missing in action, and Cathy prays if he doesn't turn up in the next six months on a POW list she will be free of him and classed as a widow.
His mother knows he will come home and won't let Cathy forget it. Sergeant Archie McIntosh works on the bomb disposal, a widower with a daughter. He bumps into Cathy and their path's keep crossing and he becomes her lodger.
All the Brogan family stick together and as you read you feel you are along side them all. I love all the ration books, they certainly touch your heart. As another book from the Brogan Family comes to a close and the war continues, I hope we find victory in the next instalment so that I can look forward to see how the story will unfold.
Well worth 5 star ratings and more the author has touch me once again.
Donna Prosho
Another fab read from the author Jean fullerton in the series of The Ration books.
This book continues on from the previous one about Cathy (née Brogan) and her abusive husband Stan wheeler. He's been conscripted to war, which thankfully gives Cathy some breathing space from him. The dreaded telegram (for some) arrives to say that Stan is MIA (missing in action) and that's when the countdown begins for Cathy, because if he's not found within 6 months, he's classed as dead, which makes Cathy a free woman.
A lot happens in those 6 months of waiting though, including dealing with her mother in law, who with every word is full of hate for Cathy. A lodger. A stampede down the shelter, and a little bit of love.
Part of this story includes real accounts of the Blitz stories, the stampede down the stairs of Bethnal Green tube station where 173 people died. It brings it to life, and emerges the reader even further into the story.
Jan Rosser
Book 5 in the Ration Book series centres around Cathy Brogan during the WW2 Blitz. We find Cathy who is married to Stanley at home with Peter, her little boy. The marriage has been a violent and unhappy one from the start.
Cathy receives a telegram saying that Stanley is missing in action overseas and she realises that if he is not found after six months, she will be a widow, but at least she will be free.
Mother in Law Violet who lives with Cathy is a nasty piece of work and she undermines her constantly whilst praising her son who we find out is involved in fascism.
Archie McIntosh is a bomb disposal sergeant and becomes a lodger. Cathy and Archie strike up a friendship which they both realise is turning into more than this.
Jean's research and attention to detail in this book is as superb as the other 4 are in the series. The reader is in the shelters at night, the smells and sounds of the bombs feel real, the way bombs are made safe is such a dangerous job and Jean leaves us in no doubt that every one of them is a risky business.
What will the outcome be? Will Stanley still be alive? Will Cathy and Archie find the happiness they so deserve?
Another 5 star read for me and I am looking forward to Book 6!
Margaret Joel
This is the first of the Ration Book series I have read. Cathy was married to a brute of a man, Stanley, who was fighting in Europe, leaving Cathy living with her vicious mother in law & young son. She heard her husband was missing in action, a relief for her and hoped she would be declared a widow in six months.
She met and fell in love with Archie who was a bomb disposal expert, to help with money she took Archie in as a lodger, much to her mother in law's disgust.
It is nicely written & easy to read, characters believable & interactions are good.
Shirley Barsby
I loved this book from the first chapter. I was hoping Cathy would find happiness even if that meant her husband didn't come back from the war.
I loved her mother in law Violet even though she had a nasty mouth. Like all mums she couldn't see anything bad in her son and thought that Cathy must have caused Stan's violence. When she found out what Stan was really doing it broke her heart.
When Cathy met Archibald I was happy for her and hoped that things would work out for her.
The book was so well written that I felt as though I knew Cathy and was involved in her life.
Heather Copping
This is book five in the ration book series featuring the Brogan family and their lives during WW2. This book features strongly the story of Cathy, living with her mother in law whilst her husband is serving in North Africa. She detests living with her as she is treated like a skivvy, putting up with numerous hard words and bad feelings run high between them.
If it wasn't for her young son Peter she didn't know how she would carry on living there. All in all, her married life was not as she would have hoped it would be. Even when her husband was around she had to put up with abuse, both mentally and physically, but after alienating her from her family she has no choice but to stay with her mother in law.
Nearby an unexploded bomb is being detonated by the bomb disposal section of the Royal Engineers, it is lodged between the gas works and railway station. The man in charge of the detonation is Archie McIntosh and he comes from Scotland and his father was from Trinidad, so he was a good looking man who caught the eye of many a woman.
After catching hold of Cathy's young son Peter, as he run out of the WVS Centre, almost into the path of a vehicle, he was immediately attracted to Cathy. Very soon they are "bumping" into each other quite a bit and the attraction between the two characters is lovely to see, when Cathy has so much bad feelings aimed at her from her mother in law.
But it's not all "happy moments", especially when there is a terrible incident at Bethnal Street underground station, will the family all be ok?
What I enjoy about these books is the family element, the warmth, kindness and sometimes squabbles between the siblings. It gives it a real down to earth feeling.
Jean Fullerton certainly knows this area of London very well in her descriptions of its many streets, waterways and landmarks and this gives the story added depth and authenticity too. I loved reading this story, as much as I had the previous books in this series and was reading well into the night to find out more and discover if this tight knit family would survive, I can't wait to read the final episode of this saga series featuring the Brogan family in the "Ration Book Victory ".
If you love WW2 or family sagas you will absolutely adore this book and it's a well deserved 5☆ read from me.
Nicki Howells
Having read all the other books in the ration book series I was looking forward to reading Jean's latest installment of the lives of the Brogans.
Cathy Wheeler, nee Brogan, is still living with her hateful mother in law Violet, while her violent, traitor husband Stanley is overseas in the Army.

Cathy works with the WVS helping to look after families who have lost their homes in the German bombings of London. She enjoys it, but hates having to return home at night to the endless nastiness from Violet.

A chance meeting with a handsome stranger one day sets Cathy's heart a flutter. Does this handsome stranger feel the same way? But as a married woman Cathy isnt in a position to take it any further.....or is she? Could she possibly escape the clutches of Violet and Stanley for good??

There are a few twists and turns, and good old Queenie Brogan doesn't suffer fools gladly.... maybe, just maybe the horrid Violet is about to get her comeuppance at last.

As usual, Jean's book is very well researched and well written and is a very enjoyable read, with some very funny parts that make you laugh out loud!!

I hope there will be another instalment in the story......we need to know what happens to the Brogans next.
Fiona Dunn
I was gripped by the opening sentence of this page turner of a novel. The attention to social historical detail that jean Fullerton brings to the plot of life in the Blitz in the East End of London is impressive and seamlessly interwoven with the story. I learnt so much!
Jean Fullerton creates a vivid and compelling atmosphere portraying the lives, loves, joys and tragedies of the Brogan family and the men of The Royal Engineers' Bomb Disposal Unit.
The tension and drama of a bomb landing in London runs alongside the tender love story between Cathy Brogan and Sergeant Archie McIntosh. However, Jean Fullerton is not afraid to address issues of domestic abuse, racism and feminism in this beautifully written novel.
I was so entranced that I'm now going to read all the others in Jean Fullerton's 'Ration Book' series.
Jo Castle
A Ration Book Daughter is another wonderfully written and well researched saga of the Brogan family. Poor Cathy has been through the wars in more ways than one but like her forebears she is made of stern stuff.
This will take you through the ups and downs, the sadness and laughter. Loved it and it is a proper insight into life during the blitz.
This is the penultimate in the Ration Book series, can't wait for the next and future books from Jean.