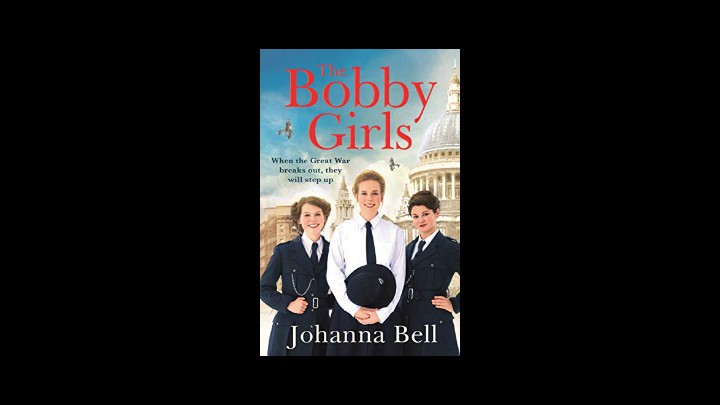 My reviewers have been reading their copies of The Bobby Girls by Johanna Bell
Moira Manson
Three girls met when they went to sign up for the WPV women's police volunteers. It was the beginning of WW1. Maggie, Irene, and Annie wanted to do their bit.
Maggie and Irene were both hiding something from each other. The girls settled down and did their bit to help women and children. This is a great read amd I am looking forward to the next book about the Bobby Girls.
Well worth 5 STARS.
Heather Copping
This book is set during WW1, men have been called up and there is a shortage of police officers. A request is made that women volunteer to make up the numbers and many women who were suffragettes step up to do so, including four young women of different backgrounds and upbngings.
Maggie eighteen years old, wants to make something of her life, before her father has her married off at a debutant ball and he is not kind to her if she defies him on any matters. Sarah works at the offices of a political newspaper "The Vote", where she sees the advertisement for women to volunteer for the police force. Annie works as a typist, has a fiancé Richard, who is away fighting and her friend brings to her attention the same advertisement in "The Vote".
Irene has a job at the local rag factory, after spending years in a children's home and only earning enough to cover the rent on her room, so to keep up to date with progress during the war she dips into rubbish bins to extract newspapers and this is how she comes across the same advertisement.
The young women attend interviews for the posts and as they are the youngest women there they "pall-up" together and though the four soon becomes three they remain strong friends and this helps them to understand what is needed of them and to work together. Life was very different for women then, both in and out of the force and these tales make interesting reading.
A great story of friendships and early life for women in the police force.
Margaret Lily
This book sounded rather interesting to me, despite being set during ww1 (rather than my usual ww2!) At the start of the Great War it was decided to start up the WPV-women police volunteers , to help the stretched police force to deal with women and children. As expected, the regular policemen didn't take too kindly to women encroaching on their world, and they didn't shy away from voicing their opinions!
The book follows Maggie, Annie, Irene and Sarah, they are all from different backgrounds and each have their secrets, will these secrets be revealed and tear the girls apart-or bring them closer together??
Maggie comes from a rich family, but has a very strict, domineering,bully of a father, her mother is very cowed by him and her brother disobeys him by joining up. Maggie joining the WPV would surely be the final straw, can she join without telling him and risk everything?
There are some funny, lighthearted moments, and a few tense parts, with a couple of tear jerking moments too. I really enjoyed this book. As a 1st novel Johanna has done a brilliant job, you really get invested in the characters and root for them, I'm really looking forward to the next installment in the lives of Mags,Annie, Irene & Sarah.
Great job Johanna, I highly recommend this book.
Diane Cunningham
A great debut book from a fab new author. Set during WW1 this book tells how the Women's Police Volunteers got started.
Johanna did her research well and put it all into a great book with some lovely characters for us to get to know. Maggie, Annie, and Irene couldn't have come from more different backgrounds to each other. Joining up at the same time brought three very different girls together in unusual circumstances.
It is lovely to see how they grow and mature together bonding into a very special friendship. Book two is due out early next year, and I for one can't wait to read it, and to catch up with the Bobby Girls.
If you like this genre then I highly recommend this book to you.
Donna Prosho
The Bobby Girls is about four girls/women who all want to 'do their bit' whilst the men of the country are away at war.
Sarah, a writer for the newspaper 'The Vote,' Annie, a typist, and knitter of balaclavas for the guys on the front line, one of which was her fiance Richard. Irene, a factory worker, who could barely afford her rent and Maggie, the youngest of the four girls, and not old enough to sign up for the women's special constables, but it was her one chance to do something, and also to get away from her very very stern father.
Her brother Eddie had successfully (on his second attempt) signed up to fight, that was his way out of the family home.
So Maggie took a big risk, lied about her age, and with the help of her brother signed up for the WPV, where she met the other three girls. Initially they didn't all click with each other, but along the way, friendships were tightly formed over the course of training, and when they got their first posting they were lucky enough to be stationed all together.
In all the time of training, Maggie managed to hide where she was going to her parents and with the help of Florence the housekeeper, did a really good job, until a horrible thing happened, and no longer could hide where she had been.
Without giving too much of the story away, we discover that it takes a lot to knock some women down, and it also takes a lot of love, strength and kindness that brings these four women together, and I truly can't wait to read the next adventures of 'The Bobby Girls.'
Beverley Ann Hopper
It's London 1914, men are away fighting the great war, this is the story of three women who have signed up to the Women's Police Volunteers WPV. This is a new author and is book one in the series. Maggie Smyth, Annie Beckett and Irene have all had all different upbringings and become female bobbies.
A very dangerous job as they patrol the streets of bethnal green under the hands of PC Frank Bird. This book is a real eye opener to how women and children are treated on all the run down estates. Alcoholism and prostitution play a big problem. As well as their work the girls all have troubles of their own to deal with with their different up bringings.
But firmly become best friends. I found this book such a delightful read and for it to be the first by this author she is definitely going to go a long way with her stories. This book has left me eagerly awaiting The Bobby Girl's Secrets, that is going to be a delight to read.
A well deserved five stars from me. I LOVED IT.
Anne Harvey
I'm so grateful to have been given the opportunity to review this book because it was delightful. I knew, of course, that many women volunteered to take the place of men during the WWI – my own grandmother worked as a postwoman – but this was the first I knew about women volunteering for the Women's Volunteer Police. Fascinating!
The story revolves around three young women from different walks of life meeting up for the first time for training. The book centres mostly around Maggie, an upper middle-class young woman who must lie about her age to be accepted and lie at home to her very strict father.
Once trained, they are posted to Bethnal Green, a rough area of London, where they struggle to be accepted, not only by the locals but by the policemen with whom they have to serve.
The characters were well defined – I particularly loved the way Maggie's character developed – and the research behind the story excellent.
I can't wait to read more about the Bobby Girls.
My grandmother