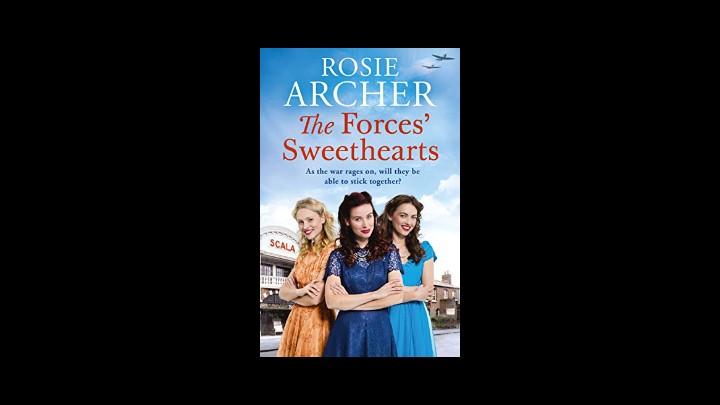 I am delighted to share readers reviews of Rosie Archer's latest novel.
Moira Manson
Great to read about the girls again Bea, Rainey, Ivy and Jo and Blackie.
A fantastic read as well. All the regulars the girls are doing really well but then there's a little upset with one of the girls, is this the end of the Bluebird Girls singing together?
There is a wedding to look forward to, then there is a raid which causes heartbreak for everyone. But Bea and the girls never give up! A really fantastic read 5 stars can't wait for the next book .
Diane Cunningham
This is book three in the Bluebird Girls series and I can highly recommend the whole series. It was great catching up with Bea, Rainey and Ivy again.
In this book it's now 1942, and the girls are busy singing in ENSA entertaining the troops. As always there's lots going on in the girls private lives too. I love Rosie's books as the way they're written you are drawn right in, and feel like you are a part of the story.
There are happy and sad times ahead for the girls but it's lovely to be right there feeling every emotion with them.
Another great 5 star read and I look forward to catching up with the girls again soon.
Heather Copping
Book three in this series, all of which I have read and loved, features all the characters from the previous books. Ivy, Bea, Rainey and her mother Jo are the most prominent ones, but even if you have not read the previous books or just need a gentle reminder what happened, there's plenty of opportunities for you to catch-up.
The girls start off in April 1942 in the Libyan Desert in North Africa doing what they enjoy most, singing in a trio as part of ENSA, but very soon friendships and relationships start to suffer as the girls find working in the heat and missing their loved ones a hard point to endure.
Ivy still loves Bea's brother Eddie and his daughter Gracie, but will she be able to be part of this family? Rainey and Charlie have just dropped a bombshell and her mum Jo has announcements of her own to make too. Bea is finding it hard to cope with all the changes, is it jealousy or genuine care for her friends and family?
Big changes are taking place back in Gosport, because things don't always go to plan, especially in wartime, life and death is always at the forefront of their lives, but hopefully there is always the Bluebird Girls.
As I got to the end of the book, I felt sad that it had finished and I can only hope that there is more to come in the future of life with the Bluebird Girls.
Well deserved 5☆ read which I would recommend to anyone who enjoys saga books especially those set in WW2.
Donna Prosho
It's 1942 and we're back with the lovely Bluebird Girls, and this time they're touring with ENSA (entertainment national service association) and visiting army bases across the world.
Long hours and uncomfortable travelling but the girls wouldn't want to be anywhere else ......or would they????
Tragedy strikes for their little showbiz family, and the girls head for three different paths, all having different dreams than before, but all leading to happiness and fulfilment in the end.
With the bombing raids bringing more tragedy to the girls too, but thankfully, they're bond brings them closer together.
Announcements of weddings and babies makes this another fab read from Rosie Archer.
Will there be another book in the Bluebird series to let us know how the girls are getting on? I really do hope so!
Anne Harvey
The book centres around The Bluebirds, a trio of girl singers who, during 1942 are touring North Africa with ENSA. Despite the heat and the challenging conditions, Bea, Rainey, and Ivy love doing what they do best, singing, and bringing some happiness into the lives of the serving soldiers. Then their manager, Blackie, receives some tragic news and the group must return to Gosport, their home town.
Changes are on the horizon too that threaten the future of the group which affects Bea, the most ambitious of the three girls, badly, causing ill feelings within the group. While the future is undecided, Blackie arranges for Bea to act as assistant to magician Mel in his stage act.
But it is clear from the beginning that Mel has designs on Bea while she in turn cannot stand him. How this is resolved makes for a good story if a little on the short side.
Although I enjoyed the story, I found it hard at first to work out who was who. This is because it is the third book in a series and it was a definite disadvantage not to have read the previous books.
Janice Rosser
I have read and enjoyed the first two books in The Bluebird Girls series and looked forward to number 3. Bea. Railey and Ivy are now in 1942 and singing for the troops in North Africa touring with ENSA. In the heat and the dust they entertain the troops and really enjoy what they do.
However, things take a turn for the worse when Blackie has some bad news and Rainey discovers why she is putting weight on...
They all return to the UK to try and rebuild their lives. Will it be plain sailing?
The author's research is so vivid and the reader really feels as if she is in every situation the girls find themselves in. I won't spoil it for you, but I do recommend this book if you are a lover of WW2 romances.
5 stars!
Julie Winstone
This is the third book I have read by Rosie Archer, and again I have not been disappointed. The storyline of the Bluebirds has been great to follow, along with a lot of factual info on what it was like to live in Gosport during the war.
The way Rosie intertwines the lives of the 3 girls is very believable and keeps you wanting to learn more, I can't wait to see what happens in their lives. This is great read, which has left me eager for the next.
Would definitely recommend these books.
Nicki Howells
Having read the previous bluebird girls books I was looking forward to reading this, and it did not disappoint.
We catch up with Bea, Rainey and Ivy who are currently overseas entering the troops with ENSA. They are often living and working in awfully difficult conditions, but they love getting out on stage and bringing a little fun into the lives of the soldiers.
Things begin to change for the girls after a terrible tragedy, will they continue to travel the world as the bluebird girls, or do their circumstances change so much they cannot continue??
There were some very funny parts, and a few that tugged at your heartstrings, but it is a fantastic book, and there are lots of smiles along the way. If you have read the other bluebird girls books then you will love this.
Beverley Ann Hopper
This is the third book in the series that I have loved all of them. The Bluebirds, three English vocalists, Bea, Rainey and Ivy on tour entertaining the troops, in the year 1942.
Visiting places they never dreamed of, Burma, Egypt, India, even Scotland, and were looking forward to getting back to Gosport .
Rainey is deeply in love with Charlie Smith, and news of an American tour and startling news from the couple means Bea and Ivy are going to miss out on a chance of a lifetime, is this the end for the trio?
All the girls have different goings on in their private lives, with sad happy moments as you read. Sirens are still going off and Germans are still giving grief but these are strong girls bringing such a ray of 'You are my Sunshine' to this wonderful story. I loved every bit.
The forces sweethearts live on to bring us so much entertaining.
Shirley Barsby
This book follows the lives of 3 friends, Bea, Rainey and Ivy. When the book begins they are entertaining the troops in war zones. I often think ENSA are forgotten about when people discuss the war but they were in the same danger as the troops.
They come back to England because of a personal tragedy for one of them and although they stay friends thier lives go in different directions.
One of them had a devastating tragedy, one returned to civillian life and one went after personal fame.
This book is very enjoyable and I recommend making a cup of tea and forgetting about the world outside for a few hours. I hope there is a follow on as I would like to know what happened to them all.
Jan Poole
This is the third book in the series and equally as enjoyable, even if you have not had the pleasure of reading the first two, the story is written in such a way that you know the history of each character throughout and how they are either related or how their lives are connected. It is exciting from the start and very hard to put down. Once started you really want to know what will happen next.
From the main characters, the group called The Bluebird Girls, you get a strong sense of not just community spirit but also strong family values. During such a hard time, with the 2nd World War and the way that they all pull together to support one another and protect each other.
The personal challenges thrown in their way at every turn of the decision they make for the future of not just the group but also in their personal lives. The drastic tragedies they face which we can not even start to imagine but to empathise with in the story as it is so believable for each and every character and when reading the book, you are willing for their futures to be a happier outcome, as it is so believable.
I am very much looking forward to reading the last book, 'Victory for the Bluebird Girls', in this series and would highly recommend it to any avid reader. In truth, I would have loved to have the opportunity to hear these girls singing on stage.
Book 1 reviews can be seen here.
Book 2 reviews can be seen here.