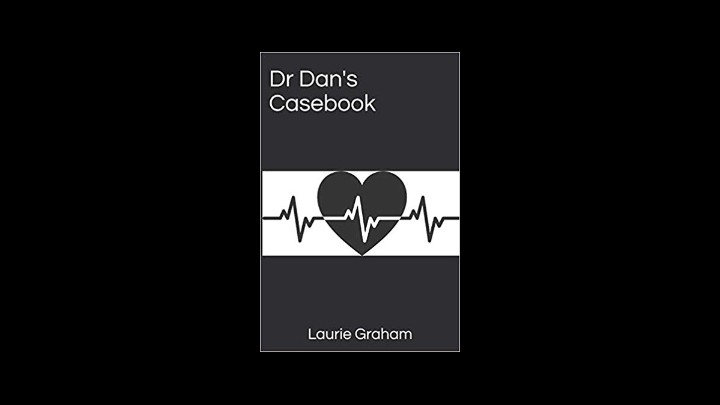 I am delighted to be featuring the latest book by Laurie Graham. See reviews below .
Beverley Ann Hopper
Oh my word this is brilliant. It's a warm hearted story, with a touch of witty hilarious situations.
Dr Dan has got what it takes, starting out as a young doctor, training at The Lindens. I found myself laughing at some of the antics.
This book has it all, such sweet funny witty moments as you keep reading, with a sense of humour. I loved all the characters and you will find yourself falling in love with this doctor, so worthy of 5*
Margaret James
It was a huge pleasure to read Laurie Graham's new novel, which introduces us to Dr Dan Talbot. Dan is a recently-qualified medical doctor who is training to become a GP at a practice in a deprived part of the West Midlands. His patients range from time-wasters to people who are seriously ill, and he often feels out of his depth with both kinds. But his mentor Dr Buxton, the senior partner in the practice, looks out for Dan, encourages him, and we soon dare to hope that Dan's GP training is on course to go well.
We follow Dan as he encounters patients who just need a sympathetic listener and those who are actually dying but don't want to make a fuss. We go with him on home visits and to nursing homes where the highlight of the residents' days is seeing a young, good-looking doctor and having a chat.
As for Dan's personal life – his on/off relationship with his girlfriend Chloe seems to be rather unstable, but Dan loves Chloe and hopes to get married soon. Does Chloe want to marry Dan, or does this ambitious young cardiologist, who is also the daughter of a famous ENT specialist and whose family has money, really want to tie herself to a local GP? We'll have to wait for the next book in the series to find out if wedding bells do ring out for this couple, or if Dan cuts his losses and moves on.
The novel takes the form of a kind of diary, progressing from day to day and letting us into the hearts and minds of local GPs, people we sometimes take for granted, but who work hard for all of us. Almost every consultation throws up a dilemma of some kind, and Dan sometimes finds that when he's confronted with something new he has an attack of brain freeze, but in the course of the novel he becomes more confident and happier in his work.
I enjoyed meeting Dan, his colleagues, his patients, his family and his girlfriend, who are all warmly and engagingly drawn. Dan's Welsh family members are lovely and I could identify with most of them. But, as for Chloe's parents and so on – they were pretty awful! Good luck with them, Dan, that's if you and Chloe do find yourselves at the altar one day.
General practice sounds as if it is always hectic, always interesting, always rewarding and sometimes eye-wateringly astonishing. As for what you can do with a mobile phone, people – don't try this at home! What do I mean? You'll need to read this delightful, kind-hearted novel in order to find out.
I'm looking forward to meeting Dr Dan again soon.
Sheila Hughes
This is the second book I have read by Laurie Graham, the first being Anyone for Seconds, so I knew I was in for a treat!
Dr Dan's Casebook is a day by day diary of a newly qualified medical doctor. Dan arrives to work at a GP Practice in the West Midlands. He is sitting in surgeries with Dr Buxton, the head GP and other members of the team at The Lindens. Each day new situations arise, some good, some not so good, some very strange indeed and some were a real eye opener for me!!
The reader gets to know the proper medical names of the various ailments patients present themselves with, and I felt I learnt quite a bit throughout the book.
Dan's personal life with Chloe is not always plain sailing and their respective parents are poles apart from each other. Will he and Chloe get married? Will Dan remain at The Lindens? We are promised a sequel. I can't wait!
Janice Rosser
I am an avid reader of Laurie Graham's books and have read and now reviewing Dr Dan's Casebook. Dan Talbot is a newly qualified medical doctor and has been given a trainee job as a GP in a West Midlands Practice. He works with the head of the team, Dr Buxton and also with the other doctors and nurses. The book takes the form of a daily diary in which we learn how GP's are giving patients advice and treating them for various ailments. Laurie also mentions the correct mediacl terms for each condition and this was something I found interesting having worked in Pharmacy a few years ago.
The patients are all different of course and no two days are the same. Dan is sometimes unsure of himself but the patients seem to like him, so this gives him more confidence as time goes on.
As for Dan's private life - his fiancé is also in the medical profession, training to be a cardiologist. Things do not always run smoothly and they begin to have doubts about their relationship. We get to meet both sets of parents too who are miles apart in their social status.
There are laughs, tears, worry, apprehension, self doubt, but also joy and hope.
How will the book end? We are told there will be a sequel this year. I can't wait for the next stage!
Jan Poole
I think that we all need a Dr. Dan in our lives!
What a fantastic read all through. I really did not want to put it down as kept wanting to know what was coming next. The way the plot was a combination of the story line and with actual medical diagnoses was an extremely clever way to portray an everyday run doctors' surgery, especially at The Lindens. I really felt as if I was a patient attending an appointment, and could visualise each character, setting and feel the emotion that ran through the book.
I just loved the way the medical issues were woven alongside the story of patients' lives and cultures. I did not once get bored with reading about the practice and how a GP surgery would run in a normal everyday life. The challenges that a surgery would face, and how colleagues deal with arising issues daily.
I would highly recommend this book to anyone who likes to be kept wanting more and wondering where the plot will take you to next. The private lives of the individual doctors and how their lives are entwined through a workplace. It was a fantastic balance of actual fiction and non-fiction which worked as a marvellous story line.
I am hoping that there will be a sequel, as I can not wait to find out how Dr. Dan and his future wife's life pan out. Would equally love to read how the characters in the book were faced with next.
Funny and fantastic, with tender moments throughout the book. Simply brilliant.
Charles Morton
A really good romp though a GPs practice - the patients, the staff, the nurses and the doctors - which finds humour among illness with a touch of good old bedside manner.
I really enjoyed the pace and the gradual evolvement of the reader into the Practice's doctors and staff. In this day and age of computerisation this read keeps us grounded where ability and genuine people focus is how medicine should be practiced.
A very enjoyable book - I look forward to what the future holds for The Lindens and Dr Dann.
EDITOR: A sequel is promised this year. You can also read the review on the website of Anyone for Seconds by Laurie Graham here.