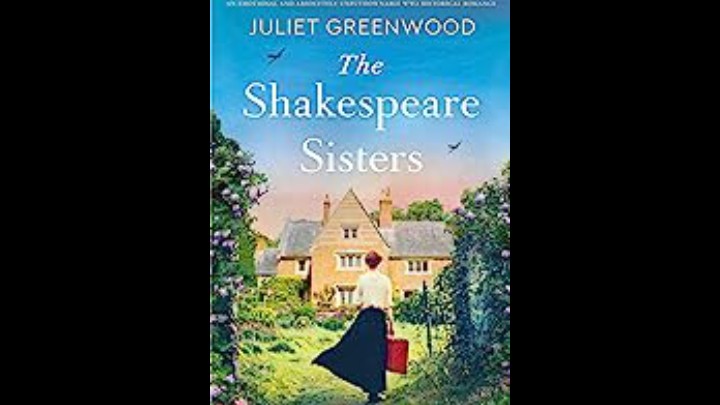 I am delighted to be featuring these fabulous reviews of Juliet Greenwood's latest novel.
Beverley Ann Hopper
Arden House 1940.
A tiny village Brierley-in-Arden just outside Stratford upon Avon. Rosalind Arden along with sisters Kate, Cordelia and Bianca and the rest of her family.
In this first in the new series focusing on Rosalind, with her having a big crush on architect Guy Thompson. Her father's choice of marriage is monster Henry Luscombe but she will only ever marry for love.
War is looming and Guy is sent away to fight that sees Rosalind take off down to London and when death brings her back to Arden House, can the beautiful broken home be saved?
This book has such brilliant storylines, that are heart-breaking and unforgettable to read right through that are going to touch readers as we find Rosalind a very strong willed woman coping with this war and waiting for Guy to come home alive and well.
It's a pull at your heartstrings read and hopefully we wont wait long for book two is this beautiful series and find out more from the Shakespeare sisters.
I certainly will look forward to more.
Jan Poole
I have read several books and written reviews, but I can honestly say that this is definitely the book I could not, or wanted to put down. The way the story drew you in, I really felt that I was in the story and seriously knew this family.
From the start, Juliet described the setting in such a way that I could imagine the house, the village and most definitely the people. I felt the love between the children and how much they supported each other, but also the jealousy and betrayal between them too, which grew over the years but the divide between showed the strain of the times.
The Arden family had their own family issues, but the children were expected to follow their traditional ways without questioning their father. They were brought up in a way that would have been normal in their class and society of the time, but the small village looked upon them as the rich family of the village.
The sons and daughters had a step mother, who tried her best but had to also be the wife seen but not heard, she wasn't even allowed an opinion as most women wern't. The children did not realise what she did or how much they meant to her, until they had all moved away, started their own independent lives and when they re-visited their family home as adults, viewed it in a completely different light.
Following the intricate way the family all hoped for their own futures, in completely different paths as to how their father had planned, but being the strong, typical head of the family, he certainly did not appreciate being disrespected. He had raised strong-minded children who grew up into adults themselves, and fought to be the individuals they wanted to be, showing strength and courage to stand up for what they believed in.
Pulling together they revealed the truth behind the scheming brother in law who thought he married into wealth. The loss if the eldest and heir to the house was a huge loss to them all and when they all had a special memorial Christmas in their family home, post war, it was a time to belong to the family again, and let down the barricades they had erected to survive the war and their own family battle of gaining their independence.
A extremely good but different story about a strong family who crumbled in the hardest of times. I hoped all throughout the book that Rosalind would be able to be with her true love, and that Jamie regained his strength and passion for his archeology. What a fabulous book and praying for the next one soon.
Anne Harvey
One doesn't need to be a Shakespeare aficionado to be able to understand this book. Yet I found that even with my limited knowledge of the Bard, the storyline was easy to follow.
The eponymous sisters are all named after Shakespearean heroines as their somewhat elderly father has been a lifelong fan and believes that the playwright had an association with the family home, Arden House. Because of this he will do anything he can to marry his four daughters to men who can have a financial input into the estate.
In the first of this series, the main thrust of the story centres on Rosalind and her father's attempts to marry her off to Henry Luscombe whom Rosalind loathes. In the seemingly halcyon days shortly before WWII, Rosalind meets Guy Thompson, with whom she forms an immediate attraction. The pair are separated, not only by her family intervention, but by the war, yet the connection survives throughout the war years.
Unlike many WWII sagas, the war does not dominate this book. It naturally provides a background to certain events, but what dominates this novel are the family dynamics. It's a strong theme and one I look forward to reading more of as the story continues with the other sisters.
A thoroughly enjoyable novel.
Heather Copping
War is on the horizon in a village on the outskirts of Stratford-upon-Avon, and four sisters Rosalind, Kate, Cordelia and Bianca are too busy squabbling about who they will marry and not really worrying about the prospects of war looming on the horizon, living where they do they feel quite remote from any possibilities of war.
Their family consists of the girls, their brothers and their father and stepmother, Rosalind quite recently discovered her real mother died from the influenza after WW1. Her passion is photography and after discovering a possible roman artifact in the grounds, near an ancient burial mound, she is soon there taking photos. When she is taken to see the anglo saxon remains at Sutton Hoo in Suffolk she is so excited, finding herself really drawn into the history, taking pictures and doing excavations she feels really involved.
When war is declared she decides she must do more and volunteers with some other young women and soon she is living in London, where she comes across some terrible sights, and also some good friends. But once again her camera comes out and soon her photos are used to show people what it is really like during the Blitz, as they are published in a women's magazine. The local museum in the village is very proud of her work and soon has an exhibition showing lots of her photos.
After the war finishes, Rosalind is forced to return to Arden House to help with the running of the house, finding things are vastly changing, especially by her brother in law, who wants to build new roads and houses. What will happen to the burial mound and Roman artifacts?
I liked the fact that Rosalind was a very strong willed and opinionated young woman, determined to do what she wanted and not what her family would like her to do. Her father's not the same after suffering a family loss, but still doesn't realise that Rosalind is capable of much more than he gives her credit for, her being a "mere girl". Her stepmother is almost frightened of him and won't speak up to him.
What will Rosalind do for the best, both for herself and everyone in the village? But will it be enough for Rosalind? Will she find happiness herself or will all the changes happening stop all her plans?
A really interesting story, full of intrigue, relationships and horrors of the war. I found Rosalind to be a really strong character, determined to pursue her dreams and get out of life what she wants and not what she is told to do.
I really hope there are more stories to come about Rosalind and her sisters, I would love to know what the future has in store for them all.
A well deserved five star read.
Sheila Hughes
This is the first novel I have read by Juliet Greenwood and I was eager to start. Such an intriguing title! From the beginning we are told the reason for 'Shakespeare's' involvement. Brierley where the novel is set is near Stratford Upon Avon plus the fact that the owner and father of Arden House is a lifelong Shakespeare fan and believes Shakespeare has connections to the family home.
There are four sisters who are named after heroines in Shakespeare's plays, Rosalind, Cordelia, Kate and Bianca. Two brothers Will and Jamie make up the rest of the siblings. Their father wants his daughters to be married into wealth to keep Arden House from falling into disrepair and to bring in some much needed money.
It is 1940 and WW2 is raging. Will and Jamie are sent to fight, Rosalind goes to London to help with the war effort. She is also a keen photographer and makes the most of capturing some of the horrors and what the Blitz entailed. The other sisters also choose different paths.
Rosalind features widely in this novel and the reader finds out how a relationship with architect Guy Thompson emerges. We also learn about a possible Anglo Saxon buriel ground and how the excavations reveal some surprises.
There are many twists and turns and Juliet's extensive research make this novel a very descriptive and interesting read.
Janice Rosser
I have read all of Juliet Greenwood's super novels and so was eager to start The Shakespeare Sisters. It is 1940 in England and WW2 has reached Brierley, a small village near Stratford Upon Avon.
Arden House is the setting and along with Papa Arden, his step wife Alma there are four sisters and two brothers. Shakespeare himself has been thought to have visited Arden House and so the siblings are all named after characters from his plays.
Will and Jamie are sent off to fight and that leaves Bianca, Cordelia, Rosalind and Kate. Papa Arden is keen to marry all four daughters off quickly into wealth so that Arden House does not fall into a state of disrepair.
He succeeds in marrying Bianca off to landowner Oswald Gorwell, but the other three sisters have other ideas.
The story focuses a lot on Rosalind who is a keen photographer and has a love interest in architect Guy Thompson. Her father does not think Guy is 'good' enough for his daughter and aims to have her married to the diabolical Henry Luscombe. Rosalind is having none of it and runs away to London.
She helps driving the lorries during the Blitz and also manages to take many photos of varying scenarios of the horror and steadfastness of the Londoners.
Cordelia and Kate also go their separate ways leaving Papa Arden very angry.
What will happen? I don't want to spoil the reader's enjoyment, but I will say there are many twists and turns to come. Rosalind has to return to Arden House because her father falls ill. Will she be able to meet up with Guy ever again?
There is even an Anglo Saxon Buriel Ground within Arden House which may produce some vaulable artifacts.
Juliet has researched this period very vividly plus the archaelogical side and I am hoping there will be a sequel as I long to find out what happens to each and every person!
A five star read.
Margaret Joel
Set near Stratford on Avon this story follows the fortunes & misfortunes of the Arden family at the time that Britain was approaching World War 2.
The world was changing, more jobs were available & it was more & more difficult to get & keep servants. The Lord of the manor, Lord Arden was hoping to marry off his four daughters, all named after Shakespeare characters, to men with money.
This would enable him to maintain the house & status. The eldest brother Will was to inherit the house & lands. There was also a younger brother Jamie who was interested in archaeology.
The girls had other ideas & events overtook the family with the start of the war. War ends & with it comes many other changes.
A very good read which charts huge changes over the war years, no one escapes.
Debbie Taylor
Another wonderful book set during WW2, this is the first book I have read written by Juliet but I will definitely read some of her other books.
The endearing story of Rosalind and Guy is not a smooth one which is complicated by family loyalties. Their story takes many twists and turns and also this book takes us on an emotional roller coaster.
A most compelling read, I'm looking forward to seeing what the future holds for the other Shakespeare Sisters.
Diane Cunningham
This book follows the Arden family who have an estate in Brierly in Arden. It starts just before the start of World War Two when there was a lot of uncertainty as to whether we'd soon be at War again. The family consists of Will, Jamie, Rosalind, Cordelia, Bianca and Kate.
Their father is worried about the estate and so wants to marry off his daughters to wealthy men with connections who can help him keep things afloat regardless of whether his daughters love or want to marry these men. This book follows Rosalind and what she does during the War and afterwards.
Rosalind's father decides she should marry Henry Luscombe who Rosalind detests and he's determined to get his own way even banishing Rosalind from her home if she doesn't comply.
I really enjoyed following Rosalind's adventures and seeing her stand up to her father. I look forward to reading more about the Arden family and following her brothers and sisters stories in the future.
Fiona Dunn
I really enjoyed the concept of the Arden sisters being named after female characters in Shakespeare's plays and having to discover the messages for life left in their individual volumes of the plays by Shakespeare by their sadly departed Mother.
The story revolves around Rosalind Arden who discovers herself when she runs away to Blitz-torn London, falls in love and becomes a pbotographer.
This is a richly layered novel with many intriguing plots and twists with varied, well-drawn characters - a real page-turner. The descriptions of historic Arden House and the surrounding countryside of Stratford-upon-Avon were described with delicate detail to create a nostalgic, gentle atmosphere.
I thoroughly recommend "The Shakespeare Sisters". I hope that there is a sequel as it has the makings of a R. F. Delderfield-type family saga.
Donna Prosho
Set in the 1940's and centered on one of four sisters of a domineering father - Rosalind is expected to marry a monster of a man so the family would be financially good but instead she decides to run away to London where she becomes a driver.
Soon the love of photography sees her build a reputation for capturing the devastation of the Blitz.
The story sees her being torn in two from the man she loves (Guy) and the loyalty to her family during and after the war.
I lost myself (as usual) in the romance and the references to Shakespeare.
I have read other books by Juliet and by far this is one of her best, looking forward to hopefully reading about the other sisters in future books maybe.
Nicki Aitch
The Shakespeare Sisters is set at Arden house, a historic house in a wee village near Stratford upon Avon - Shakespeare country!!
Rosalind, her 3 sisters and 2 brothers have been brought up by a very domineering father, who's bent on marrying the sisters all off to rich husbands.....Rosalind certainly doesn't want to suffer this fate!!
WW2 changes everything, and she meets a handsome young man just before he is sent away to fight. No longer wanting to remain at Arden house and armed with a book of Shakespeare that her mother gave her, she leaves for London, and throws herself into helping the war effort.
This is the 1st book I have read by Juliette, and I found it to be very descriptive and well written, a very enjoyable story.
Despite the WW2 theme being secondary to the main story, I still enjoyed it.