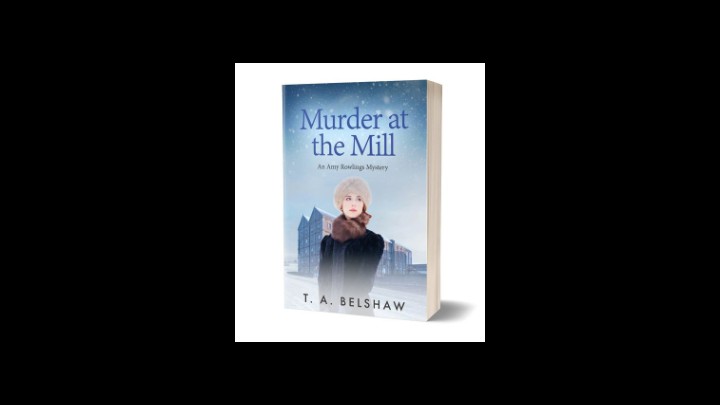 My new novel, Murder at the Mill is now available in Kindle and paperback from Amazon and will very shortly be available in paperback on a worldwide, free shipping basis from the Book Depository.
UK-wide signed copies will be available in time for Christmas. Please get in touch with me either by messaging me on Facebook, Messenger or by the form on my website. https://trevorbelshaw.com
The book features some of the characters from the dual timeline novel I wrote during lockdown, the Family Saga, Unspoken, but this time one of the minor characters is promoted to the lead role. The novel is set in Kent, in January 1939 and is the first of what I hope to be a long series of books featuring the same characters. 1939 was such an historically interesting year that would eventually see the country in a war that will give me a myriad of future storyline opportunities.
Amy Rowlings is a twenty-one-year-old machinist at Handsley's Garments, known locally as, The Mill. On her way to work one snowy, morning she meets Detective Sergeant Bodkin, at the scene of a break in. After pointing out an obvious clue to the police, Amy goes to work, but on the following morning, Amy meets the detective again, this time at the Mill where the owner's son, an almost universally despised philanderer, has been found dead.
Amy offers to help the police inquiry by providing some local knowledge to Bodkin, who is new to the area but is soon drawn into the murder investigation.
This is my first foray into the ever popular, Cosy Crime genre and while my writing process didn't change that much, I was aware of the pitfalls of planting a clue and then forgetting about it, or falling into the trap of offering up situations and conversations that might point to the culprit, too early in the proceedings.
Thankfully, my editor, Maureen Vincent-Northam has worked on a heck of a lot of cosy crime and was able to offer me sage advice on the pitfalls of sending my readers down blind alleys, or introducing a character with little to do with the story but turns out to be the murderer.
I'd like to thank Maureen for her wonderful editing skills and Janice Rosser for beta reading. Last but not least I'd like to thank Jane Dixon-Smith for designing the beautiful cover.
Universal Link:-