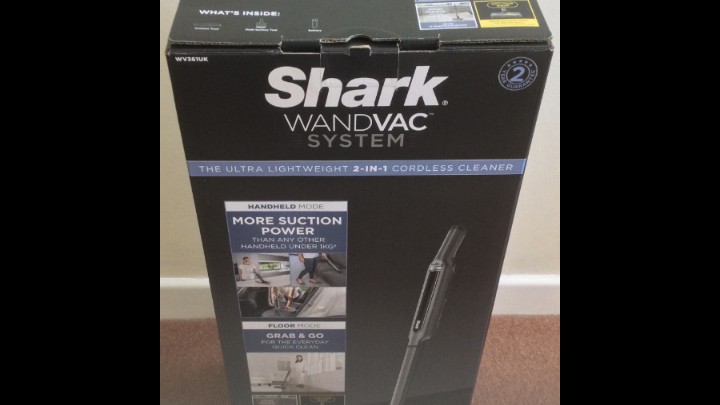 I am delighted to be reviewing the latest Shark WandVac System 2-in-1 Cordless Handheld Vacuum Cleaner with Anti Hair Wrap WV361UK.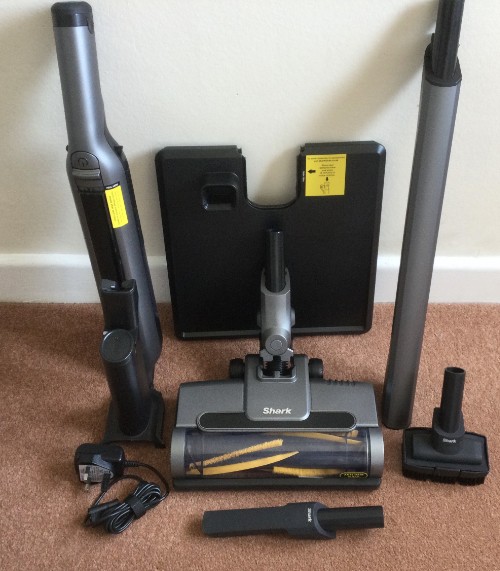 What is in the box?
Main Unit
Wand
Floor nozzle
Charger
Battery
Crevice Tool
Multi Surface Tool
Charging Dock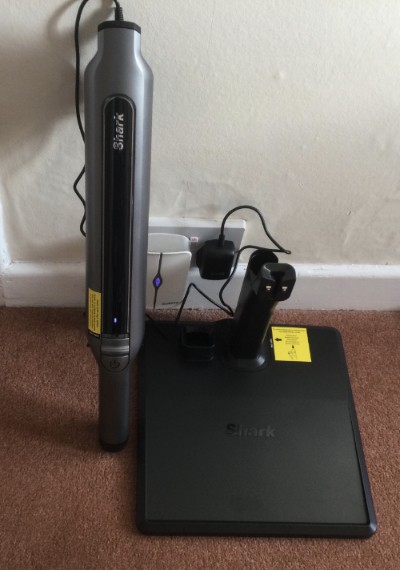 Main Unit and Charging Dock
There are two options to charge, this paragraph is taken from the Shark WV361UK website. 'OPTION 1 – IN CHARGING DOCK When the dock is assembled and plugged in, charge the unit by placing it on the dock plate, with the hook on the back of the wand over the charging post. Make sure the contacts on the wand are aligned with the contacts on the charging post. When docked properly, the charging lights on the handheld vacuum will blink, indicating that charging has begun. When charging is complete, all three indicator lights will illuminate steadily. OPTION 2 – CHARGING HANDHELD VACUUM To charge the handheld vacuum alone without the dock, unplug the charger cord from the dock and connect it directly to the port on the handheld vacuum, near the nozzle opening.' **
After charging for three and a half hours on the multi surface Tool Charging Dock, I was ready to begin.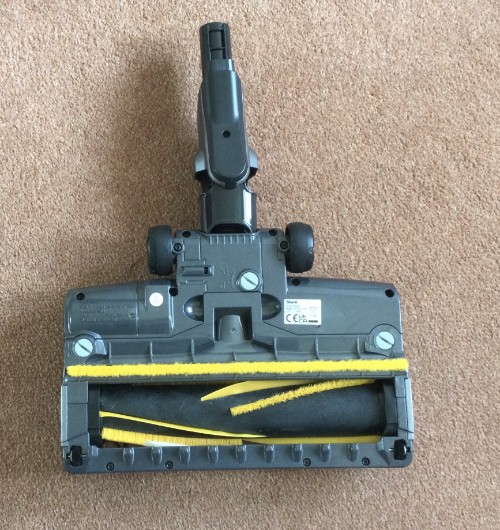 Underside of Anti Hair Wrap brush - a great idea!
As my hair is now longer since the start of lockdown, the Anti Hair Wrap floorhead is such a great feature and no more trying to untangle the hairs from the roller! This feature is exclusive to Shark.
Mr Larkin looking for any missed crumbs!
Mr Larkin is always keen to be in my vacuum reviews and he wanted to show how easy it is for me to pick up dog hairs and bits of soil brought in from the outdoors on my vinyl flooring!
Being a 2-in-1 cordless cleaner, this vacuum is great whether it is used in floor mode or hand held mode. The hand held one is under 1kg in weight and is excellent for people who may have mobility or arthritic hand issues. I now have the latter so I can vouch that it works fine for me! Also in Handheld mode – More suction power than any other handheld under 1kg*
Attaching the Crevice Tool to the Hand held section
The Crevice Tool is easily attached to the main vacuum or the hand held portion and is ideal for using along skirting boards, edges of window sills, lampshade surrounds etc.
In Handheld mode this has more suction power than any other handheld under 1kg* and is great for clearing up crumbs, flower heads, dust etc in hard to reach places.
Attaching the Multi Surface Tool to the hand held section
The Multi Suface Tool lives up to its name by cleaning tops of curtains, venetian blinds, stair treds and shelving in rooms.
Easily glides across the lounge carpet
Stationary Vacuum must be stored against wall or in cupboard
There are 2 power modes and with up to **16 minutes run-time, the downstairs rooms and stairs of my semi detched house made light work of cleaning.
The total weight of the vacuum including floor nozzle is 2.6kg. which is not overly heavy.
What do I think?
I am impressed by this latest model and the only concern I have is that it is not freestanding. I have another Shark vacuum, model IF250UK and the design of this one ensures the vacuum is sturdy when put in standby mode. See my review of this vacuum here.
RRP is £199.99 and comes with a 2 year guarantee and FREE delivery.
April is often known as Spring Cleaning month, so I am raring to go!
*In BOOST power mode tested to IEC 62885-2, cl 5.8.
**In ION power mode, with non-motorised tool.