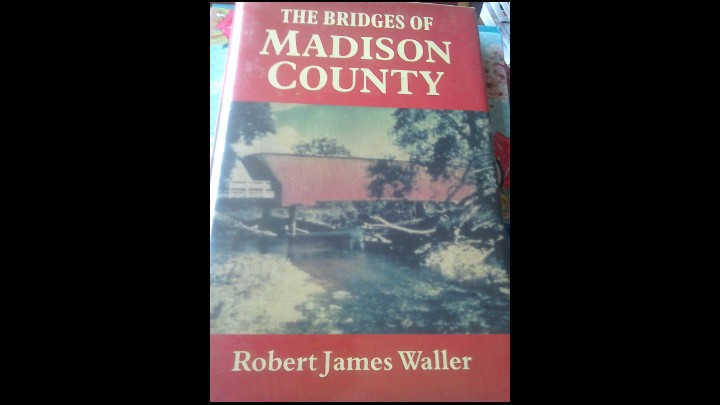 I've always been an avid reader, and in 1995 read a book, totally different to my normal reading material, titled The Bridges of Madison County by Robert James Waller.
I was, and still am, captivated by the love story of Robert Kincaid & Francesca Johnson, set in the 1960s in Iowa, in Madison County.
The story was so touching, and the way Robert James Waller had written it, enabled the reader to be in the mind & heart of Francesca.
The despair she felt at loving someone for 4 days & not being able to have them. But the love for both her & Robert lasted a lifetime.
I actually sobbed when reading this book! A thing I haven't done before or since.
A few days later I was amazed to see that a film version of the book was being released at the cinema. Starring Clint Eastwood as Robert & Meryl Streep as Francesca.
Sylvia and Rosy getting ready to watch the film!
It was showing at our local cinema for 2 weeks. And I took myself off twice a day to watch it for 14 days. I had never been so hooked on a film! And it didn't disappoint.
The manager of the cinema contacted Warner Brothers about my love of the film, and they sent me the production notes, stills from the film & a signed photograph of Clint Eastwood as Robert Kincaid. But my dedication to the book & story wasn't to end there!
In 2008 we were in our caravan in Northumberland, it was pouring with rain one afternoon, and I saw a competition in the Yours magazine, to write about your favourite film for TCM. So I wrote about The Bridges of Madison County, sent it off & forgot about it.
One afternoon I had a call from publicity at TCM to tell me I was one of their winners!!
They paid for my daughter Heidi and me to go to London & stay in a beautiful hotel opposite Carnaby Street.
Filming of me talking about my favourite film, on a red setter in a studio in Carnaby Street was a nerve wracking experience! I felt alone, and yet there were all these people watching!
My voice quivered as I spoke, but the director wouldn't refilm it as he said, it was as if I was reading from a script, and my emotion was obvious. And so, with clips of the other winners as well, my love of this story was shown throughout the month of September, after each film shown on TCM.
It is a wonderful memory, the whole thing, from reading this beautiful story to being filmed for TCM. I shall never forget it! ❤
As I raised a glass of brandy on that red settee I quoted the following words as said by Robert to Francesca:
' To ancient evenings & distant music'
How very beautiful ❤