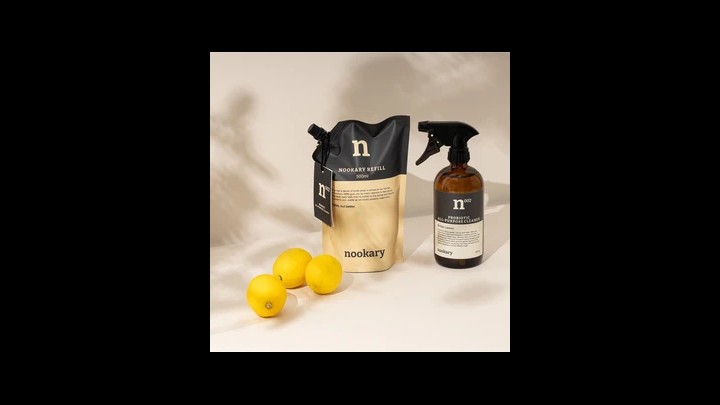 What is a probiotic cleaner? You may well ask!
Let me start by quoting the following taken from the nookary website.
'A probiotic cleaner uses living, beneficial micro-organisms (microbes) to provide long lasting surface cleansing, odour control and a healthier microbiome in our homes. These microbes keep on working, even when you've finished cleaning, continuing to break down organic matter on your surfaces as a source of energy. As well as making it easier to wipe your surfaces perfectly clean, the beneficial microbes also compete for nutrients and can competitively exclude harmful bacteria residing on surfaces for many hours.'
Jacqueline
nookary was started in 2020 by Jacqueline Smith and her good friend, Rohan.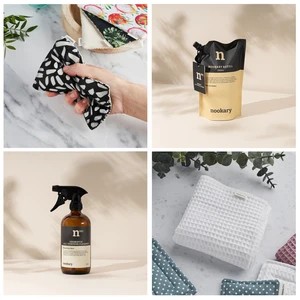 Starter Pack
I have been sent a launch pack of nookary SICILIAN LEMON all purpose probiotic cleaner. The box contains :-
1 x Probiotic All-Purpose Cleaner and your Forever bottle (50ml concentrated - ready for dilution at home)
1 x Probiotic All-Purpose Cleaner refill (500ml concentrated - will do 10 refills!)
1 x Kitchen None Sponge - an eco friendly, plastic-free, reusable alternative to a disposable or plastic cleaning sponges. Perfect for anyone aspiring to a zero-waste lifestyle. From Tabitha Eve.
5 x Waffle Unpaper Towels - 100% cotton reusable, plastic-free, eco-friendly replacement for your single use paper kitchen roll. From Tabitha Eve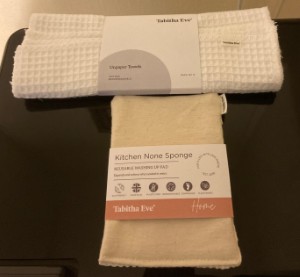 Unpaper towels and sponge
This cleaner is Palm oil free, vegan, cruelty free and readily biodegradable. It contains an effective blend of Bacillus organisms, 5% Cationic surfactants and 5% non-ionic sufactants.
I added 450mls of water to my 50mls of concentrated Forever bottle and began by using the cleaner in my kitchen on the work surfaces, the aroma is a reminder of sitting under a lemon tree in Spain!
Not too overpowering and sweet like many scented cleaners are, this is a welcome change.
Next I used the cleaner on the kitchen tiles, again a good result in that they came up looking like new.
In the bathroom, the cleaner gave excellent results on shower doors and taps. Even the loo can be cleaned with this product.
It is recommended that once diluted, a bottle lasts for two weeks on average. Each refill pouch contains enough concentrated probiotic formula to provide around 10 bottles worth of diluted cleaning solution; enough to see the average home through approximately 20 weeks of cleaning.
My verdict?
Initially expensive but over time works out to be cost effective at around £1.50 per diluted bottle. Also is kinder to the planet with less waste and no harsh chemicals involved which has to be good. The fact that the bacteria in the product continues to work AFTER you have used it is certainly new to me and a great incentive! Plus the refill pouch can be returned for FREE so it can be refilled and reused.
The starter pack retails at £42, but currently is on sale for £32. https://nookary.com/products/probiotic-all-purpose-starter-kit
There is a wealth of other information to be found on the nookary website, (yes this is spelt with a lower case n!) and also many other products to be found including soaps, air fresheners, carpet cleaners and gift sets. You can also benefit from a range of discounts.
Maybe some novel ideas for Christmas presents?
https://nookary.com/
https://www.tabithaeve.co.uk
First three images in the article are used with permission from nookary and the image of the sponge and unpaper towels is mine.