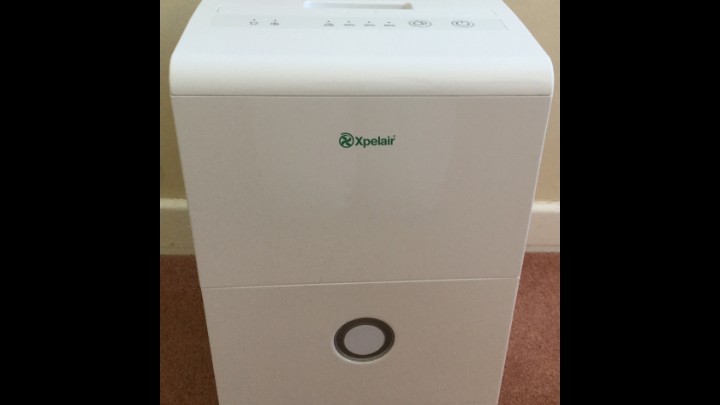 If you are experiencing problems in your home with damp or mould, then adequate ventilation is essential. One of the ways to expel the excess moisture is with a dehumidifier.
I have been sent the latest portable one from Xpelair and would like to share my findings with you.
Xpelair has been in the UK for a number of years and is a tried and tested name. Xpelair is a Glen Dimplex Heating & Ventilation brand and the company continues to manufacture excellent products for the home and work place.

Controls on top of dehumidifier
Model XPDHE10 is a compact, easy to use domestic dehumidifier and is ideal for most rooms in a home covering up to 31m2.
The photo above shows the clearly displayed control panel. From left to right the indicator lights are Tank full indicator, Auto frost indicator light, Continuous operation on indicator, Indicator light for 40% humidity level mode, Indicator light for 50% humidity level mode, Indicator light for 60% humidity level mode. Next are the Control Buttons, Mode button and Power button.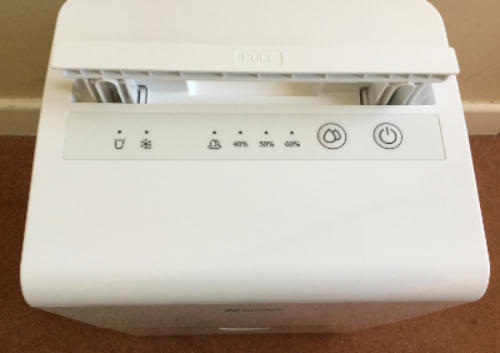 Carry handle lifts easily to take appliance to another rooms in the house
Let me quote a few lines from the Xpelair descrption of this product.
'Designed specifically to help minimise the build-up of moisture and mould in the home, ventilation expert Xpelair introduces the XPDHE10 portable electronic dehumidifier.
Ironically, the better built and insulated a home is, the more likely the homeowner will experience a build-up of damp. From simply taking a shower, boiling a kettle or drying washing, humidity can peak, leading to mould growth that can have a serious impact on the health of the occupants, especially those that suffer breathing difficulties. Alongside adequate ventilation, Xpelair's dehumidifiers can help to dramatically reduce the effects of condensation and resultant mould growth.'
Air filter (behind Air Intake Grille)
Features described below
The back of the Dehumidifier shows the Air outlet grille, Power cord band, Drain hose outlet, Power cord and Power plug.
An accurate electronic humidistat identifies and reduces humidity levels making the XPDHE10 is perfect for smaller rooms. It can extract up to 10L* of water per day from the air, and if left running will fill its 2L capacity tank before automatically shutting off.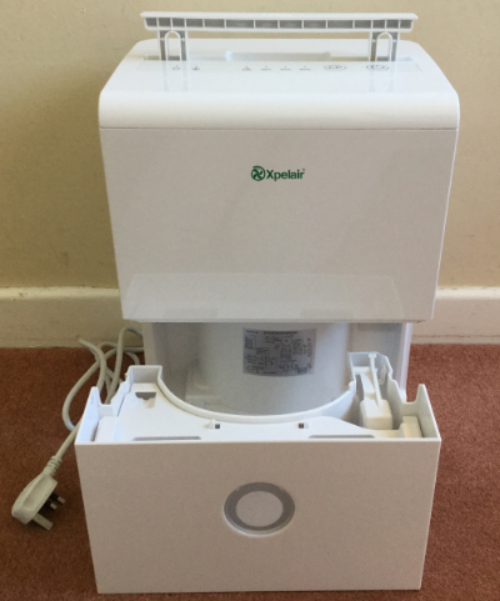 Removable water tank
All units also support drainage of the water tank for continuous operation. You can also insert a water hose with an inner diameter of 13.5mm into the unit to drain water directly away into a suiatble drainage facility.
Weighing 10.7kg and with four castors on the base for easy manoeuvrability, this is a great portable dehumidifier. Try not to force the unit to move over carpet or when the tank is full. It glides across vinyl and wooden floors with mimium effort.
I often dry my washing inside at this time of year and I tried operating the dehumidifier in my shower room downstairs. This room is next to my utility room where the washing machine is kept. I had a shower and after my washing machine load had completed, I put my wet clothes on two clothes horses. No windows were opened so the rooms quickly became warm and full of steam. I was surprised to see how much water was collected in the tray and how quickly it filled up from the moisture and steam collected from the shower and my wet clothes. I have noticed dark patches forming on the ceilings of these rooms and this is obviously the result of lack of ventilation when the temperature is too cold to have the windows open.
Xpelair's sleek, portable humidifiers can be used throughout the year. Maybe you are re plastering an old house, have found some damp patches that need reducing or have condensation that is proving to be a nuisance.
The XPDHE10 is available now to purchase now online. Purchase price at time of publication is £139.99. Please click on above image to order directly from Amazon.
There are many excellent Xpelair products to view on their website including domestic and commercial products.
I can highly recommend this dehumidifier and think it represents excellent value and carries a tried and trusted name too.
*All rates of water extraction based on operation in optimum conditions, 30°C at 80% relative humidity.