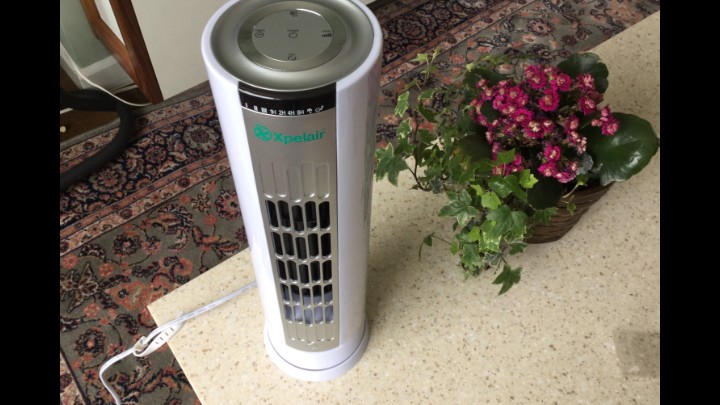 This year we have had a decent May on the whole and June is turning out to be pretty good too. Maybe a cooling fan will be a good investment?
I have been sent An Xpelair Tower XP15E to review and would like to share my findings with you.
This is the first cooling fan I have tried out and first impressions are positive.
Remote control and scent holder
The fan comes with a remote control which offers different settings and speeds, plus a comprehensive instruction manual.
Different symbols on top of fan
To start operating the fan, press the Power Button and this will operate the fan in Normal mode at low speed. No other function will operate unless the relevant selection button is operated.
By pressing the Blower Mode Selection Button, (bottom right on remote) this will change the fan from Normal to Natural mode, Natural to Sleep mode and Sleep back to Normal mode.
There are three speed settings, low, medium and high. By pressing the Speed selection button, the LED will light up to show your preferred speed.
Normal Blower Mode
This fan speed selection button can be manually selected to choose Low, Medium or High speed settings. Ideal for individual use in an office or as a 'cool me down' efficiently when coming inside from a hot outside climate.
Natural Blower Mode
When the fan is operated in this mode, it automatically changes speed to mimic the speeds of windy conditions experienced outside in natural windy conditions.
Sleep Mode
In this mode, there are continuous various speeds which can be selected as three different running patterns.
Runback Timer Mode Button
By pressing the timer button, different times can be selected ranging from one hour up to fifteen hours!The LED lights will show the time selected. When this time has run out the fan will switch off automatically and go into standby mode.
Fan Speed Selection Button
When the fan is first turned on, the Normal mode will operate at Low speed and the LED light will be illuminated to show this. Pressing the Speed button will allow the fan to change from Low to Medium, Medium to High and High back to Low. The LED light will always show which fan speed has been selected.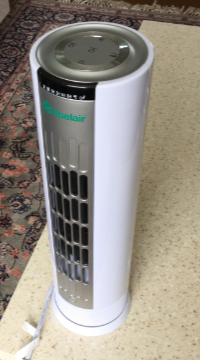 Fan moving from right to left. (oscillating)
Oscillating Mode Selection Button
This is a great feature which is controlled by a stepping motor and this enables the fan to swing to the right and then to the left completing a full swing angle and then repeating until the button is pressed to turn the feature off.
When using the remote control, make sure you are in direct line with the fan. The distance can be up to 6 meters so that is plenty for the average room.
Please see the following technical details below.
Xpelair
Model Number
XP15E Tower
Colour
White
Item Weight
1.43 Kg
Product Dimensions
11 x 11 x 38.1 cm
Power / Wattage
20 watts
Voltage
240 volts
Auto Shutoff
No
I am very impressed with this fan and it is so useful to be able to transport from room to room with minimal effort. I am sure if we have the promised hot summer, it will be widely used!