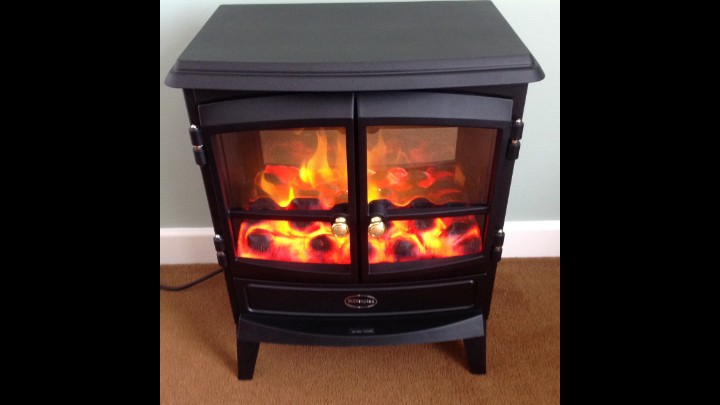 I was delighted to be invited to evaluate the gorgeous Dimplex electric stove, which was delivered to my door a couple of days ago.
The model I was sent is the Springborne Optiflame, which is a very good-looking stove suitable for use in almost any room in the house: sitting room, dining room, bedroom or study, but not bathroom, obviously – water and electricity don't mix!
The stove cannot be used outdoors. It's made of plastic but has been finished to look like cast iron.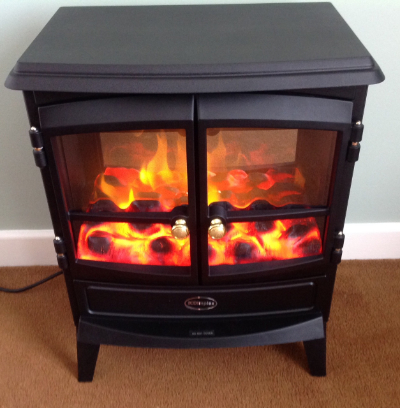 Compact and welcoming
This great product combines the good looks of the traditional cast iron stove with the practicality most of us demand of 21st-century life. The stove generates heat through a two-kilowatt fan heater at the base. There are three heat settings – off, one kilowatt and two kilowatts.
It's also possible to have the stove on a flame-only setting, which doesn't produce any heat but which lends any room a cosy glow.
The realistic coal and flame effect looks very authentic. The stove can be turned on or off with either the remote control (for which the battery is supplied) or by using the switches at the base of the stove on the right-hand side.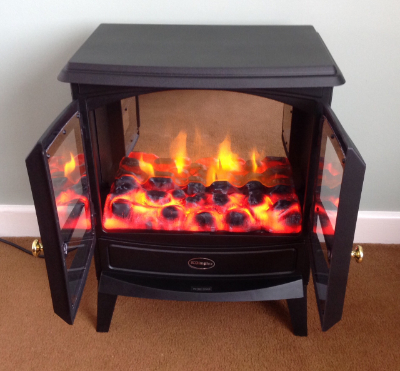 Emitting a cosy glow
The fan in the stove is very quiet and unobtrusive, especially when there are other sources of noise in the room – television, music or general conversation. At 1.7 metres, the flex supplied is long enough to reach a convenient socket.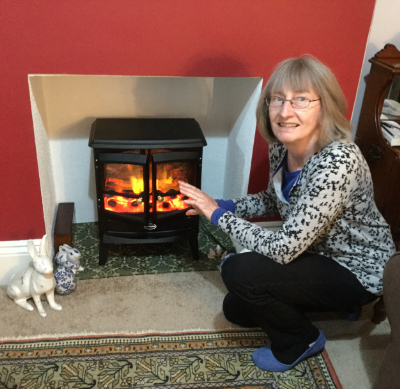 Margaret is very impressed!
I was visiting relations this week so I decided to take the stove round for them to see. They thought it was very attractive and are considering ordering one. I think it looked very good in the hearth of their period house! I would have no hesitation in recommending this elegant electric stove to any of my family members and my friends.
The stove's dimensions are as follows: it's 545 mm high, 440 mm wide and 310 mm deep. So it would fit comfortably into the fireplace of almost any average house.
It weighs a sturdy but manageable 13 kilograms and, since it is freestanding, it can be moved to any suitable place in the home. As the cooler weather arrives, it could be particularly useful in a conservatory.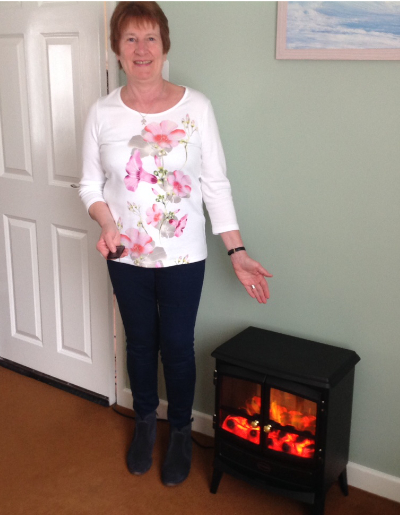 Ideal in a dining room to have as background heating
As well as the remote control and real coals, which are included in the purchase price, there are two other optional accessories available: a realistic-looking stove pipe and a hearth pad, which would complete the authentic period look.
The recommended retail price of the Springborne Optiflame is £235.00 including VAT. There are many other excellent products on the Dimplex website including different priced electric stoves, portable heaters, installed heating and many types of air treatment.
You can also order the Springbourne Optiflame stove directly from Amazon by clicking on the above photo link.
All images are my own apart from the lead photo which is copyright Dimplex.
New legislation called Lot 20 is now available to view via this link.