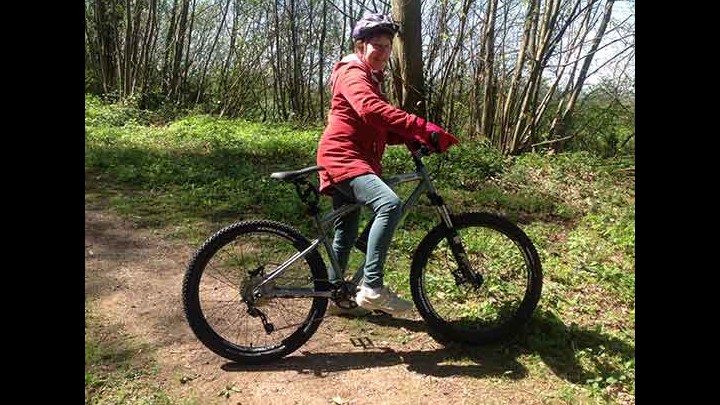 Do you enjoy mountain biking, but find that the exertion of cycling up and down tracks takes some of the fun out of it?
Help is at hand!
I have been sent an electric mountain bike from GTech. The eScent is unlike any other electric bike I have seen! The bike arrived fully assembled and all I had to do was charge the battery and fix it to the bike.
The battery is a powerful 36V lithium-ion battery which clearly shows how much charge you have remaining. You can ride up to 30 miles on a single charge but road conditions and the fitness of the rider will determine the mileage.
With a High torque 36V motor, you can switch from eco mode into faster mode which achieves speeds up to 15mph! Also with harder pedal power and without the battery switched on, you can go even faster!
I remember one of my sons having a bike with RockShox suspension and he used to say what easy, comfortable ride it was. Along with the suspension saddle on this bike, riding over rougher ground feels so smooth!
The eScent has fabulous Shimano gears - 10 of them in all to make your ride even easier and more enjoyable.
There are 27.5" off-road tyres which make for perfect riding on city, country, B roads as well as on mountain trails.
As with the eCity electric bike, there ar two power settings at the touch of a button - Eco or Max; or turn the power off altogether and you can ride it like an ordinary bike!
The hydraulic disc brakes which are SO responsive make you feel really confident at tackling rough terrain and maybe performing some challenging moves. NOTE. I am a little TOO old to be attempting 'wheelies' and suchlike, but I am sure many people will love to try!
Although the eScent weighs in at 19kg and is heavier than the eCity, it is by no means a heavy bike. Made from lightweight aluminium alloy, the same material used in modern aircraft, it is sturdy and dependable.
Ready to go!
LED indicator shows how much battery percentage is left.
Ten powerful gears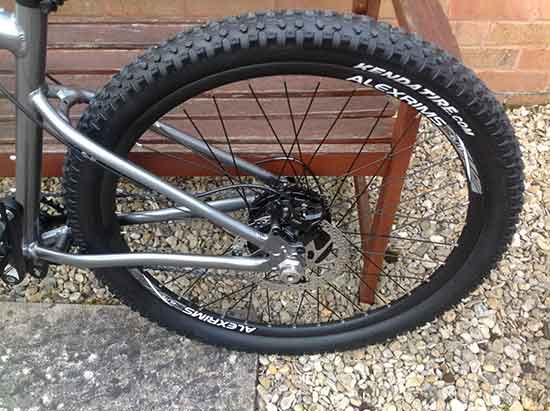 Another view of the back wheel - so well put together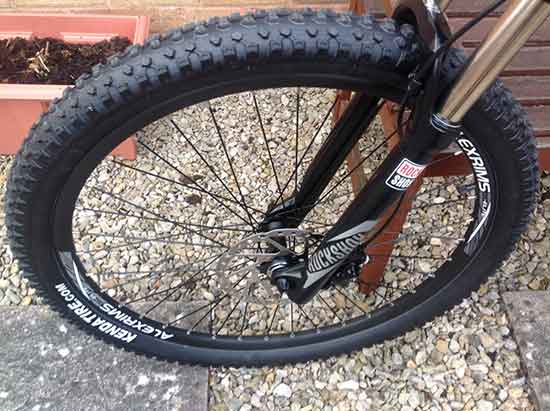 Rock Shox suspension
Wide handlebars and superb brakes
I think it is time to try out the eScent on a lovely spring day in Herefordshire. Derek rode the eScent and I rode the eCity to a woodland trail approximately 4 miles from where I live. It is a B road and endless bleep bleep potholes to swerve around, but we made it safely and the exertion was hardly noticeable. I kept mine on the eco setting for as long as possible as this conserves the battery usage.
Herefordshire countryside near Mordiford
Mordiford bridge Herefordshire
Me on Mordiford bridge with eCity bike on the left and eScent on the right!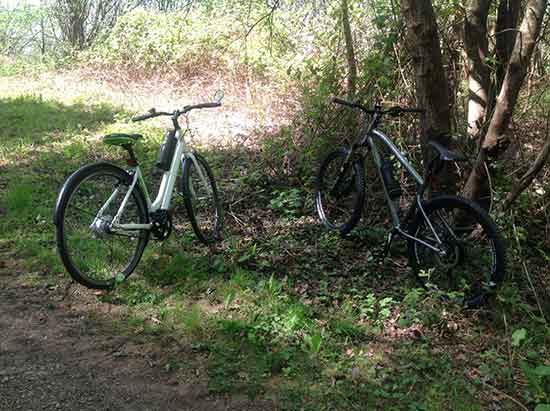 Woodland trails ideal for mountain biking near Mordiford, Herefordshire
Lovely afternoon with sun glinting behind
Derek loves this bike too!
I did not ride the eCity bike off the paths as it is not designed for off road use, but had great fun watching Derek going up and down and really enjoying his Saturday afternoon! Then it was my turn and I was a bit apprehensive for the first time, but was soon enjoying my ride as much as he did!
There is a short video below about the eScent which is worth watching and may persuade you to purchase one! It retails at £1899.99 and comes with FREE delivery, FREE returns and FREE assembly. Plus a 2 YEAR guarantee. You can even try the bike out for 14 days and if you are not 100% happy, a full refund will be given. There is an appointment form to book a test ride if you are unsure about anything before purchasing.
My verdict?
A fantastic bike, a great way to keep fit whatever your age, excellent all round in fact. Yet again GTech has scored very highly in my book! The website is extremely informative about every item they sell, so do pop over and take a look.
First published on 03/05/17 on OAPSchat.co.uk