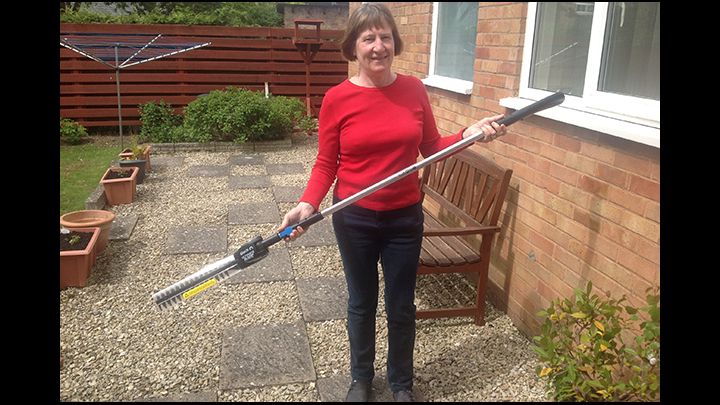 How does one choose a new hedge trimmer? The truthful answer is I don't know!
This is one gardening area I do not get involved in as the equipment needed for cutting hedges always looks rather frightening and bulky. I leave the job to Derek!
As the GTech cordless lawn mower is so good and efficient, I now own the GTech HT05 extending hedge trimmer and whereas before I have not taken any notice of previous hedge trimmers, this one looks very sleek and stylish and is so light to hold!
Weighing in at 1.7kg (3.7lbs) I was able to manage to lift it with ease
.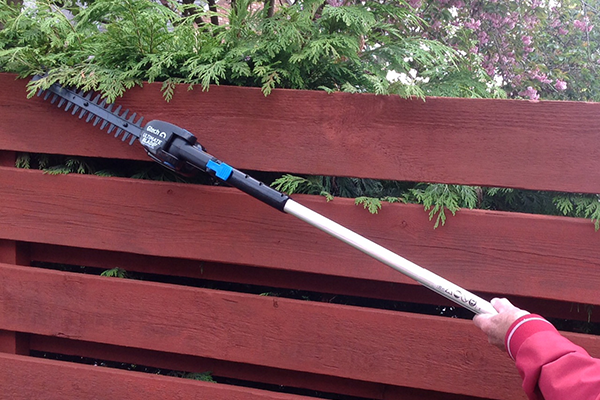 Derek easily reaching the top of the hedge
No longer is there any need for holding the ladder rungs to support Derek and no more overreaching. He borrowed the hedge trimmer to cut his own hedges and compiled this assessment for us.
'Today I tried out for the Gtech HT05-Plus Ultimate Blade hedge trimmer. First impression was how light it felt in my hands. I had first charged the battery up for close to three hours. The green light on the charger came on when it was fully charged.
It felt strange to have the cutting edge a long way from my hands. It takes a while to get used to this but once you do you can control the depth of cut without thinking about it. Whilst my hedges are not too high there is one place that I was able to adjust the head to do the top of the hedge. This is a very good feature of the trimmer
The charge in the battery more than outlasted the time I took to cut my three hedges. There is no hassle of keeping an electric cable away from the cutting head. It is quick and it does a good job of the hedges.
Drawbacks, well not a lot. The length can be awkward in a tight corner with a wall on one side. I found I had to change hands which means you tend to lose control of the depth of cut. If it was shorter with a longer extending arm it would be more versatile.
Overall, a good tool that cuts out the hassle of the electric cable. The blade is very sharp and does a clean smooth cut. I was pleased with the finish it gave to my hedges. The ability to move the cutting head to different angles is a boon to people with higher hedges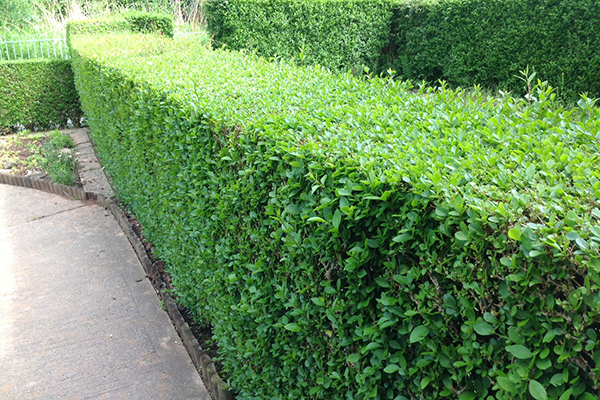 Hedge prior to cutting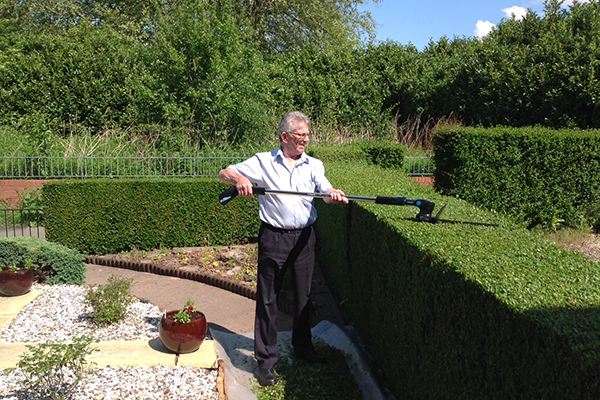 Gliding across the tops of the hedges with ease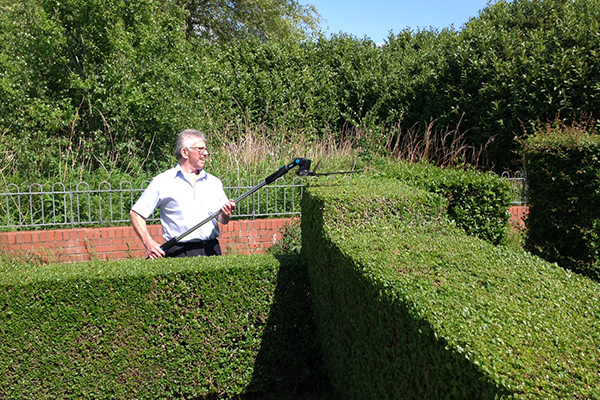 The adjustable head for higher hedges is brilliant!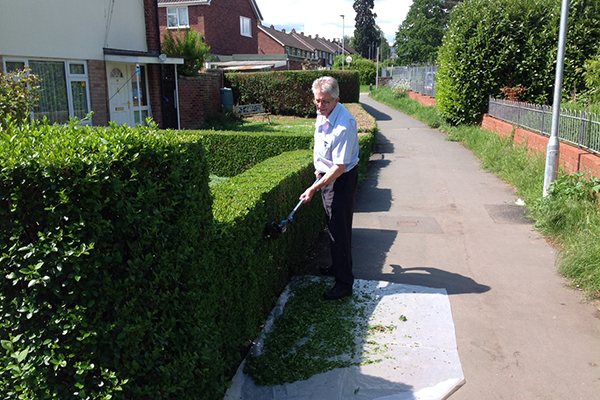 With the trimmer being so light, there is no back breaking work now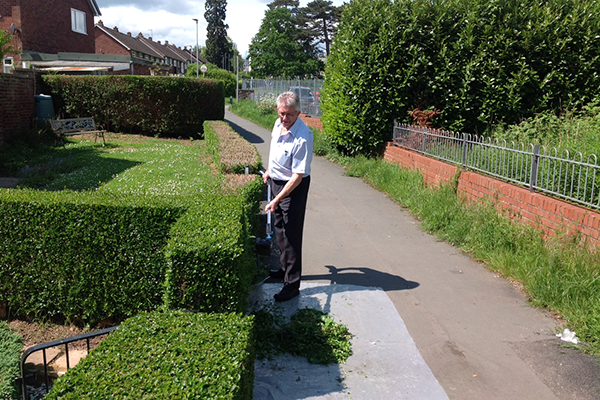 The lightness of the GTech H205 - Plus is a boom !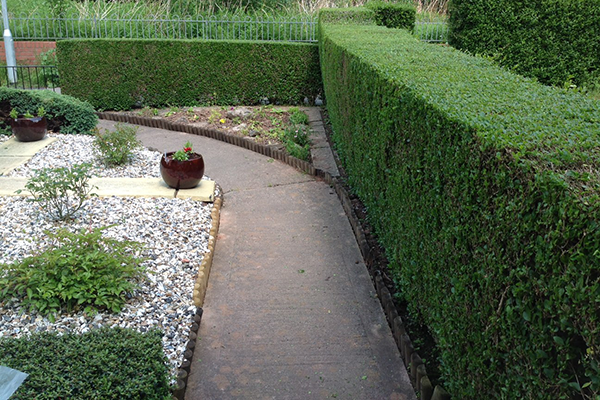 Excellent results!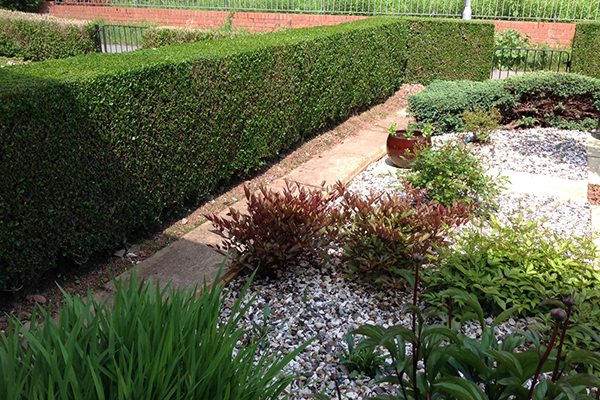 Passers by have commented on how professional my hedges look!
So, as you can see from the photos above, the HT05-Plus certainly takes some beating! Derek is very happy. Listed below are a few more features including timings for battery charging and safety features.
Powered by a Lithium-ion battery, it delivers up to 45 minutes run-time from one 3-hour charge. Weighing just 1.7kg and perfectly balanced, you can comfortably use it for longer. Easy to handle, it glides across hedges with a smooth cutting action.
The HT05-Plus is simple and most importantly SAFE to operate, with a one-handed power trigger and safety switch to prevent accidental starting. A MUST in my opinion, especially as these devices can cause accidents if not handled correctly
Another great feature is that it is cordless and easily portable around the garden. No annoying power cords for you to cut through or hold you back.
Complete with Gtech's 1-year guarantee, if anything goes wrong with your HT05-Plus over the next year, as a result of faulty manufacturing, it will be fixed or replaced.
Retailing at £99.99, I think this is excellent value!
If you are still not convinced, please take a look at this great video from GTech.
You may well be converted and I think that I could enjoy hedge trimming now!!!
First published on 25/05/16 on OAPSchat.co.uk.