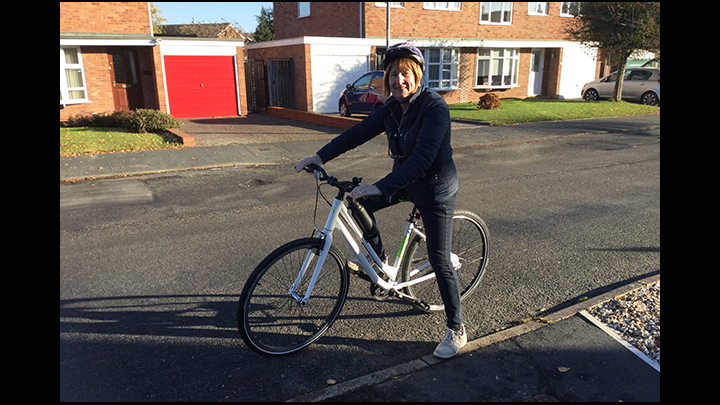 I know that I should ride my bicycle more often. My trusty Etienne cycle from Halfords is around three years old. It has probably been used a dozen times.
Preferring to exercise by walking for an hour or so each day leaves my cycle propped against the wall in my extension. When I was offered the chance to evaluate an electric bike however, this was indeed an exciting prospect! The GTech City bike is something to behold!
Let me start by giving you a few details about the City bike from GTech's website. 'The Gtech eBike will let you fall in love with cycling again. Ride it like a normal bike, but as soon as you pedal, you'll feel the difference as a powerful lithium-ion battery and motor give you a boost whenever you need it. Hills will feel flatter, you'll be able to explore further and arrive fresher with our electric bike.'
'Riding the Gtech eBike is very simple. You pedal to go faster and brake to slow down. There are no confusing gears to worry about. Simply pedal your Gtech electric bicycle for an easy journey. With our electronic bike there is no oily chain. We've replaced it with a clean carbon belt drive as used on high-performance motor cycles.'
My first reaction was 'Ooh the green is nearly the same as the colour I use for OAPSchat!' Easily assembled in minutes the bike was soon ready for some action!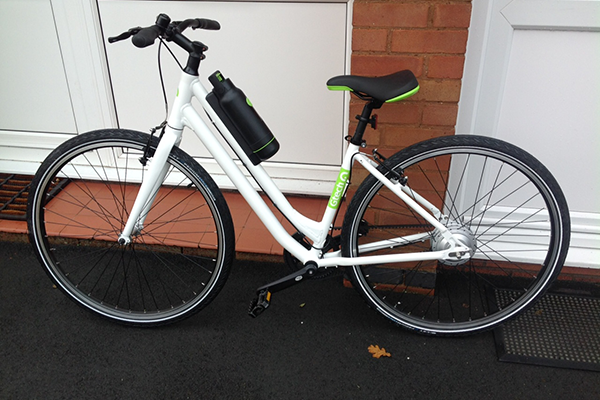 Looking good I think you will agree!
The bike weighs in at 16kg so really lightweight for a city bike. My Halfords bike feels like twice the weight! Made from aviation grade aluminium which is the same material used in modern aircraft, the bike is rust resistant and so can cope with all types of weather.
The Gtech eBike is powered by a Lithium-ion battery, the same, light-weight, high performance technology that is used to power electric cars – giving you a range of up to 30 miles*. (Please see website for more details of range) An easy to read LED display, tells you how much charge you've got remaining. A mains charger is supplied, which fully recharges the battery from flat in just 3 hours.
So, let me go on a trial ride!
Ready for 'take off -slow cruise speed selected!'
With my helmet on, (yes Mum I can hear you!) and the saddle set at the right height, I pushed the button and glided away whilst peddling. The bike propels forward fairly slowly on the low cruise speed setting. The part of the street where I live is flat so the low speed was fine. There is a steepish hill further away up the street, so I cycled up there on the faster cruise speed and it was fantastic!
Having so much fun!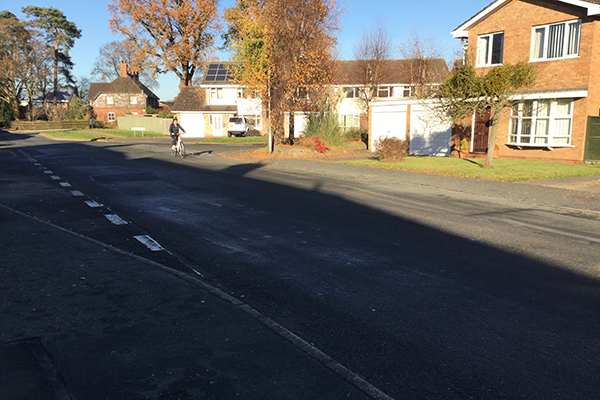 Off I go again!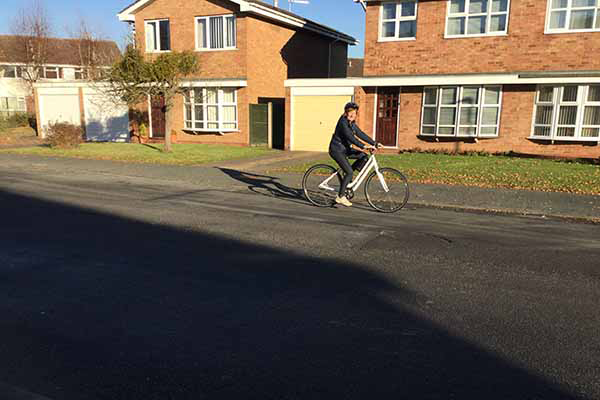 Stopping for a photo in the November sun
My sister Margaret James is very impressed too!
The bike retails at £995.99 and does not come with accessories which are available to buy at the same time if required or separately as and when needed. Take a look at this link for prices. I definitely recommend buying the mudguards and the kickstand. The lights are an obvious addition if the bike is to be ridden in the dark.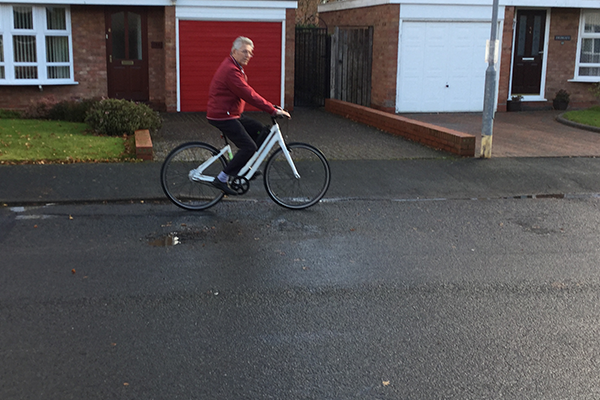 This bike makes everyone smile despite the sudden downpour!!!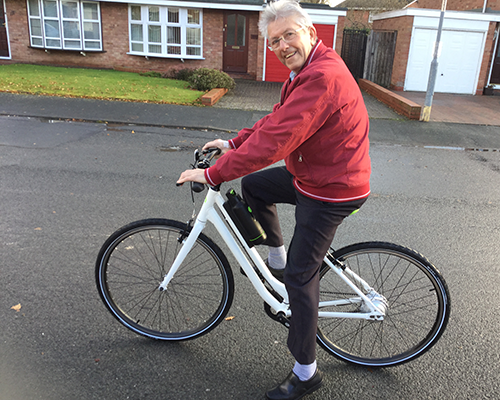 Derek trying out the bike after the rain stopped, must buy some mudguards!
Although this is an electric bike, pedal power is still needed to a certain degree to ride the bike, but it is SO MUCH EASIER than a conventional biycle and if fitness is a goal, the bike can be used without the help of cruise control to ride up hills etc.
If you want a present that is 'different' and can afford the cost, do buy one, you won't be disappointed and you will have LOADS of FUN!!
First published on 06/03/17 on OAPSchat.co.uk