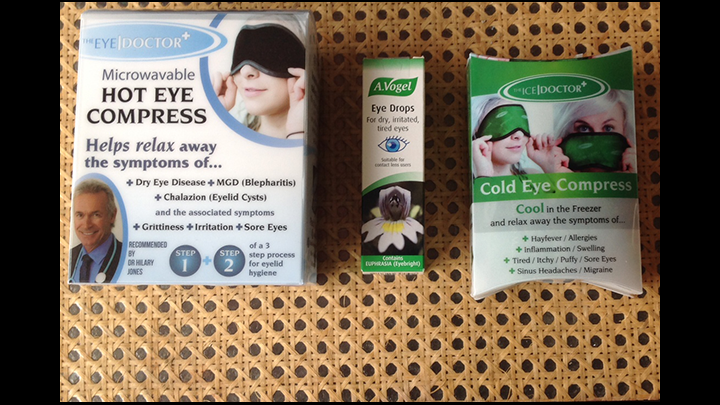 Since setting up my website, I spend many more hours in front of a computer screen.
Some days this results in me having tired, sore and dry eyes. Other days I have a headache. The Eye Doctor sells eye masks to help combat these conditions. Complimenting the masks, A Vogel eye drops are very effective at relieving dry eyes.
I have been sent two eye masks, one to heat in the microwave and one to cool in the freezer. A.Vogel have sent me a bottle of eye drops for dry eyes for me to try.
The eye masks are manufactured by The Body Doctor. The company produces a range of eye products as well as a pad to help ease muscle tension. As the website states: 'This is a family run business and winners of the Queens Award for Enterprise April 2016 in the innovation category. Sue Grant and her two sons, Adam and Sam Wymer created The Body Doctor in 2012. Sue has decades of experience and has won many business awards including being a previous Queens Award winner. She introduced heatable grain filled bags into the UK in 1995.' See a write up and photos here on the day the award was accepted in July from Her Majesty the Queen!
The Eye Doctor Hot Eye Compress
This mask can be heated in the microwave or the oven and apart from helping to relieve the symptoms of dry, sore eyes, can also help with other conditions such as Blepharitis and eyelid cysts. on the website Dr Hilary Jonesstates 'The Eye Doctor is a simple and effective, reusable solution in treating a wide range of conditions' and Dr Colin Parsloe, Staff Grade Ophthalmologist, University Hospitals in Bedfordshire 'In my opinion The Eye Doctor is the best quality eyelid heat mask on the market. Not only do I love it for my eyes, but it appears to be my patient's first choice microwavable hot compress.'
'Personally as a Dry Eye Disease sufferer I love the high quality and comfort of The Eye Doctor. As someone treating Dry Eye Disease I am wowed by my patient's feedback on the quality workmanship and how important it is for them to be able to wash their Eye Doctor eye mask - especially in the summer heat!'
Comfortable mask with adjustable straps
So, I was very keen to try this mask for myself. Depending on your microwave, the mask only takes between 15 and thirty seconds to heat up. It is best to test the temperature of the mask on the inside of your wrist to make sure it does not feel too hot. Closing my eyes and placing the mask around my head with the adjustable strap, I sat back and relaxed for around 7- 10 minutes. Included in the box is an eyelid massage procedure which I did immediately after the relaxation. This procedure is best followed twice a day for two weeks, thereafter once a day and reduce to twice a week once improvement is noticed. An excellent YouTube video from Dr Hilary Jones is well worth a look. Retailing at £19.95 with free delivery, why not try this mask yourself?
The Ice Doctor Cold Eye Compress
This too is a comfortable mask with adjustable straps
As someone who suffers with headaches, I was keen to try this mask out the next time a headache was starting to form. After leaving in the freezer for two hours, with eyes closed I placed the mask around my head and hoped the icy cold wheat ingredients would work their magic. I don't like taking medication and have tried various alternative remedies for headaches without much success. I left the mask on for five minutes and felt some relief. It certainly beats using cold flannels! This product may also be good for you if you suffer from hayfever, allergies, migraines or indeed tired and sore eyes. Priced at £9.99 including free delivery, a good buy in my opinion.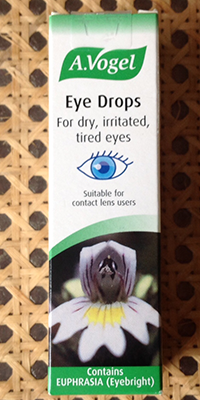 A.Vogel Eye Drops
Whilst using the masks from The Body Doctor, a good accompaniment if eyes are particularly sore and/or dry are the eye drops from A.Vogel. These drops are applied 4-5 times daily and are also suitable for using with contact lenses. They are suitable for adults and children from age 3. (Child dose is 1-2 times daily.)A unique dropper ensures that only one drop comes out at a time. This feature makes these drops good value for money and the bottle design keeps the product sterile without the need to use preservatives. Priced at £9.40 for 10ml (300 drops), I consider these to be a good buy. More information can be found on the website by clicking on the A.Vogel link above.
I hope my review has helped you think about maybe ordering one or more of these products if you suffer with any of the symptoms described above.
First published on 15/09/16 on OAPSchat.co.uk.