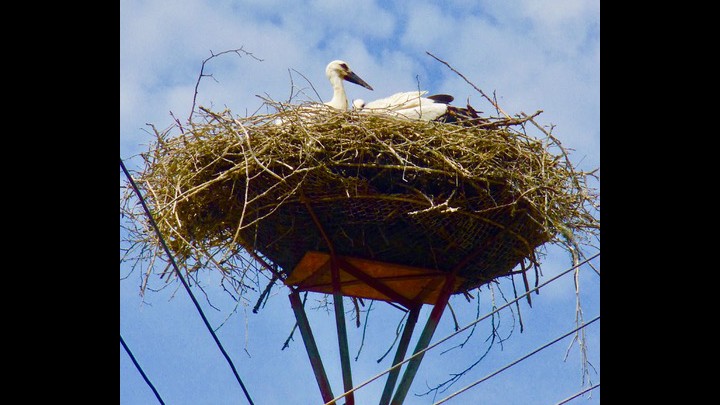 When I mentioned a holiday in Romania, I faced incredulity and dark mutterings of "has she lost it?"
A friend and I toured during the second half of July, our choice influenced by its hot and sunny location. We wanted to see as much as possible so, before departure, we pre-hired a car and driver cum guide. This was inexpensive and a boon.
First stop Bucharest known in the 1930s as the Paris of the East. Gracious, neo-classical buildings nudge crumbling art nouveau villas (many vacant given ownership tussles). Leafy, tree lined streets, beautiful parks and municipal planting abound. We splashed out on four days at the Athénée Palace Hotel with its English Bar (100 years old in 2014 – did our Queen send birthday greetings?) immortalised by Olivia Manning in The Balkan Trilogy and later hotbed of the Securitate.
The top deck of the hop on, hop off bus oriented us brilliantly. The historic core is Lipscani, the Old Town, where street names – blacksmiths' street, saddle makers' street – bear witness to the trades once plied by merchants and artisans. Pick your way over cobbles to lovely and austere 17th and 18th century Orthodox churches and interesting museums, admire the exquisite Dacian gold, the sobering memorial to the 1989 Revolution, the striking mosaics in the Athenaeum concert hall and join a guided tour of the bombastic Palace of Parliament (commissioned by Ceauşescu). A half-day tour introduced us to the lakeside setting of frescoed stone-built Snagov monastery (reputed resting place of the head of Vlad the Impaler) and Mogosoaia Palace, a stately home and garden.
Then along deserted roads into Transylvania, where the Prince of Wales owns property and campaigns for the environment, to spectacular 60m high Bran Castle, Vlad's refuge from the Turks and which inspired Bram Stoker's Dracula. Nearby lies entombed the heart of Queen Marie and it's an easy climb to the magical, turreted castles of Peleş and Pelistor, the homely summer residences of the former royal family. Alas, not even one of the 6,000 Carpathian brown bears was interested in saying hello.
The hills are alive with… fortified Saxon churches (German is widely spoken here); we cruised past swathes of wild flower meadows, lush pastureland awash with grazing sheep that resemble poodles, and remote hamlets nestling in the Carpathians, swinging by creaking horse drawn carts laden with hay and farm produce.
Two days in mediaeval Braşov (where the Pied Piper of Hamelin fetched up) its wide market square dominated by the Gothic Lutheran Black Church and the haunted Trumpeter's Tower (tortures and witch burnings) then boarded a slow train to Sighişoara where we stopped four days. Here are 16th century houses in many hues and an ancient Clock Tower and Citadel looming over narrow cobbled streets. We caught the annual mediaeval fest celebrating 700 years of the Knights Templar when banners are paraded and costumed folk dancers trip after bands blasting out mediaeval tunes.
Continuing our journey past grandmothers squatting on doorsteps crocheting tablemats, Roma men in black hats with women in traditional scarlet maxi skirts busy tending smallholdings, we spent three days in Sibiu – favoured by Liszt and Strauss – visiting, amongst other things, the stunning baroque Brukenthal Art Gallery and the Pharmaceutical Museum displaying intriguing homeopathic potions, pills, powders and primitive surgical tools.
We wrapped up the holiday in Cluj-Napoca (don't miss the Ethnography Museum) dipping through courtyards to nose local life. En route to Cluj we'd glimpsed the epic Turda Gorge, and regretfully bypassed a salt mine, as we'd run out of time. Unification Hall impressed us in Alba Iulia, crammed with reliefs, colonnades and sculptures where, in 1918, a new Romania was born when it signed up Transylvania.
We couldn't include Maramureş where painted wooden churches flourish, so spent one Sunday at ASTRA open air museum where those same churches, traditionally furnished grass thatched cottages, smithies, flour/saw mills, butcher/baker/candle stick maker and road-side shrines collected from all parts of the country are artfully deployed over a vast wooded site. Wandering round, our ears caught the sound of worshippers singing the evocative hymns of the Eastern Orthodox Church. But we couldn't pass up the Glass Icons Museum that hosts many charming, naive pieces, bearded Elijah riding in his chariot and the Last Judgment being my favourites.
Nor could we explore the sandbars, floating reed islets and marshes of the Danube Delta. That's why we'll revisit Romania with its sweet summer berries, sour soup, pork-stuffed cabbage leaves and polenta washed down with local wine, home made seed bread, corn cobs grilled in the open on a charcoal brazier, sumptuous pancakes, gentle people, villages where the pace of life hasn't changed for centuries, endless unspoilt countryside, great walking/hiking /cycling opportunities, brightly coloured dwellings, beguiling music, gorgeous pottery/ craftwork, fragrant roses and sunsets to swoon for.