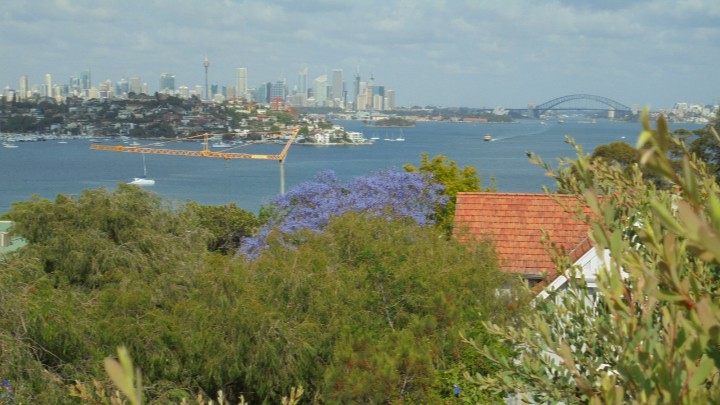 It was an early start to be at Cairns airport for another 3 hour flight, this time to Sydney.
Driving under the Sydney harbour bridge
We were looking forward to seeing, and possibly climbing the big bridge, paying a visit to see the hunky lifeguards on Bondi Beach, visiting our friends in the wildlife centre and dining aboard a cruiser around the harbour.
Queenie and Quentin caught up on sleep on the flight and when they arrived at the hotel they could smell smoke. This was because there were huge fires raging on the outskirts of Sydney and it was a bit of a worrying time for residents and visitors.
After putting their luggage in the rooms, it was downstairs and onto a coach to go for a sight seeing trip around Sydney and the suburbs. After stopping off to take some photographs en route, they finally arrived at Bondi Beach. Queenie and Quentin were a little disappointed, as they had thought it was a huge long white sandy beach but it wasn't, it was a small sandy bay which was ideal for surfers as there were lots of huge waves crashing into the shore.
Q and Q with lifeguard and fireman at Bondi Beach
Queenie spotted a life guard chatting with a fireman and went all weak at the knees.She just had to have a photograph taken with them, and Quentin didn't want to be left out, so he 'photo bombed' huh! The journey ended with a drive under the huge Sydney harbour bridge that they were all hoping to climb tomorrow , but that would depend on the weather, and on the fires which were producing a lot of smoke that made for poor visibility at times.
Snuggling down for the night-sweet dreams
So, it was dinner in the local Irish Bar, then back to the hotel and off to bed to read up about the huge bridge. There was a lot of excitement, and sleep was not the first thing on their minds as the climb was to be the highlight of the holiday. They eventually settled down to sleep after another lovely, very busy day.
To be continued...
See Day 1 here.
See Day 2 here.
See Day 3 here.
See Day 4 here.
See Day 5 here.
See Day 7 here.
See Day 8 here.
See Day 9 here.
See Day 10 here.
See Day 11 here.
See Day 12 here.