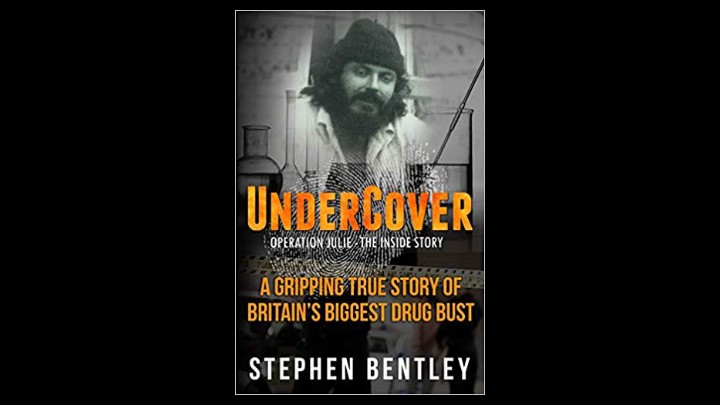 This is the first time my team of reviewers and I have reviewed a TRUE crime novel. See our posts below!
Yvonne Probert
Undercover is the inside story of "Operation Julie" which was the first deep cover investigation of the drugs trade back in the 70s by the Police Force.
The lead in was explanations about how it came about and initially thought the book was going to be very dry and dreary. I was quite wrong. Once I started on the main content, I had difficulty putting it down.
I have been left with confused and mixed feelings, the story is true and well written and I became amazed at the courage of the team and angry at the lack of support they seemed to be getting.
The author, Stephen Bentley had to become Stephen Jackson in every way. Separated from family and friends he could only build relationships with a colleague and the people he was investigating.
He tells the story exactly as it happened living an undesirable lifestyle for authenticity and safety. The whole project would be in jeopardy if he slipped out of character. He became a drunkard and a user but had to remain in control of his behaviour to not reveal himself.
The operation eventually came to its' conclusion and there were many arrests based on the evidence of the team. Unfortunately it was not without it's casualties. Stephen was left in deep depression when reverting back to "normal" police duties. The person he had become for so long had almost taken over and he was then diagnosed with mental health problems.
He left the Force with misgivings about his treatment by his senior officers. There was little or no recognition of the contribution he had made to the success of Operation Julie or even of the price to his health and he never received a disability pension.
Whilst reading the story, I had mixed feelings . My thoughts were that there was so little thought of the victims of drug abuse but saving them was, of course the whole object of the exercise and I realise that such thoughts would encroach on the need to be believed.
I found this to be a very worthwhile book to read, it made me think and was an eye opener to the risks undertaken by this group of very brave men.
Sandra Blower
Reading this book was a challenge as it is way out of my comfort zone.
I did struggle a lot with this book as I found it repetitive with too much detail.
But I must give praise for those involved trying to keep our streets clean of hard drugs.
I know there will be readers out there who will love this book sadly not me.
Marilyn Chapman
What turned a uniformed police officer into a cannabis-smoking, heavy-drinking hippy virtually overnight?
The answer can be found in Undercover, Stephen Bentley's true account of Britain's biggest ever drug bust, which gives a vivid insight into police undercover operations in the 1970s.
The author was one of two highly vulnerable undercover police officers in Operation Julie, a now infamous police investigation into the production of LSD by seventies' drug rings. With little specialised training he found himself psychologically unprepared for the subsequent impact on his own life and the lives of those around him.
In the preface to the book Bentley writes 'Although synonymous with LSD, Operation Julie also uncovered a huge plot to import vast quantities of cocaine into Britain. Two undercover cops unearthed that plot…I was one of them.'
We discover how, much like his 'fellow' dealers, the author relied on cannabis and alcohol to cope with – and fit into – a lifestyle that was very far removed from anything he had known before. He also had to live with the constant danger of being detected and having his cover blown.
With a conversational style of writing, the author makes it clear that he underestimated the sheer scale of what he was getting into and regrets being denied the opportunity to put the significant knowledge gained to good use. While drug enforcement methods, he suggests, should have been developed, the whole team was disbanded after the successful prosecution of the drug ring, and the valuable lessons learnt simply lost.
At the time LSD was a recreational drug 'to enhance everyday experiences' and considered acceptable in certain circles. Significantly, it appears that Bentley got used to the excitement, the drinking on duty and the camaraderie of his new pals, in particular a man nicknamed 'Smiles.'
I found this book fascinating, not least because the author gives a real insight into the dangers involved for everyone concerned, but also because it is clear how much would have been gained if the whole operation had been managed differently.
My only criticism is aimed at the latter part of the book which examines whether undercover operations will ever be considered ethical in the future. A good question, but one perhaps better left for another time?
In short, Operation Julie would have made a remarkable work of fiction, if only it had never happened.
Margaret Joel
This book is written by a police officer about his undercover work in busting a drug ring in the 1970s. It was the early days of undercover police work so there were no rules or parameters to guide them. It is an interesting book most of the time but is a bit long and hard going towards the end.
The fact that they had to get so involved, including drug taking & heavy drinking came as a bit of a surprise, there is no indication if they became addicted. This work clearly had a detrimental affect on their relationships and life after their undercover work was over, finding it difficult to settle back into "normal" life.
The author still has ongoing issues which he attributes to the lack of support following his undercover work. This book will appeal to those interested in the police & how they work undercover.
Hopefully lessons have now been learnt.
Patricia Humm
A compelling true story of brave undercover police officers written by one of the officers involved - the very brave Stephen Bentley.
A very complex story working from top to bottom of drugs net. To my mind as a very anti drugs person, I find these individuals the lowest form of life.
Man hours dedication and leaving no stone unturned made this a very successful operation.
A very absorbing and engrossing story.
Highly recommended!
Janice Rosser
Undercover - Operation Julie, The Inside Story is a true account of what happened in Britains biggest drug bust in the 70's.
Stephen Bentley's book starts with telling the reader about his life as a young hard working honest police constable in Merseyside and then moving to Hampshire.
In the Spring of 1976, he was summonsed to the Police HQ in Devises by Inspector Dick Lee who was the mastermind behind Operation Julie. Bentley was to go undercover with colleague Eric Wright to Llandewi Brefi, situated in the rolling hills of mid Wales to infiltrate an international LSD Network. They were to become Steve Jackson and Eric Lee and live and breathe as hippies and become friends with the people involved with this network.
A briefing from Lee clued the duo up about a character called Smiles who lived in Brefi and who, the police believed, was a key player in the distribution of the LSD. The idea was to meet up with Smiles and his mates and become part of the 'group of buddies.' Steve and Eric grew their hair and beards and lived in a Camper van so as to blend in with the other hippies that were living in this area at the time of Operation Julie.
They bumped into Smiles one evening by chance in the local pub and began hanging out with him and his chums. A lot of VERY heavy drinking started and also smoking a lot of dope, and snorting the occasional line of coke. To have refused would have completely blown his and Eric's cover.
The reader is kept enthralled by months of meeting up with Smiles and his chums and Stephen makes good friends with Smiles, so much so that he (Stephen) feels at times he is betraying him, knowing he will be sending him to prison once the operation is over.
I won't spoil the storyline except to say that once Operation Julie is over, it has taken its toll mentally and physically on the team and Stephen struggles to return to normality - whatever that may be! The hierarchy do not recognise his achievements and no commendation is made. This makes him feel angry and disappointed.
The reader learns of police methods now and back then in the final one third of the book and i am left wondering if 'lessons have been learned' to coin a frequent phrase often used by authorities when things don't always go to plan. It's a shame that Operation Julie was disbanded and no further training was given to future police roles in this department.
Maybe this book could be read by today's Police Forces and see what, if anything, they could do to advise and help today's Undercover police.
This is a well written book and Stephen is now retired, writing and living with his family in the Philippines.
Undercover is now available to buy in Large Print from Amazon and will be available in book shops soon..