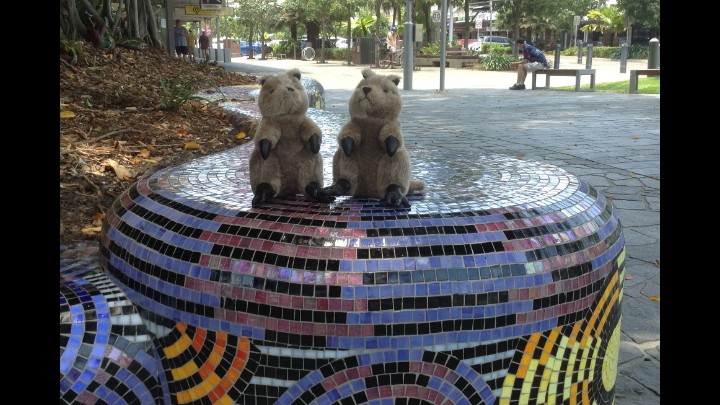 After dinner and a good nights rest, Queenie and Quentin decided on a walk down by the harbour to see what was going on in Cairns
Pelicans on the shoreline
As it was near the sea, they felt more at home than they had done in the desert. The first thing they saw were some familiar friends, the pelicans who were lazing on the sandy shore so they were beginning to feel more at home.
Bats hanging from the trees in the street
They took a detour to the market through a lovely park and saw a tree with what they thought was fruit hanging from it. It wasn't a fruit, they were bats, and at dusk they all took off and dived and dipped around everyone walking around the streets.
Lazing by the pool after a long walk in the hot sun
Queenie and Quentin did get to see and taste some very unusual fruits in the market like the dragon fruit, custard apples, rambutan and passion fruit.
After a stop for coffee and a cake, it was back to the hotel for a lazy afternoon by the pool.
To be continued....
See Day 1 here.
See Day 2 here.
See Day 3 here.
See Day 5 here.
See Day 6 here.
See Day 7 here.
See Day 8 here.
See Day 9 here.
See Day 10 here.
See Day 11 here.
See Day 12 here.