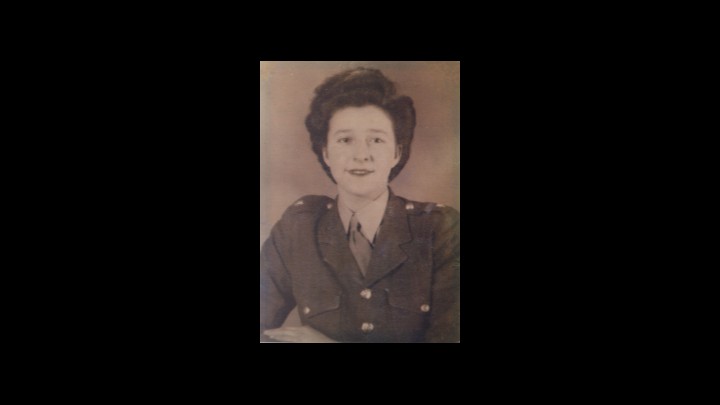 Good friend Sheila Khan has sent me this article written by her mother about her many experinces in WW2.
In 1939 war broke out between Germany and England and I was still in domestic service. When Dunkirk came along, it was very distressing to see the soldiers returning from France, lying along the footpaths at Wickersley in rags. They looked dreadful. It upset me very much to see them so I decided to ask dad if I could join the army. He was dead against it. I pestered him so much that he eventually gave in and said "yes".
I had to go to Sheffield for an interview and passed to go into the Auxiliary Territorial Service, in other words the ATS. The year was 1940. I was sent to Neville's Cross in Durham, which was a training camp. We had three weeks there doing drills etc. I met girls from all around the north of England and the pay we were to receive was nine shillings a week. The first place I was sent to after I passed the exams was to Nottingham a place called Arnold, which was near Sherwood Forest. We were billeted in Sherwood Lodge.
The second weekend there, we were all told we could have a weekend pass to go home, but the sergeant in charge didn't want to go so I said I would stay and keep her company. There was a new coalmine there that was almost finished. It was being constructed by some men from Germany and when the war first started they fled back home. The sergeant and I were both given the opportunity to go down this mine and I can say it was really very interesting. We went down in a lift right to the coalface and had to lie down on a conveyor belt to where the coal was being taken from. We were thrilled that we had taken the chance given us to go down there.
A few months later, I was sent to a military camp at Oakham in Rutland, which is the smallest county in England. We lived in Nissan huts, which held about twenty girls. They were a good crowd and we all got on well together. It was a mixed camp, so that at the weekends we used to have dances. I couldn't dance, but soon learned and really enjoyed it.
In 1941, I was moved again, this time it was to the Isle of Wight, with the Northamptonshire Regiment. We got into boats at Portsmouth and landed at a place called Ryde. It was a very frightening journey over the water as it was the night that the Germans bombed the main town on the island called Cowes. We were to be billeted in Newport, which was in the centre of the island. We were to live in a very large house.
By this time I had earned my promotion and became a full corporal, which meant I had two stripes and got more pay. That was great for me; I had never been so well off in my life before. I was working underground in a very large room with big round tables, which were called Plotting Tables. We used to plot the German aircraft as they left the airfields in France and we gave information to Biggin Hill near London where the British aircraft were. Also we passed information to search lights and anti-aircraft sites. It was very interesting work and I enjoyed it very much and felt I was doing a worthwhile job. In 1942 we were awakened at 6am one morning by a terrible sound. It was German planes flying over. They dropped a bomb on the cinema in Newport, it was only a short distance from us. We were desperate to find cover somewhere or other from it. It destroyed the Medina cinema completely.
Towards the end of 1943, I felt as if I wanted a change so I applied to go on a course to join the Military Police. For this job I had to learn about Civil and Military Law, and how to do unarmed combat. I passed with flying colours and went down to Exeter in Devon. I was certainly seeing quite a lot of places in England now. As I passed the exams I had to lose one stripe and now became Lance Corporal.
A very funny thing happened whilst I was in Exeter. A girlfriend and I met a couple of soldiers one day and they asked us to go to the pictures with them, which we accepted. The one I was with was a sergeant and when we got inside the cinema he took of his hat and I nearly died, he didn't have a hair on his head. I was really embarrassed about it and so to cut a long story short, we made some excuse up that we couldn't make it to see them again. But at least we had a good laugh about it when we got back to our billet.
My next move, in the army, was to go to Liverpool. I was to be billeted in a large house in Rodney Street (no.60). That was the house where Mr Gladstone was born. He became Prime Minister of England at the beginning of the 19th century. Rodney Street is known as the Harley Street of Liverpool where many doctors and specialists had their practices and still do this day.
The girls I was with in this billet were a great crowd and I was very happy there. I used to go on patrol in the town and was in contact with the civil police. We always went out in pairs and worked different shifts. When not on duty we would play cards and have a good time. After being there for some time I started having some trouble with my feet and was sent to see the medical officer who examined me and said I would have to give up going out on patrol. I was then given a job guarding prisoners. They were girls who had broken the army rules in some way or other. We had a special room for this job at the top of the building as the house had four storeys.
There were male Military Police stationed at number 47 Rodney Street and we used to use their canteen if we wanted cigarettes etc. In 1944 I met a sergeant in the canteen when I went in one day. He told me he had just come home from India. His name was Bill Cox. We got friendly and after a short time we started going out together. I thought he was the bee's knees. He said he played the piano so, being as we had one in our billet, the girls invited him to come in and play for us. He was very popular with them all.
Our romance bloomed and we started to visit Bill's parents who lived in Romiley, Cheshire. We would go there on our weekend passes. One weekend we were going to Romiley and went to catch the train at Lime Street Station. We got into the first carriage of the train and took off our overcoats expecting the train to leave any minute. After a while the train didn't go. Bill put his head out of the window to see what was wrong and guess what? It was the only carriage left on the platform, it had not been connected to the rest of the train. We certainly felt real fools having to walk off the platform to face some of our Military Police mates and have them laugh at us. We then had to walk to Central Station and wait another hour for the next train.
In 1945 we got married in Mount Pleasant Register Office in Liverpool and the girls and fellows who knew us gave us a lovely reception at number 47 Rodney Street.