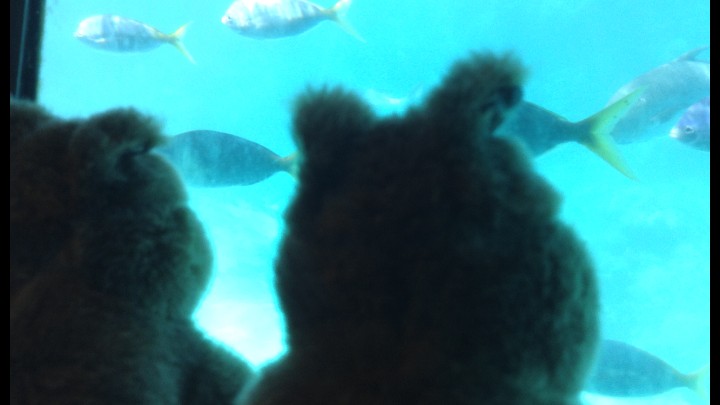 Queenie and Quentin spent the evening reading up on the Great Barrier Reef as that was to be tomorrows trip.
Reading up on the Great Barrier Reef
They discovered that it consists of 2,900 reefs and 900 islands and it covers 345 square kilometres. They also found out that it is 500,000 years old too, wow ! After a good nights rest, we all set off for the harbour to join the boat to take us out to the island where we would take a trip on a submersible to see the reef, go aboard a glass bottomed boat to see the fish, then walk to an island where we could take a swim, or go diving. It was a lovely day and the sea was calm and we were all looking forward to going under the clear blue sea to see what we could see.
Looking out to sea on the return journey
Queenie and Quentin loved it and were absolutely delighted to see all the different fish swimming around outside the submarine. They saw similar fish from the glass bottomed boat too. After a lovely lunch on board the boat, we all took a walk over to the island along a specially constructed walkway and when we arrived, we couldn't wait to go down on the beach.
Sitting on the beach drying off
Queenie and Quentin didn't go swimming but they did go to the waters edge where a wave came in and soaked their tails; they sat in the sun to dry off. They went for a walk to find somewhere to enjoy some refreshment and found a lovely little stall selling macadamia nut ice cream which they couldn't wait to try. It was yummy and they thoroughly enjoyed it.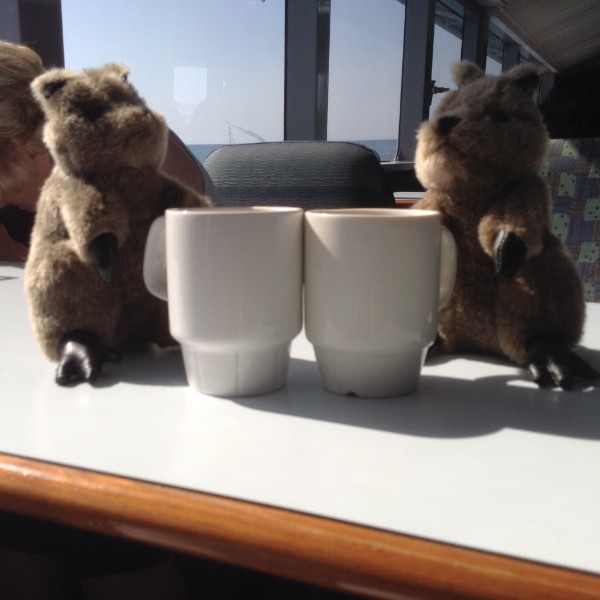 Enjoying cup of tea on the return journey
Soon it was back on the boat for the return trip to the harbour. It had been a wonderful but tiring day so they relaxed with a lovely cup of tea as they looked out of the window across the wide blue ocean. Another great day out.
To be continued...
See Day 1 here.
See Day 2 here.
See Day 3 here.
See Day 4 here.
See Day 6 here.
See Day 7 here.
See Day 8 here.
See Day 9 here.
See Day 10 here.
See Day 11 here.
See Day 12 here.