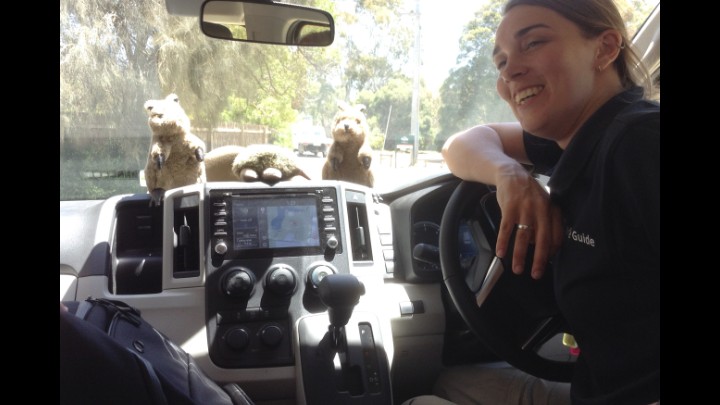 Queenie and Quentin were looking forward to today, as they were going to the country park to see some of their friends.
A large four wheel drive vehicle pulled up in front of the hotel, the Ranger got out to check all on board, made sure everyone was fastened in, then it was off on the long drive out to the country park on the outskirts of Melbourne.
Meeting Koalas in their natural habitat
Meeting Koalas at the wild life sanctuary in Sydney
The first thing to do was find the koalas, which isn't an easy thing to do in their natural habitat, as they sit way up high in the trees sleeping most of the day, but Queenie and Quentin spotted them no problem. It was then off to find the kangaroos who liked to live in the low scrubland areas.
Kangaroos lazing in a family group
The order of the day was to walk quietly so as not to disturb them so the party stopped chattering and began to look out for these intriguing animals. Suddenly a group came into view and they stopped eating and raised their heads to see what was going on.
Bush Tucker picnic
After seeing many more family groups, eating, sleeping , grooming etc it was time to leave for the bush tucker picnic in the forest. Queenie and Quentin helped to carry the food boxes to the picnic area where everyone settled around the table to enjoy some wonderful food and a freshly made eucalyptus tea---or bush tucker tea as it is known.
A little spoon of tea in a large billy can, lots of freshly picked eucalyptus leaves torn into pieces, very hot water, then with a very swift movement, the Ranger swung it around her head five or six times then poured out the most deliciously refreshing tea.
Final night, farewell drinks
Queenie and Quentin loved it--- and had more than one cup each. After a great day out, it was back to the hotel for final night drinks with the group they had travelled with since joining the party in Perth 19 days ago.
Tomorrow would see everyone leaving just after lunch---except Quennie and Quentin ! they didn't leave until early evening, and then their adventures abroad would be about to begin.
To be continued...
See Day 1 here.
See Day 2 here.
See Day 3 here.
See Day 4 here.
See Day 5 here.
See Day 6 here.
See Day 7 here.
See Day 8 here.
See Day 9 here.
See Day 10 here.
See Day 12 here.