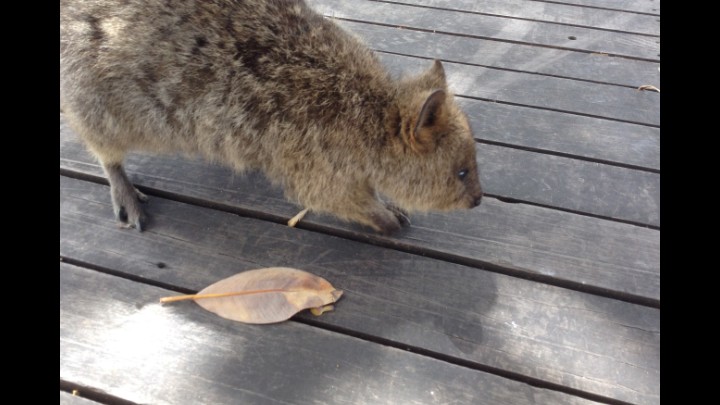 Whilst I was in Australia, I bought two soft toy Quokkas.
Day 1
They travelled around with me having their photograph taken in different places so I could send a story back to my two young nieces every day. Wondered, if for a bit of light hearted fun, I will post a diary of my travels from the Quokkas perspective. The actual Quokkas wander around and sit beside you but it's illegal to touch or feed them.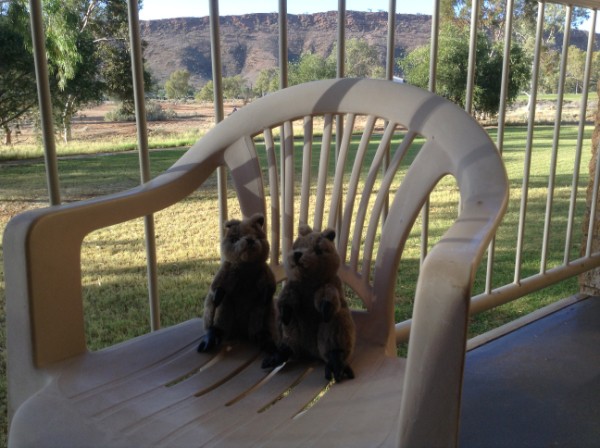 The lead picture accompanied the story at the very beginning on the ferry from the island they inhabit called Rottnest which means rats nest.
The island was discovered in 1696 by Dutch explorer called de Vlamingh and he called it Rats Nest as he thought the animals he saw were large rats. They are in fact small marsupials, a bit like a small wallaby. Queenie and Quentin began their journey from the island on a large ferry over to Perth. The journey took 90 minutes, entering the Swan River at Fremantle and sailing past some very posh villas into the harbour in Perth City.
Queenie and Quentin stayed over night in a very nice room before embarking on the next stage of their journey. This was a flight to Adelaide for a short stopover, then a long flight to Alice Springs where it was going to be way hotter than it was on Rottnest.
It was a good flight, and the hotel was very nice so they chilled out on the verandah, overlooking the empty golf course, in the shade as the temperature was 40 degrees. Phew!
See Day 2 here.
See Day 3 here.
See Day 4 here.
See Day 5 here.
See Day 6 here.
See Day 7 here.
See Day 8 here.
See Day 9 here.
See Day 10 here.
See Day 11 here.
See Day 12 here.